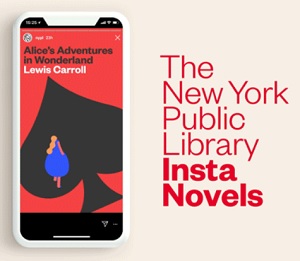 The New York Public Library (NYPL) introduced Insta Novels on August 22, posting a newly digitized, illustrated version of Alice's Adventures in Wonderland by Lewis Carroll on its official Instagram page. The concept has been an immediate success, with @nypl experiencing its fastest follower growth ever. At press time, more than 89,000 new followers had been added in less than four weeks, bringing the account's total to more than 284,000.
"We've been totally thrilled," Richert Schnorr, director of digital media for NYPL, told LJ. "When the idea started coming to fruition, we knew it was going to be great…but it surpassed our expectations."
Creative agency Mother Design approached NYPL with the concept, Schnorr said. "They were really excited about it, but they knew that, in order to make it the best it could be, they would need a really strong partner in the literary or library world…. As soon as they laid out the initial concept, we immediately knew it was something we would want to work on."
Following Alice's Adventures in Wonderland, illustrated by designer magoz, initial plans are to post "The Yellow Wallpaper" by Charlotte Perkins Gilman, illustrated by Buck, and Franz Kafka's The Metamorphosis, illustrated by César Pelizer, in the coming months.
To select the titles, "we worked with our reader services department," Schnorr said. "We knew we wanted to stay within public domain titles, partly because we felt that there was something really nice about re-imagining classic stories. But also we wanted to be able to move this forward quickly, without any rights restrictions…. Alice was chosen [for launch], really because it's a beloved story, but we also wanted something that would be fun for the illustrator to play with."
These first three selections all "had themes of bending reality" and transformation. "We felt like that was a nice, poetic other layer" to the concept, Schnorr said, "because what we're really doing with Insta Novels is turning this very twitchy medium into something [users engage with] a little bit longer."
This approach appears to be working. Alice's Adventures in Wonderland was divided into two Insta Novels, and according to data provided by NYPL, the animated book cover of part one generated 45,424 impressions in the 24 hours after launch, while part two generated 47,296 impressions. And visitors kept reading. The 84 "Instagram Stories" that made up part one generated a total of 859,301 impressions on day one, while the 91 stories that made up part two generated 679,557 impressions. At least 3,000 users appear to have read the entire book.
"We're always looking for exciting ways to inspire people to read more," Schnorr said. And, of course, the end goal isn't just about encouraging people to read these three specific titles. NYPL used its blog post announcing Insta Novels to highlight resources including Project Gutenberg for other classic titles, and NYPL's free SimplyE ereader app and huge selection of contemporary ebooks. SimplyE downloads were up 68 percent for iOS and 108 percent for Android during the 15 days following Insta Novels launch, with much of this new interest likely driven by links on NYPL's Instagram bio or the Insta Novels blog post.
"We see this as a doorway," Schnorr said. Insta Novels "is not the end product. We've gotten a bunch of new followers on Instagram, which is great. But hopefully that's just the beginning, and they download our ereader app or come into a branch."
Schnorr added that while NYPL's primary mission is to serve its local communities, the social media team is conscious of the library's influence and reach beyond the city and state, and hopes that projects like this can encourage users everywhere to check out their local library.
"It's fun to be able to inspire people across the country and across the world to get excited by this project and hopefully go to their library and pick up a book," he said.