Thanks to my stalwart reviewers for turning these around so quickly; you all deserve statuettes. The Oscar broadcast is on Sunday, February 24. How did we do?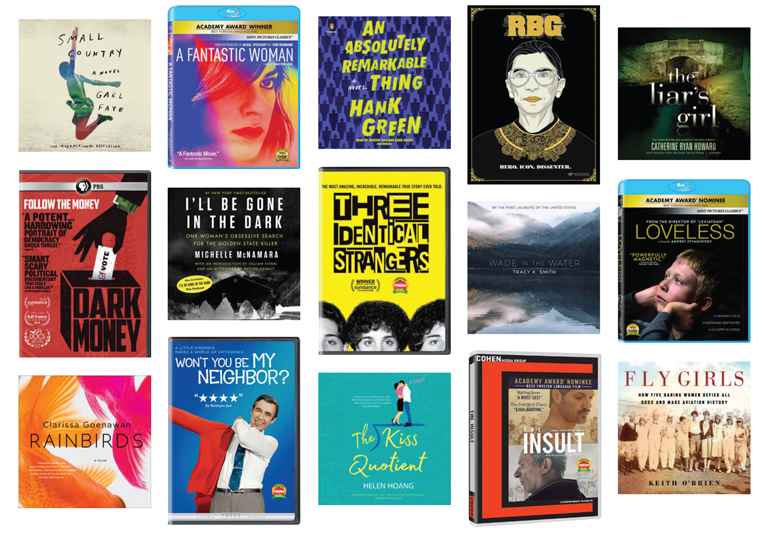 LJ editors and reviewers and our Fast Scans columnist have chosen the year's best audiobooks and films for those continually popular media collections. One thing is clear: Mr. Rogers is a hit no matter the format.
There's something for everyone: history, romance, and a touch of mystery. ["Highlighting various perspectives throughout the last century…Blackwell successfully crafts multiple mysteries in several time periods, all surrounding one family":
LJ
8/18 review of the Berkley hc.]
Recommended especially for family viewing.
Dean Gallagher presents this message in a conversational tone that will appeal to a general audience of seekers as well as Christian readers.
Grann's vivid, descriptive writing together with the passionate reading by Will Patton make this an outstanding listen. A modern-day hero dedicated to a goal is much needed in today's society. ["Solidifies Worsley as one of the great leaders and explorers of the modern age who has pushed the limits of human achievement, while also providing a fresh narrative of Shackleton's accomplishments":
LJ
11/15/18 review of the Doubleday hc.]
Inspired by her own experience, writer-director Iram Haq's (
I Am Yours
) second feature deals with a Norwegian-Pakistani teenager (Maria Mozhdah) whose strict father (Adil Hussain) forces her to live with relatives in Islamabad after catching her making out with a boyfriend...
Recommended for fans of NPR's
Driveway Moments
, short-form history, and highbrow periodicals. ["Phillips's essays are not only fascinating and thoroughly researched but written in a distinctive voice that conveys humor, awareness, and vulnerability":
LJ
7/18 review of the Farrar hc.]
This engaging, entertaining, and erudite exploration of some of the works of literature's greatest playwright has across-the-board appeal for both Shakespeare newbies as well as serious students of the Bard's theatrical oeuvre.