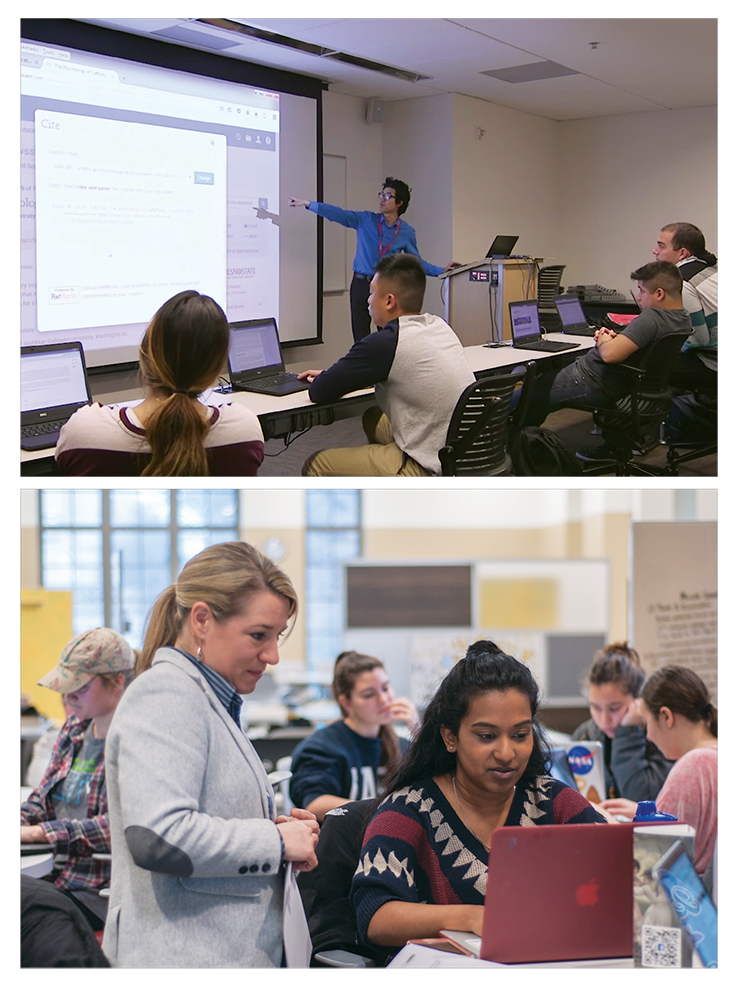 Several librarians share how they approach reference and information literacy instruction across the spectrum of experience and create relationships that will benefit students throughout their postsecondary education.
The MIT Media Lab has expanded beyond academic and corporate collaborations to join forces with public libraries for the Public Library Innovation Exchange (PLIX), coordinated by the Media Lab Learning Initiative and MIT Libraries and supported by a grant from the Knight Foundation.
"Libraries fulfill their ultimate potential when they provide safe space for everyone...and empower patrons to realize their full potential," says Megan Godbey. That philosophy underpins her work at the Nashville Public Library (NPL), where she initiated the Pathway for New Americans project, a partnership with the Nashville mayor's office and U.S. Citizenship and Immigration Services. Nashville was the third such library and the first to open "citizenship corners outside the library," she says.
As a Mexican American child whose mother spoke only Spanish to her until she was three, Elizabeth Negrete Gaylor discovered her local library when her ESL teacher encouraged her to go there for more reading material. "To me [it] was a wondrous place that had infinite possibilities," she says. Now she strives to create such possibilities for her patrons as literacy and outreach librarian at the Ardmore Public Library (APL).
Calhoun County Library (CCL) director Kristen Simensen knows how to hook patrons. The library's pollinator project gives fourth graders an opportunity to study bees up close but connects with adults, too. ("How are our bees?" is a common refrain, Simensen says.)
Orquidea Olvera runs Monterey County Free Libraries' (MCFL) Early Literacy Mobile Outreach and improves MCFL's ability to serve the county's large Spanish-speaking population. Just two reasons she is LJ's 2018 Paralibrarian of the Year, sponsored by DEMCO.
Nashville Public Library, the 2017 Gale/LJ Library of the Year, launched the Fresh Reads collection to adult new readers in 2017 to offer stigma-free reading to promote literacy and learning.
The majority of the offerings at the American Library Association (ALA) Annual Conference in Chicago focused on libraries and library-related content based in the United States and Canada. A notable exception was the International Relations Round Table (IRRT) Chair's Program, "Acting for Humanity: The United Nations Sustainable Development Goals and Libraries," which took a look at how libraries both domestic and abroad are working to address the 2030 Agenda for Sustainable Development Goals (SDGs) developed by the United Nations (UN) Development Programme.
Developing literacies across a wide spectrum of applications is central to the mission of libraries. Whether building early literacy skills with the youngest of customers and their families or providing programming to support digital, information, financial, food, and other adult literacy skills, libraries can best find success in these avenues by making sure they are intentionally included in the development of the strategic plan and, in the process, rethought afresh just as newer services are, rather than taken for granted.