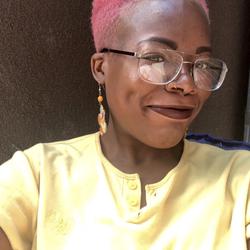 Ozy Aloziem
While libraries are working to create equitable spaces for patrons, just as crucial—but often overlooked—is the issue of equity among staff. Advancing Racial Equity and Inclusion in the Workplace, a virtual symposium hosted by the Denver Public Library (DPL) on July 8–10, convened academic and public librarians and others who discussed equity, diversity, and inclusion (EDI) work, the emotional toll it takes, and barriers such as white supremacy culture.
In her opening remarks, DPL Director Michelle Jeske spoke about the library's path toward progress: Three years ago, DPL developed a staff committee exploring equity, and staffers started to educate themselves about white privilege, fragility, and other concepts. A grant from the Institute of Museum and Library Services (IMLS) last year allowed the library to hire Community Connections Program Coordinator Ozy Aloziem and host the symposium (originally intended as an in-person convening before shifting online because of COVID-19).
Setting the tone for the event, Aloziem, who moderated several panels in addition to serving as lead planner on the event, underscored that EDI work is a marathon, not a sprint. "White supremacy culture has ingrained this idea in us that we have to get it exactly right the first time," she said, "which isn't realistic or productive."
Reflecting the awareness that EDI requires emotional labor, DPL offered self-care sessions by performer Franklin Cruz, a reading by Colorado Poet Laureate Bobby LeFebre, and a musical performance by the Black Excellence Band.
BARRIERS TO EQUITY
At the symposium's first panel, "Preparing and Planning for Organizational Change," Twanna Hodge, diversity, equity, and inclusion librarian at the University of Florida, Gainesville, exhorted institutions to make a financial commitment to EDI work. Often Black, Indigenous, and people of color (BIPOC) staffers do the work of dismantling white supremacy without compensation, she said. "If you care about something, see where the money goes." Are diversity committees funded, she asked. If the organization has no diversity committee but employees are nevertheless doing EDI work, are they being compensated?
Though the path to equity is long, it can be joyful, too, said Julia Alvarez, CEO and senior catalyst of Point b(e) Strategies. Organizations should celebrate even seemingly small victories, she advised. "Every member of your staff has their pronouns in their Zoom name? Great, that's a big win, that's a huge step," she said.
For Cerise Hunt, director of the Center for Public Health at the University of Colorado, the biggest obstacles are colleagues who resist change out of fear of ceding their own privilege. She has learned to identify those individuals early on. "I'm going to reach out to them, because a year from now on, I can't have you shooting darts in my plan, trying to tear it down. I need to know up front."
Hodge called upon librarians to look critically at the profession. She cited Fobazi Ettarh's article on vocational awe, the idea that librarianship is often held up as inherently noble and beyond reproach—an attitude that results in librarians overlooking the injustices the profession has perpetuated. Before libraries can truly provide equitable service, Hodge said, "there's a lot of unlearning and de-education that needs to occur."
BUILDING A NEW NORMAL
The COVID-19 pandemic and the ensuing shutdowns have made EDI work more challenging yet no less vital, the speakers at the Equity in Crisis Response Workshop stressed. Regan Byrd, an anti-oppression speaker, trainer, activist, and consultant, noted that there's been a rush to return to a status quo that was harmful to many.
"Normal is gone, and we are now tasked with building a new and better normal," she said. "Our workplaces and organizations have been sources of trauma and violence and anxiety for a long time. And now we have the ability to actually take a step back and think about what would it mean to have whole folks be able to bring their entire selves to a workplace."
The panelists at "Promoting and Sustaining an Inclusive Work Environment and Support Staff of Color" grappled with that question. Too often, those from marginalized backgrounds learn to hide or downplay who they are in order to thrive at an organization, said Diana Marie Lee, founding CEO and alchemist of Sweet Livity.
It's the difference between being celebrated and being tolerated, said Samuel González, cofounder of Sweet Livity. Though most workplaces expect employees to leave their problems at the door in the name of professionalism, González noted that it is neither realistic nor humane to ask BIPOC to put aside trauma that may include police brutality toward Black people and Black trans people, racism experienced by Asian Americans in response to COVID-19, and the fear of ICE that looms for immigrants. Employees who can embrace their true selves are empowered to voice their opinions and effect change, said González. "It's going to pay off, and in ways you never imagined would be possible."
For BIPOC working in racist environments, racial battle fatigue is wearying. The onslaught of microaggressions "may not rise to the level of policy violations, but they corrode your sense of self, your sense of belonging, your sense of being valued in the organization," said Frank Tuitt, professor of higher education at the University of Denver. He added that many organizations support their staff of color but fail to address underlying structural problems. "It's like putting a Band-Aid on…the cut...but not removing the instrument that caused the cut in the first place," he said.
EDI AND HIRING
How can libraries combat those deep-seated inequities? Speakers on the panel "EDI and HR: Promising Practices for Embedding EDI Values into HR Practices and Procedures" considered hiring practices—in particular, the concept of a "good fit," a nonspecific criterion that often results in homogenous workplaces.
"Is it just an excuse to hire others who look like us?" asked Samantha Guss, social sciences librarian at the University of Richmond (UR). "What does it mean to look for fit when our organizations are overwhelmingly white?"
Guss added that while hiring rubrics alone won't solve inclusivity problems, they can encourage hirers to explicitly articulate what they're looking for in a candidate—and avoid making a decision based on a gut reaction. Hiring committees should also determine in advance what they consider to be a good answer to a question.
Institutions should hold themselves accountable, said Sojourna Cunningham, social sciences and assessment librarian at UR. She stated that at UR, a diversity advocate urges the hiring committee to consider EDI at each step. "There has to be someone there who's going to push and make people uncomfortable, because otherwise the search committee is going to go along to get along," she said.
Cunningham pointed out that before hiring those from marginalized backgrounds, organizations must first foster an inclusive environment. "Do not bring someone into a toxic environment and expect them to make things better," she said. Jennifer A. Stout, teaching and learning librarian at Virginia Commonwealth University Libraries, Richmond, concurred: "People of color in libraries are often in a double bind. They're expected to do the work of creating inclusive environments but not respected for the work that they do."
Think about whiteness as more than skin color, suggested Cunningham. Interrogating whiteness, she said, means rethinking everything we take for granted, such as the questions asked in job interviews or what career advertisements look like. When UR decided to start sending candidates interview questions in advance, there was some internal criticism because it was a shift from the usual hiring practice. "That's what we mean when we say whiteness is the norm," Cunningham added.
Cunningham said that she has never felt safe with any human resources department—instead, she's found support by forging connections with other employees from marginalized backgrounds—which prompted Aloziem to ask if HR should still exist. "What does it mean if…this department within the organization is fundamentally a thing that people have experienced harm with? Can that exist in the ways we need it to?" And if not, Aloziem asked, what needs to change?
ASSESSING THE WORK
Kawanna Bright
EDI work is crucial to assessment, but a focus on quantitative over more holistic or qualitative assessments can be problematic, according to the panelists of "Equity, Evaluation, and Accountability." Kawanna Bright, a library science professor at East Carolina University, Greenville, NC, explained that librarians have traditionally relied on numbers when evaluating collections or services, but they must think deeper. "We have 10 people of color. Great, is it the same 10 people of color? Or do you have a revolving door process going on, where you've got people coming in and going out" because the environment isn't inclusive?
Institutions should hold themselves accountable, said Tariana Navas-Nieves, director of cultural affairs at Denver Arts & Venues, through frameworks such as SMARTIE goals (Specific, Measurable, Attainable, Relevant, Time Specific, Inclusive, and Equitable). Dismantling white supremacy, she added, is an active, ongoing process. "This is work that doesn't happen naturally, by accident. And it doesn't happen because you're a good person; it doesn't happen because you're not racist."
DPL staffers also reflected on the library's own journey, offering a deep dive into the grant-funded project that made the symposium possible during the panel "What Does the Data Reveal?" Funded by IMLS's "Building a Pipeline of Community Connection" grant, the project consisted of an environmental scan, interviews with current and former staff of color, a report establishing recommendations for EDI work in libraries, and a culturally responsive wellness model and pilot implementation, as well as the symposium itself.
The library still has work ahead—Christina McClelland, DPL's resource development officer, communications and community engagement, noted that as of 2019, 78 percent of positions requiring an MLIS were held by white staffers, but that number dropped to 52 percent among positions not requiring an MLIS. And Namrita Singh, principal advisor of Health Research Toolbox, surfaced some of the results of interviews with staffers from marginalized groups, noting that many described an unsupportive work environment where what is safe or expected is prioritized and where innovative modes of thinking from people of color aren't rewarded. Many also attributed inequities to a focus on the MLIS over lived experience. Singh laid out a framework for addressing these issues, in which an authentic commitment to EDI permeates every aspect of the institution and where trust is both the starting point and a goal to work toward.
Several attendees were curious about the concept of lived experience—one noted that they couldn't trust their employer to trust their own lived experience. Aloziem said that for her, building trust among other DPL staffers has come from transparency. "It was me being willing to show up as my full self and to model what that meant to invite other people to do the same thing." She said that asking staffers about their vision of equity helped, too. "How do you feel when you are in an inclusive environment? Tell me a story about that." When people are seen, she said, they're more willing to contribute.
Aloziem wrapped up the symposium by emphasizing that there's still work to be done. "The history of colonization and white supremacy is long and winding," she said, "Five hundred years and counting, which then means that we also need an equally long long-term process of decolonization."
But, she added, hope is important, too. "We have to celebrate all victories, big and small, because that becomes a fuel that helps us keep going when we have defeats."