A March 8 conference at Skokie Public Library, IL, "Defeating Bullies and Trolls in the Library: Developing Strategies to Protect our Rights and Personhood," took on the issue of harassment of scholars doing work around equity and social justice, and the lack of support on the part of their institutions.
Nicole Cooke at the mic, Defeating Bullies and Trolls in the Library Conference
Photo by Max Herman, Skokie Public Library
A March 8 conference at Skokie Public Library (SPL), IL, "Defeating Bullies and Trolls in the Library: Developing Strategies to Protect our Rights and Personhood," took on the issue of harassment of scholars doing work around equity and social justice, and the lack of support on the part of their institutions. Nearly 100 people attended, leaving armed with new knowledge, empathy, and tools they could use to stand up for their colleagues.
The free, daylong event, co-organized by Nicole Cooke, associate professor and MS/LIS program director at the University of Illinois (UI) at Urbana-Champaign School of Information Sciences, (and a 2007 LJ Mover & Shaker [M&S]), and Amy Koester, learning experiences manager at SPL and editor of the librarianship journal In the Library With the Lead Pipe, amplified a discussion begun at the 2018 American Library Association (ALA) Annual conference in New Orleans, where a panel titled "Bullying, Trolling, and Doxxing, Oh My! Protecting our Advocacy and Public Discourse around Diversity and Social Justice" struck a nerve among attendees and panelists alike. In New Orleans, the five speakers related stories of the backlash they received in the course of combatting racial microaggressions and providing anti-oppression resources. This included harassment on public media, via phone and email, and in their workplaces, and often met with little or no support from their employers.
However, Cooke, who had spoken about the trolling and harassment she experienced after announcing a grant she had received to research library microaggressions, felt her work was not yet done. Few people were aware of the pervasiveness of bullying and doxxing in the field unless it had happened to them or a close colleague, she said, and she wanted to continue to raise awareness about the issue—not only among fellow library workers and scholars, she added, but with administrators who had the power to institute the policies needed to back them up.
Cooke reached out to Koester, a fellow Illinois librarian and a coauthor, on In the Library With the Lead Pipe, of one of the only articles to address harassment in scholarship. SPL was amenable to hosting the conference, which ticked another box for Cooke: while the ALA panel had consisted of academic librarians, she wanted representation from public libraries as well.
She then began pulling together speakers. "I am fortunate to have a network of folks," Cooke said. "I emailed them pretty much cold and said, 'This is my idea, this is what I would like to do. Would you be willing to participate?'" Cooke first contacted her fellow ALA panelist Stacy Collins, research and instruction librarian at Simmons College, who had spoken about the campaign of harassment and misinformation targeting a set of Anti-Oppression LibGuides she helped create. Collins was fully on board to participate. "The original conversation, for many folks, had been an introduction to these issues existing within our profession at all, let alone the need and the call to action on the part of national organizations and institutions," Collins told LJ. The other original panelists declined, but Cooke and Collins were joined by a strong roster of contributors from a range of libraries and organizations.
Because of the level of harassment she received upon its announcement, Cooke's original research project, "Minority Student Experiences with Racial Microaggressions in the Academic Library"—for which she and Miriam Sweeney, assistant professor at the University of Alabama School of Library and Information Studies, had received an ALA Diversity Research Grant—never saw fruition. She used part of the grant money to fund the conference, along with additional support from ALA's Office for Diversity, Literacy and Outreach Services; the IU School of Information Sciences; and In The Library With The Lead Pipe. SPL provided the space, helped organize the catering, and ran the registration.
Cooke also paid particular attention to drawing up a detailed code of contact well in advance of the conference date, which included provisions that no one would be quoted without their permission. "This wasn't going to be a free-for-all," Cooke told LJ. In addition to the panelists, "there were people in the audience who have experienced bullying and trolling, and we didn't want anyone to be inhibited because they thought that they were going to be on the record."
The conference reached capacity after a few posts on Facebook and Twitter, she noted. "We didn't have to advertise…. People were interested in the topic, even if they didn't feel like they knew enough about it coming in."
EXPERIENCES, REACTIONS, TOOLS
The day's first panel featured Cooke, Collins, and Kristin Lansdown, library associate for adult fiction at Oak Lawn Public Library, IL, and a current MLS student, who recapped the ALA panel and further discussing experiences of bullying and harassment. Panelists offered their own stories, and those of peers who have been attacked and trolled, "just to put that out there and tell people what that looks like," Cooke told LJ—"that it inspires fear, that it can inspire all of these different emotions, and that it is something that requires support from peers and from the institution."
For the second panel, Koester was joined by Diane Foote, executive director of the Illinois Library Association; Emily Knox, associate professor and BS/IS program director at the UI School of Information Sciences; Jamie Naidoo, president of the Association for Library Service to Children (ALSC); and ALSC executive director Aimee Strittmatter to examine possible responses to incidents of harassment, both at the personal and institutional level.
Foote offered ideas about concrete organizational responses, and Knox outlined the difference between law and justice, whether hate speech is considered free speech, and what people might expect of their institution when addressing this issue. Naidoo and Strittmatter discussed some of the issues they have run up against with ALSC, such as the harassment received by staff in the wake of ALSC's decision to change the name of the Laura Ingalls Wilder Award (now the Children's Literature Legacy Award) because of culturally insensitive references in Wilder's books; individuals were personally confronted at the ALA annual conference and received daily email and phone calls, including from one person who has threatened to show up at an upcoming lecture given by an ALSC member. "People are being—emotional is one way to say it," Cooke told LJ. "The staff and board…have also had to go through the process of removing information from websites so they can limit access."
Koester wrapped up the morning's proceedings with an explanation of why the board of In the Library with a Lead Pipe felt it was important—and in line with the journal's beliefs—to publish its piece about harassment in December 2017.
After lunch, a series of interactive breakout sessions dug deeper into ideas posed in the second panel. Kellee Warren, assistant professor and special collections librarian at UI Chicago and SPL young adult librarian Jarrett Dapier (a 2019 M&S) facilitated discussions on peer support and, following a break, on institutional support. The two used a suite of scenarios to help the audience think about how to support those in the library who might be targeted for harassment.
The idea, said Cooke, was to prepare potential allies. "People freeze and they don't know what to say, and then it's very easy for them not to do anything. That was the goal of the afternoon session, to build on that awareness to say, 'I know what some of these scenarios might look like. I now have some resources at my disposal, things I can look up, ideas of what I might say, ideas of what I might do,' so when it happens they won't be so completely caught off guard that they are afraid to get involved."
"It was the first step of putting that arsenal in your back pocket of things to say, ways to disrupt, plans of action for when situations arise," added Collins. "A lot of the folks in the audience hold roles in their libraries where they have the ability to talk about this as part of packages of solutions—crisis management but also regular plans, policies, practices in place."
Graphic artist David Michael Moore recorded the proceedings in real time (and designed the conference art as well). "He was drawing as he went along for all four sessions of the day," said Collins. "It was spectacular and somewhat dumbfounding to watch him take an hour and a half of people talking and have it visually represented."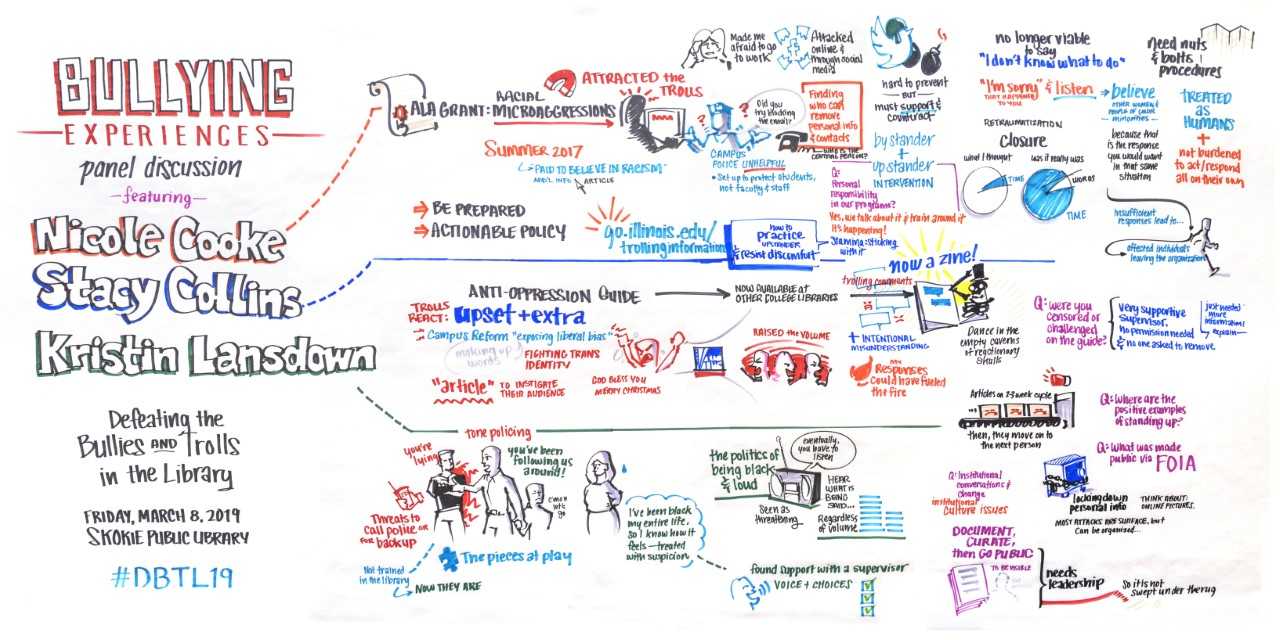 Graphic recording panel by David Michael Moore
THE NEED TO DO BETTER
The day, said Cooke, was a success. People's energy was high—during the breakout sessions participants were so involved that the number of conference tweets dropped sharply, to the dismay of those following remotely.
Cooke hopes to put together a toolkit for the ALA website that allies can refer back to. But in addition to actionable information, she and Collins hope that the conference serves to raise awareness of a pervasive and deeply damaging problem. "This is not an issue that happens in a vacuum," said Collins. "This is very much a problem that is created because our profession needs to do better in specific areas around equity and diversity…. The people who step up to do that work are often some of the most vulnerable, and the most affected by those systems of discrimination. As they're doing this professional work of improving the field…they're out there on their own, and then get targeted, and then there's no mechanism for protection, for assistance, for support in place."
That's not always an easy message for people to absorb, she added. "This is a profession that in many cases they have devoted decades of their labor and expertise to, and it's a profession that a lot of folks take pride in as one that does good in the world. And it does. So hearing that this is a field that also creates problems and doesn't provide support for some of the most vulnerable folks…often will make them hesitate and make them want to get defensive." No one at the conference did that, she noted—at least not out loud—and people seemed ready to take on work even if it made them uncomfortable.
Will there be a second conference? Cooke hasn't broached the subject with her collaborators yet. Although she feels the subject is larger than 90 people can address in a single day, she also acknowledged that pulling together an event like that takes a high degree of emotional labor. "I don't want to have to keep talking to these large groups of people and getting emotional," said Cooke. "I want folks to know that this happens so I can stop having these sessions."
Future events could include those in leadership roles talking about the plans and policies they have instituted around harassment, and how those worked in practice, they suggested, perhaps venturing outside librarianship to see how people in other fields have responded to similar attacks.
Still, said Collins, the conference was a strong start to addressing the problem. "Ninety people in a room—all of them willing to do that work—is a really nice thing to see."