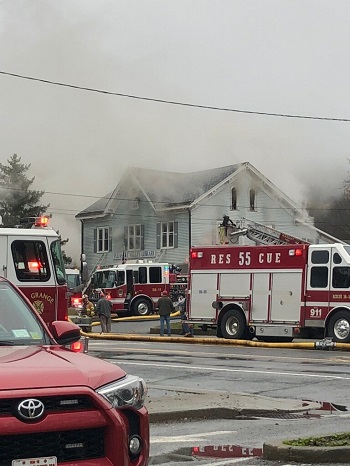 Firefighters battle blaze at Pleasant Valley Free Library
Photo credit: Julia Kessler

On the morning of November 6 as residents of  Pleasant Valley, NY, were lining up to vote on the town's first library referendum in eight years, firefighters were battling a two-alarm blaze at the Pleasant Valley Free Library (PVFL). Although the fire was fully extinguished within two hours and no one was injured, the nearly 150-year-old building and the materials within suffered significant smoke, water, and fire damage, and the building is now shuttered indefinitely.
The ballot measure passed by 68 percent of the voters, increasing the library's annual funding from $360,000 a year to $440,000. Although this is an indicator of strong support for the library as it moves forward to rebuild, the funding increase won't take care of the repairs:  it is largely earmarked for staff salaries to keep pace with New York State minimum wage increases.
WAITING FOR A PLAN
The fire started when faulty wiring above the furnace ignited in the library's basement. Because of the building's balloon framing construction, with continuous wooden studs running up the height of the structure—a common building technique in the late 19th century—the walls acted like chimneys, and the fire quickly spread upward. Fortunately, said Julia Kessler, a PVFL board of trustees member and retired school librarian, firefighters prevented the fire from reaching the roof, which would have been "catastrophic." The library's central area over the basement was destroyed, and other areas in a separate wing sustained smoke and water damage, although they did not burn.
The library, which had not been renovated since it moved to the building in 1974, had been at the beginning of a renovation and expansion project. Those plans will now need to be reassessed, depending on the final word on the state of the building and collections.
While the collection and building were well insured, explained Kessler, PVFL had no business interruption insurance, which covers costs incurred after a disaster. That coverage could have helped set up services in a new location, she added, covering rent and utilities. However, a community member has donated a vacant storefront to serve as an interim library for the next two years, and the library plans to be up and running there in January 2019.
In the meantime, library leadership is waiting for engineers' reports from the insurance company and the library's insurance adjustor. Once they can ascertain how much of the collection is salvageable, staff can begin to formulate a plan to replace or add materials as needed. The children's collection was particularly hard hit, noted Kessler.
The Mid-Hudson Library System (MHLS), a consortium of 66 Hudson Valley libraries to which PVFL belongs, will help supplement the collection temporarily as well, and the consortium's interlibrary loan system will ensure that patrons have full access to materials. "It's a beefy system that's used by lots of people, and has been a lifesaver," said Kessler. PVFL director Daniela Pulice has also coordinated with a "sister library," the LaGrange Library, which will handle all requested materials unless patrons request their holds be sent to another library.
UPDATES, REASSURANCES
The fire has devastated the small Duchess County community northeast of Poughkeepsie. "It's like a death in the family," said Kessler.
The two full-time and seven part-time library employees, in particular, have been hit hard. "The staff were, obviously, blindsided by this," Kessler told LJ, "but are also attempting to be stalwart, press on." Some are currently using a room in the church next door to the original library building as a temporary office, where board members check in often.
MHLS has taken on several of staff members as temporary employees at Poughkeepsie libraries to ensure that they will still collect a paycheck while the temporary facility is being set up. "One of the hardest challenges in the first few days was juggling all the board, staff, people, and volunteers who wanted to TALK about the fire with all the practical things the director has to DO about the fire," noted Pulice.
Communication has been key, Kessler told LJ. Staff and trustees keep in touch via email and Google Drive, and a regular email has been going out to patrons. PVFL updates its website regularly, linking to news items, and keeps its thousands of Facebook and Instagram followers updated in real time. Supporters from as far away as Illinois—and Germany—have sent donations, an artist in Peekskill is donating his handmade jewelry sales, and a knitter from the midwest who follows PVFL on Instagram is raffling off socks to donors. Former board member Jim Donick, who writes for the local Northern Dutchess News, is at work on a six-part series of articles about the library since the fire.
Printouts are also posted on the security fence surrounding the library—although, noted Kessler, "That's a little bit inaccessible because right now it's across a muddy lawn."
The current board, added Kessler, is a strong one, as they had been working together on renovation plans before the fire, often meeting twice a week. "It's not just a show-up board," she said.
The community reaction has been one of sympathy and support, with a number of spontaneous fundraising drives and events, including a GoFundMe page. Patrons have decorated the fence around the site with paper hearts, flowers, and other symbols of their affection.
The New York Library Association (NYLA) Council both pledged and raised funds at its annual conference, which opened the day after the fire. All donations made to NYLA's Disaster Relief Fund through the end of the year will be given to PVFL. State and local officials have been helpful as well, meeting with library leadership as they plan their next steps.
AFTERMATH STRATEGIES
Even a library with a well thought out disaster management plan may not have planned for all contingencies.
For example, noted Pulice, just as the library has the name of a plumber, electrician, and locksmith on hand in case of emergency, "know who you would pick as a public insurance adjuster, because they come swarming when an emergency happens, and now that's one less decision you have to make." Both Kessler and Pulice stressed interruption of business insurance as a critical piece of coverage libraries should have.
In the immediate aftermath of a disaster, Pulice told LJ, "Call an emergency board meeting to get everyone together. Invite staff so that they realize that everyone is working together to deal with the event. Tell staff who have been there for a while that they do not have to worry about their jobs. This frees them up to work more productively on getting the library through the dark times."
Added Kessler, "Find opportunities to meet and grieve."
"As soon as possible, set up a Center of Operations close to the library," Pulice advised. "The director will often have to visit…and it's important staff still have a place to gather for the month or two it takes to set up a temporary location. If at all possible, have this location picked out at the same time as you pick out your adjuster."
Be prepared to have the value of your collection questioned, she added. It should be insured for its full worth, since that is where the insurance company may have questions and challenges.
People are generous, noted Kessler, and will want to help out immediately. One resident called the day after the fire to say he had a truckload of books he could deliver—but the PVFL has no place to store donations at present. Staff will need to get used to saying "no thank you" in the earliest days.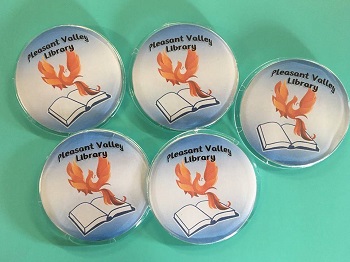 Once the engineers submit their reports, Pulice will be creating a wish list of library needs. Until then, anyone who would like to donate to the library can do so through the PVFL website or send a check (made out to the Pleasant Valley Library) to P.O. Box 633, Pleasant Valley, N,Y 12569. Locals can buy a button at the PV Department Store and the Country Thistle holiday store, across the street from Town Hall, to show support for the library's rebuilding efforts.