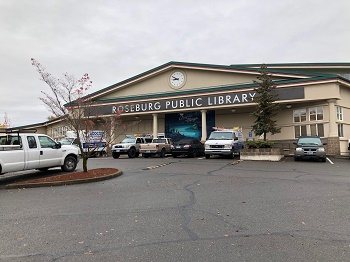 Oregon's Douglas County libraries made news in spring 2017, after a measure on the November 2016 ballot failed and the 11-branch system closed its libraries. The measure sought to create an independent tax district, a necessary resource for a region struggling to replace declining timber revenue, and would have generated some $3.8 million a year for the system.
But the creation of a countywide library district, which would have established a permanent maximum tax rate of 44¢ per $1,000 of assessed property value, met resistance among a traditionally tax-averse population. Despite the support of grassroots organizations such as Save Our Libraries, the measure was defeated by a 55 percent majority.
By the beginning of 2017, Douglas County Library System was faced with the task of shuttering libraries across an area the size of Connecticut. The smaller ten libraries all closed by April 1. The system's largest, the Roseburg Library, closed its doors at the end of FY16, on May 31.
Since then, a small but loyal number of volunteers and Friends organizations have stepped in to bring their libraries back as DIY operations, one at a time. Nine libraries were revived by the end of 2017, often with smaller collections, reduced hours, and fewer resources. Several have part-time staff, but all depend on volunteer labor. The Douglas County Library Foundation has helped keep the lights on and has funded summer reading programs.
Although the county retained all of its materials, communities held fundraisers, applied for grants, and collected donations to rebuild collections. Some, like the town of Riddle, which owned the building and had held onto its computers and 12,000 books, were able to persuade the county to let the library keep them; without a shared ILS, however, when the Riddle City Library reopened in June 2017, volunteers checked items out with index cards and a ledger.
The towns of Reedsport and Drain passed tax increases in May to form their own library districts. Reedsport was one of the earliest volunteer-run libraries in the system to reopen; Drain's Mildred Whipple Library reopened its doors in early November.
ROSEBURG RELAUNCHES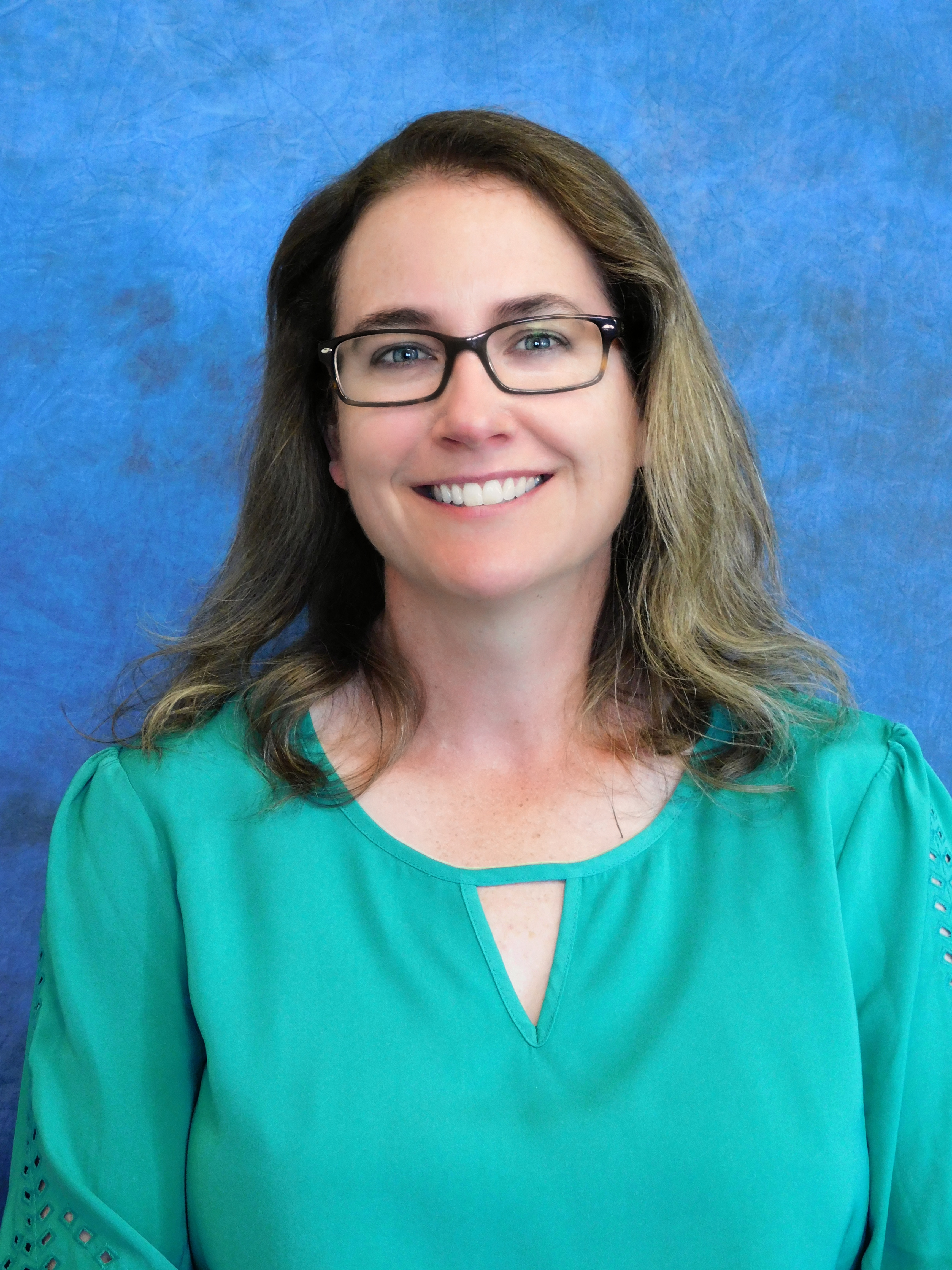 Kris Wiley
The flagship Roseburg library has gone a step further and has joined forces with the Douglas Education Service District (ESD) to renovate and reopen the original library building, which both will now share. With the help of an Oregon Community Foundation (OCF) grant of more than $100,000—including $50,000 from the OCF Whipple Foundation Fund, established to facilitate and enhance lifelong learning for Douglas County residents, and matched in part by the Ford Family Foundation—the existing building will be renovated to include a children's library, a tween/teen library, and administrative space for the ESD. Money from the city's general fund will help support operations. Construction began in June, and the library will hold a soft opening in late November. A formal ribbon-cutting is tentatively planned for January 10.
Roseburg has also hired a director: Kris Wiley, formerly of the New Ulm Public Library, MN, where she worked in programming for five years and served as director for four. Wiley will oversee three paid employees and some 50 volunteers. The library will be open 30 hours a week to begin with, closing Sundays and Mondays, although staff hopes to expand hours.
Wiley arrived in July to begin the considerable work of reopening the library.
"We created our own policies, because we're operating under a city government with the city council," Wiley told LJ. "Library cards—we had to get those done. Bar codes. All of the technical aspects of getting a library up and running. I worked a lot on the collection to get it to a size that fits in our new footprint."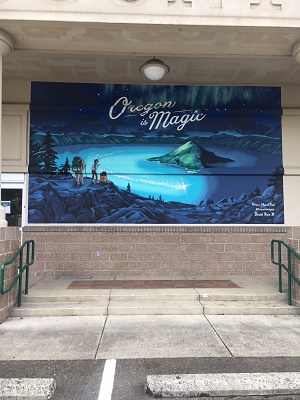 Because the library will be collocated with EDS, it has less space than before—yet is hoping to do more. "We've worked on designing the library space—where the shelves are going to go, how's it going to look, what's a good organization," said Wiley. Roseburg currently has around 90,000 items, and will be building an ebook collection as well. Among the library's other new features is a mural of Crater Lake at the entrance—part of the Oregon, Only Slightly Exaggerated mural trail campaign developed by Travel Oregon in partnership with the Oregon Cultural Trust.
The library has hired a volunteer coordinator and is recruiting for a youth services librarian. It has also brought in Adrienne Groves, a member of AmeriCorps, a network of national service programs, to conduct outreach services for the next 11 months.
"I've been meeting with a lot of folks out in the community with Adrienne and with our city manager, to start working on these partnerships that are going to be so critical," Wiley explained. "We talk about events, we talk about creating a community hub and a center for early literacy and lifelong learning, getting out there to the schools, organizations that are really foundational in this community and the stakeholders. There's been a lot of introductions made."
Both she and Groves are new to the area, Wiley noted, and volunteer coordinator Liz Hendershott was originally local but hasn't lived in Roseburg for some time. "So as a new staff, there's certainly a lot to get up to speed about regarding the community." When she moved to New Ulm, she added, she was new in town as well. "Over the course of nine years I really developed some great relationships. So I was confident I could come here and do the same thing."
MANAGING EXPECTATIONS
Rebuilding the library has been exciting, Wiley told LJ, and not without its challenges—primarily managing expectations as opening day approached. "One of the challenges is getting us ready to provide the services that the community wants," she said. "I'm learning from this new community, tempering that with what we're able to provide with a very small staff and a large volunteer corps. There's a learning curve to that. The library has been closed for about a year and a half. Expectations are really high. And I want to meet those."
On the plus side, she added, "the reward is that we get to do that in a community that didn't have the public library for a year and a half. Every day is a joy."
Roseburg will charge $60 a year to users outside the city limits, although students attending city schools get free privileges regardless of their address. The library will not, however, be collecting late fees, joining the groundswell of small libraries that choose not to look to fines for revenue. "I saw the benefits when I was [in New Ulm] of going fine free, and heard from other librarians, and had been doing some research as well," said Wiley. "When I came here I talked to our city manager about going fine-free. We want to create a library that doesn't have those barriers, so my feeling was that we just start without fines. I was able to make that argument and the city manager, the city council, and the library commission agreed."
Roseburg will not be sharing resources with other Douglas County libraries either—a choice that has ruffled some feathers. But each of the 11 libraries has recreated itself on a different model, leaving each functioning independently for now, and Roseburg is focused on serving a community that has committed resources, time, and energy to bringing its library back.
"My vision for the library is that we are a community center that's vibrant, that has high traffic for materials and technology and our meeting rooms," said Wiley. "We want people to think of the library as a place where they can gather and get to know one another, and get to know the greater Roseburg community. I want us to be the center of that."