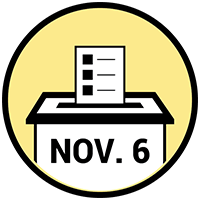 Voters turned out at the polls in record numbers on Tuesday, November 6, for the 2018 midterm elections, with several hot-button issues—including health care, immigration, and the economy— taking top billing. Democrats won control of the House, with a number of first-time, diverse candidates making a strong showing; Republicans held and strengthened their Senate majority.
But strong voter turnout did not drive support for libraries at the voting booth, and the results of 79 elections tracked by LJ and national nonprofit political action committee EveryLibrary did not reflect the hoped-for trend that 2017's win rate seemed to presage. At press time, 48 (72 percent) had passed their measures, 13 (20 percent) failed, and four (6 percent) were still too close to call; 13 had not yet returned reliable information from local election authorities or news sources. These results are more in line with the averages of the past decade than last year's successes, noted John Chrastka, EveryLibrary executive director (and a 2014 LJ Mover & Shaker [M&S]).
However, the midterms also saw several encouraging large wins in New Mexico and Kansas City, MO, as well as surges in Ohio and upstate New York.
VOTES OF CONFIDENCE
The Kansas City Public Library, MO, asked voters to authorize an eight-cent increase in the property tax–based operating levy—its first such request in 22 years. Residents responded with overwhelming approval and an 84 percent yes vote; the additional funding will maintain and modernize library facilities, enhance existing services and safety measures, and sustain and expand lifelong learning opportunities.
The Ypsilanti District Library, MI, received a 70 percent yes vote on its request for 0.7 mills of operating funds over the next 12 years. In addition to preventing service cuts, increasing collections, upgrading outdated tech, and paying for needed capital improvements, the library will be able to construct a new facility with help from the library's existing fund balance.
In Texas, Austin Public Library voters approved Proposition B, a bond that will provide $34.6 million in funding for renovations at various branch libraries as part of $128 million for museums and other cultural spaces, by 73 percent.
The City of Sunnyvale, CA, passed measure K by more than 77 percent. The transient occupancy tax, paid by hotel guests, will provide approximately $2,900,000 additional revenue for city services, including library programs.
Washington State's Spokane Public Library and School District passed two concurrent bond measures to expand and renovate several library locations as well as build new joint-use facilities shared between the library and the schools. Total tax increases will work out to 19 cents per $1,000 of assessed property value, to raise about $77 million across both projects.
In Kanawha County, WV, voters approved an extension of its current excess levy, which raises about $3.1 million annually, at the same time that they passed a higher schools levy. The levy benefits other area libraries as well, including the South Charleston Public Library, which is not part of the Kanawha system, and the Nitro Public Library, which is independent but receives services from the county system.
STATEWIDE WAVES
One of the biggest wins was in New Mexico, where residents passed General Obligation (GO) Bond Issue B, providing $12.876 million in aid to libraries across the state, by more than 68 percent. Public, academic, and public school libraries will receive $4 million each; tribal libraries will receive $750,000. GO Bonds are a fundamental part of the state's library funding formula, and the New Mexico Library Association and the Friends of the Albuquerque Public Library's Bonds for Libraries Special Interest Group stepped up to fund campaigns to raise public awareness during the lead-up to the vote.
In Ohio, 24 out of 25 public library ballot issues passed, with an average approval rate of 64.5 percent. These included two new levies, 15 renewals, three renewals with additions, and four replacement levies—all of which will provide financial support for programs and services, complementing state funding. "The overall voter approval rating shows that Ohioans continue to express their support for public libraries at the polls," said Ohio Library Council executive director Doug Evans in a statement "Voters feel that their libraries provide essential programs and services and are good stewards of taxpayer dollars."
New York's Mid-Hudson region saw ten out of ten budget votes pass. "With unpredictable voter turnout numbers, much higher than usual for a midterm election, our projections were off, but all libraries in the Hudson Valley prevailed," Rebekkah Smith Aldrich, executive director of the Mid-Hudson Library System and a 2010 M&S, told LJ. One no vote for the region was greeted with approval, however: a contentious question of whether to "dissolve and terminate" the Woodstock special library district, after a months-long battle between a local community group and the library's current governing authority, which was defeated by a 2–1 margin. "All in all, a tough year," added Smith Aldrich, "but our citizens demonstrated, once again, they value their libraries and put their money where their voice is."
To the west, in New York's Orange County, voters in the town of Chester approved three propositions, including a nearly $634,000 spending plan. Voters did not, however, approve the library's autonomy from the town, which would have ensured a predictable funding stream—it will have to continue petitioning the town for funding.
Two statewide school funding measures that would have directly benefited school libraries did not pass. Utah's Question #1—a statewide advisory ballot measure, backed by the Utah Library Association and the Utah Educational Library Media Association, to establish a new ten cent gas tax, of which 70 percent would have gone to fund education including school libraries—was defeated with 66 percent opposed.
In Colorado, Amendment 73, a statewide constitutional amendment supported by the Colorado Association of Libraries and the Colorado Association of School Libraries to stabilize school funding and allocate funding equitably among districts, failed by 55 percent to 45 percent.
Colorado did not see many successful ballots this election. Only one of its measures, in Garfield County, passed, with another too close to call at press time. Notably, Anythink Libraries, in Adams County, which has been experiencing a rapid rate of community growth, saw its Proposal 6A, a ballot measure to increase funding by 2.2 mill that would have added up to an additional $11.6 million in operating funds for 2019 for the popular system, defeated by a slim margin—just over 52 percent.
TRANSLATING LIKEABILITY TO VOTES
Also in Colorado, Bayfield's Pine River Library District requested raising the mill levy from 2.5 to 4.5 mills, a tax increase of $454,158 annually—the district's first increase in 19 years. Despite a record turnout, at press time the measure was ten votes shy of passing—although, in a notably tax-averse region, such a slim margin could also be interpreted as a sign that the necessary work to bring library loyalty to the polls may be building.
But that work is still critical, said Chrastka, as the past decade's decline in voter support for libraries noted in the 2018 OCLC/American Library Association (ALA) "From Awareness to Funding" report continues. Although voter turnout may have been lower in 2017, he told LJ, "they voted based on their value system, and libraries fit that value system. The 2017 results did not carry into 2018, and we've returned to the trend over the last ten years—declining top-level support for libraries" (see also "Reversing the Slide in Voter Support" and "A Decade Apart").
EveryLibrary worked with the Rochester Public Library District, IL, which asked residents library district to vote on a tax rate increase for an approximately $3.2 million bond to cover operational costs and expand and renovate the library to meet increased community needs. Eight out of ten people reported that they felt positively about the library, said Chrastka, yet the measure failed to break 46 percent at the polls.
"That disconnect between people saying that they like us to our face, and then in the privacy of the voting booth voting it down, is an important characteristic of the voting public that we have to overcome in our campaigning," said Chrastka. "The gap between willingness to fund and likeability is growing, and we need to shift, as an entire industry, our approach to doing advocacy in order to close that gap."
For more information on what the midterm elections might mean for your library, check out ALA's 60-minute webcast on Friday, November 9, at 11:30 a.m. EST. Registration is free.