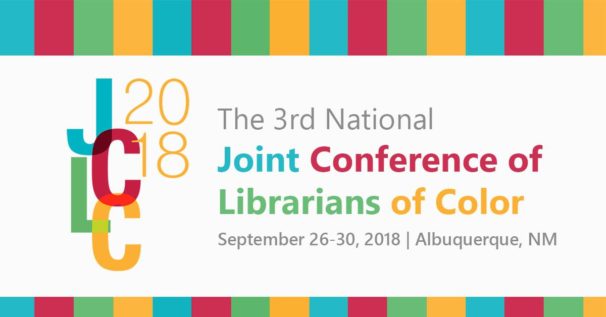 The third Joint Conference of Librarians of Color (JCLC) took place September 26–30 in Albuquerque, NM with 1,019 registrants. JCLC is organized by the American Library Association's (ALA) five ethnic affiliates: the American Indian Library Association (AILA), the Asian/Pacific American Librarians Association (APALA), the Black Caucus of the ALA (BCALA), the Chinese American Librarians Association (CALA), and REFORMA, the National Association to Promote Library and Information Services to Latinos and the Spanish Speaking. Previous conferences were held in 2012 and 2006.
BCALA President Richard Ashby Jr. stated the caucus started out because "we weren't getting what we needed from ALA." Today, we are still making spaces for ourselves to discuss issues affecting our cultures and communities in candid ways that cannot be discussed elsewhere. This conference provides an opportunity to find community, inspiration, and purpose to help sustain us in the profession. The theme, "Gathering All Peoples: Embracing Culture and Community," perfectly captured the atmosphere at sessions, in the halls, and around the city.
Most of the preconferences were sold out despite having increased number of seats available. Topics focusing on people and communities of color were in high demand. At the session "The Color of Leadership: Developing Librarians of Color as Agents of Change," presenters Camila Alire, Patty Wong, and Luis Herrera took a moment to welcome everyone in the room. Many participants were already in leadership positions as directors or managers, but there were others interested in developing those skills and moving into administrative positions. It was refreshing to meet and connect with other people of color who want to be in leadership roles so we can make positive changes in our communities and institutions. It was an environment that did not question whether or not it could happen, but that encouraged conversation beyond the basics of what it is like to be a person of color in the profession.
Also featured were inspirational keynote speakers such as Benjamin Alire Sáenz, author of Aristotle and Dante Discover the Secrets of the Universe (S. & S. Young Readers), and poet E. Ethelbert Miller. The speakers were powerful, and their words captured the struggle and spirit of the conference. Sáenz talked of community, reflecting many of the session's themes on community building and inclusion. "Community is a holy word. You are my community. You belong to me and I belong to you. It's not just your struggle, it's our struggle. We belong to each other and I don't think we've learned that yet," Sáenz said.
Sessions such as "We Here: Community as Self Care" and "It takes a Village: Spectrum Advisory Committee Creating and Fostering Community for Spectrum Alumni" spoke to the efforts being made to bring communities of color in the profession closer together. The creators of "We Here" began with five minutes of meditation that asked participants to invite and spread kindness into the world. This conscientious approach from both speakers and participants supported a holistic environment from which to approach conference going and our own existence within the profession; it was a reminder that we are more than our jobs. Moments of thoughtful reflection, dialog, and interaction were a part of the sessions.
Land acknowledgements were made in every session, recognizing the land upon which the conference was taking place, and speeches about issues related to indigenous rights were given. In addition to providing tours of the Indian Pueblo Cultural Center, conference organizers invited Miss Indian UNM, Sarah Dennison, to the exhibits opening. Miss Indian UNM serves as an ambassador for the University of New Mexico and the surrounding American Indian community, reminding attendees that the original inhabitants of this land are still living and thriving.
Attendees requested the conference to happen more frequently; fortunately, at the end of the conference it was announced that the next JCLC will take place in four years with a location to be announced at ALA Midwinter. It is significant that the current president of ALA (Loida García Febo) and the president-elect (Wanda Kay Brown) are women of color. Representation matters, and as García Febo launches her initiative, "libraries = strong communities," organizations should similarly build strong communities. To do that, we need to take the next step toward moving beyond the individualism of diversity to the systemic and cultural change needed to build inclusive organizations. This requires all of us to take on equity, diversity, and inclusion as everyday work. As poet E. Ethelbert Miller said in his poem, "This Is What I want to Tell You," at the closing brunch, "this is how it begins, not with some of us, but with all of us."
---
Denisse Solis is Resident Librarian at the University of Denver, and a contributor to In the Library with the Lead Pipe. She earned her MLIS from Kent State University and her B.A. from Florida International University.