Technological and social changes have revolutionized librarianship, particularly following the COVID-19 pandemic. Across the country, librarians have become local community leaders on issues like diversity, equity, and the fight against disinformation.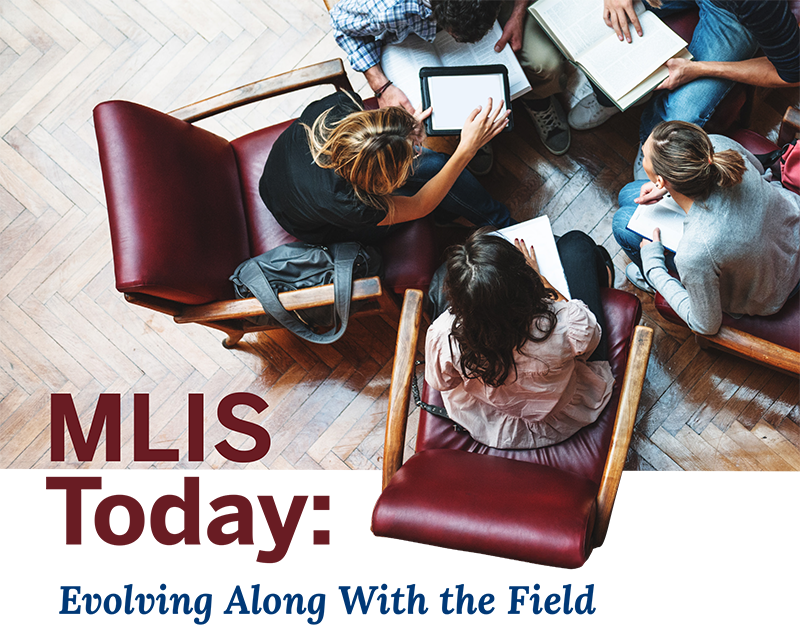 Technological and social changes have revolutionized librarianship, particularly following the COVID-19 pandemic. Across the country, librarians have become local community leaders on issues like diversity, equity, and the fight against disinformation. So, although the job market for librarians has taken a pandemic-related hit, the future holds great promise for graduates with a Master of Library and Information Science (MLIS) degree.
As published in the Occupational Outlook Handbook, the Bureau of Labor Statistics predicts nine percent growth in the library job market in the coming decade. However, these statistics do not include the expanding field of information professionals like digital asset managers or corporate archivists. To meet this rapidly progressing market, MLIS programs have evolved to provide 21st-century training to the next generation of librarians and information specialists.
"For librarians entering the field as opposed to 20 years ago, the required skill set has changed dramatically," says the University of Southern California's Dr. Christopher Stewart. "The needs of an evolving profession have dictated changes to LIS education."
This year's featured MLIS programs offer innovative, ambitious new training for students entering this ancient profession. Demographic indicators show a younger, more diverse group of individuals seeking advanced training in library science. These online programs deliver flexible, dynamic learning opportunities for students at any stage of their careers.
University of Southern California
The University of Southern California created its Master of Management in Library and Information Science (MMLIS) program in 2013. Offered through the prestigious Marshall School of Business, the curriculum covers essential facets of librarianship—foundational courses like research, collection development, and information description—but puts training in management and leadership skills front and center.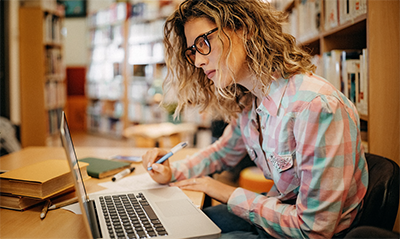 "We train information professionals," says program director Dr. Christopher Stewart. "Graduates need the right balance of technical skills along with communication and management skills. When we think about management as a core skill for new librarians, we think about budgeting, marketing, community outreach, leadership, and instructional skills." In addition to the core curriculum of 13 required courses, students can choose from a portfolio of electives in subjects like archival management, metadata and taxonomies, and instructional design.
USC MMLIS cohorts of 20 to 30 students start in the spring or fall semester, then move through the 100 percent synchronous online program as a group, interacting with their professors and each other in real time. Business school faculty members teach courses on communication, project management, and marketing for libraries. The demanding 30-hour-per-week schedule allows for program completion in 18 to 19 months. "We want to get our graduates out into the profession to start making the contributions they really want to make," says Dr. Stewart.
USC encourages students to become professionally engaged by offering funding for conference attendance and career coaching resources. Current students and graduates benefit from USC's powerful alumni network in Southern California and across the country. The program's innovative virtual internship program provides flexible opportunities in libraries and archives as well a range of other settings.
"Our graduates work in a variety of fields in addition to public, academic, and school libraries." The USC training also prepares students for nontraditional jobs like digital asset managers, digital curators, social media managers, and other content specialists. "Our alums work as work across a range of industries," adds Dr. Stewart.
USC's MMLIS program prepares graduates for success across the changing professional landscape. "As somebody who worked as a librarian for many years, I am most proud of how our program teaches librarianship through a management lens. Students who complete our MMLIS are equipped to become leaders at every level of their careers," says Dr. Stewart. "We also talk a lot about the core values of librarianship like inclusiveness, diversity, and intellectual freedom. Applied skills are needed to turn values into actions."
Learn more at: https://librarysciencedegree.usc.edu/
Emporia State University
Founded in 1902, Emporia State University's School of Library and Information Management (SLIM) is the oldest library school west of the Mississippi River. Prior to the pandemic, Emporia served regions where no library schools were available in person.
Starting this fall, SLIM offers a fully online program combining synchronous virtual class sessions with asynchronous online learning. This new program option's affordable tuition makes SLIM one of the most competitively priced Master of Library Science (MLS) degrees in the nation. A hybrid program option, providing in-person class sessions with asynchronous online learning, is also available on the main campus in Emporia,.
The SLIM program addresses future challenges like sustaining the resiliency, innovation, and creative solutions born of the COVID pandemic experience. SLIM trains students for leadership within their communities and the profession. The program's commitment to diversity, equity, and inclusion as the guiding principles of librarianship is embedded in all SLIM core courses.
SLIM's curriculum is a dynamic mix of theoretical and practical application courses grounded in professional values and ethics. Students learn how to evaluate information services and meet community needs through information infrastructure, management, and technology. They stay abreast of new developments in the field through elective courses on current issues.
Students start their MLS journey with a cohort loosely based on geographic location, taking their required courses together. As candidates select their area of concentration, they take courses with other students from across the country in their specialties. SLIM's 36-credit-hour program can be completed in two years even while working a full-time job. Asynchronous courses accommodate working people's schedules.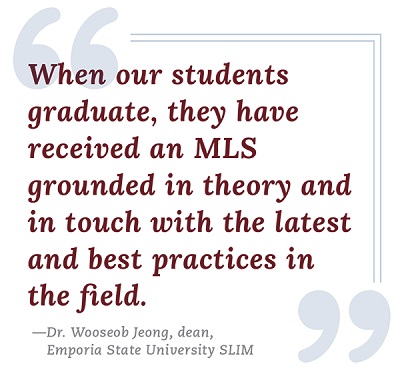 "Personalized advising, small class sizes, and a variety of concentration areas provide each student with an education aligned with their specific career goals," says SLIM dean Dr. Wooseob Jeong. "When our students graduate and join SLIM's national network of alumni, they have received an MLS grounded in theory and in touch with the latest and best practices in the field."
The school hosts a Student Chapter of the American Library Association (SCALA), in which all 362 current students may participate. SLIM has more than 5,200 alumni across the nation, many of whom are in managerial positions. This sizable network is a great asset for students to develop their career paths. SLIM also has numerous scholarship opportunities, including ALA diversity scholarship matches, support for student conference participation, and needs-based scholarships.
The school also offers frequent webinars and guest panels of alumni and other working professionals and provides weekly notices of job opportunities across the country. The compiled job list is updated and maintained on Emporia State's website. Academic advisers facilitate networking and career development opportunities while students are in the program and after they graduate. Alumni also have access to the university's Career Services department.
SLIM's mission is to educate successful library and information professionals with imagination, creativity, and innovations. "We are very proud of our alumni's distinctive accomplishments, including two current state librarians, two recipients of 2021 I Love My Librarians! Award, and two Movers & Shakers by Library Journal in 2021," says Dr. Jeong. "If you want to be a librarian, come to us. " Learn more at: www.emporia.edu/slim/
San José State University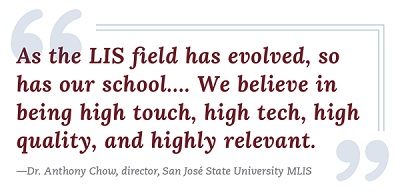 "As the LIS field has evolved, so has our school. San José State University is based in Silicon Valley, and we believe in being high touch, high tech, high quality, and highly relevant," says MLIS director Dr. Anthony Chow.
The SJSU MLIS program has been operating 100 percent online since 2009. There are no on-campus orientations or other required in-person events. Students interact with peers and instructors through web conferencing, social networking platforms, a web-based learning management system, and other interactive environments. Most course content is delivered asynchronously, giving students the freedom to access the course at any time they choose, from any location.
"Our curriculum has evolved in step with the information profession and prepares students for the current job market, no matter if they choose to go work in a library or use their skills in nontraditional LIS roles in diverse information landscapes," says Dr. Chow.
Students are supported throughout their learning journey by a student services team, technology team, faculty advisers, and a dedicated career counselor. SJSU maintains a database of more than 200 internship opportunities, many of them virtual, each semester. Students are also encouraged to participate in SJSU's student chapters of professional associations—including the American Library Association, Association for Information Science & Technology, and Society of American Archivists—to meet peers, gain experience, and network. SJSU's Career Center supports students and alumni with career counseling, interviewing guides, job search tips, and several apps focused on career development.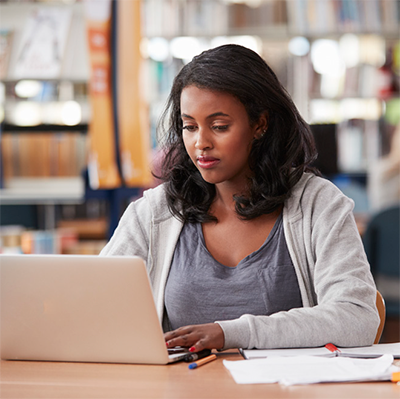 SJSU's MLIS program has the unique distinction of educating more LIS professionals than any other program in the nation. And program graduates have distinguished themselves, as indicated by the prestigious awards they have garnered. SJSU alumni are innovators, change agents, scholars, advocates, community builders, and digital developers, who are bettering their global communities.
"The San José State University School of Information provides one of the highest-quality MLIS experiences in the country through our robust resources and top faculty and lecturers," says Dr. Chow. "We help students become the best LIS professionals they can be and then we help them get prepared to find a job and begin their successful careers."
Learn more here: https://ischool.sjsu.edu/master-library-and-information-science
SPONSORED CONTENT