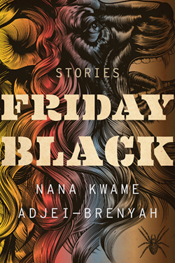 Adjei-Brenyah, Nana Kwame. Friday Black. Mariner: Houghton Harcourt. Oct. 2018. 208p. ISBN 9781328911247. pap. $14.99; ebk. ISBN 9781328915139. F
DEBUT In "Zimmer Land," a core story in this edgy, much-anticipated debut collection from Breakwater Review prize winner ­Adjei-Brenyah, patrons at a specially designed theme park can get the visceral thrill of standing up to perceived bad guys and often pretending to kill them, thus achieving a putative sense of justice. The Wall Streeter who founded it says he was aiming for "social interconnectivity," but the park is clearly a racist, consumerist venture exploiting white fears and desire for predominance, and reading it cuts to the bone. Adjei-Brenyah's stories are like that, often using scenarios stepping just beyond reality to make us understand how ugly reality is, especially as experienced by those of color. In "The Finkelstein 5," horribly reminiscent of recent headlines, five African American children have been beheaded outside a library by a white man claiming to fear for his children's safety, prompting retaliation; the conflicted narrator explains how he adjusts his Blackness throughout the day ("his voice down to a 1.5 on a 10-point scale")—an act some readers will know from their own lives and others will shudder finally to understand. ­
VERDICT Powerful work for a wide range of readers. [See Prepub Alert, 6/18/18.]
Eisenberg, Deborah. Your Duck Is My Duck: Stories. Ecco: HarperCollins. Sept. 2018. 240p. ISBN 9780062688774. $25.99; ebk. ISBN 9780062688798. F
Once again, MacArthur Fellow ­Eisenberg ( Twilight of the Superheroes) deploys her brand of entertainingly sharp cultural insight, using fine portraiture to show life's messiness and the great gap that often looms between how things are and how we want or imagine them to be. A mother relentlessly compares her daughter favorably to a violin prodigy cousin while viciously critiquing her own sisters-in-law, the daughter's beloved aunts; even the young woman's rationalizing boyfriend must finally concede, "Your mother is mean as a mace." A group of octogenarian actors famed in their day gather to pick apart a memoir written by an esteemed director's grandson, who portrays them in a bad light—or at least not as they see themselves. The daughter of the deceased Zoe, once part of the group, recalls her mother revealing at life's end what she wished she had seen but refusing an offer of plane tickets; "Just let me lie here and yearn to see the Taj Majal." A young artist is delighted if puzzled when she's taken up by a wealthy couple who bought one of her paintings; in the end, she realizes she's just part of their drama.
­VERDICT Important for collections of good literature. [See Prepub Alert, 3/26/18.]
Homes, A.M. Days of Awe: Stories. Viking. Jun. 2018. 240p. ISBN 9780670025497. $25; ebk. ISBN 9780525558934. F
In "The National Cage Bird Show," a story midway through this first work since Homes's 2012 Women's Prize–winning May We Be Forgiven, a soldier and a troubled young woman enter a chat room for budgies (a type of parakeet) and take the conversation in various personal and fractured directions in ways that jangle the other chat roomers (and maybe readers, too): what's going on here? That sort of disorientation occurs throughout. Two friends playact their way through a lunch meeting, imitating a noxious husband; the extemporaneous poolside meeting of Cheryl and Walter gradually reveals the past and present of her wealthy, laughably class-conscious family (Cheryl's sister can't believe Walter's family doesn't have their own pool); and the War Correspondent and Transgressive Novelist see each other again at a genocide conference, having sex (though she's a lesbian) and fighting afterward about their own past and present, their superfluities contrasting sharply with the conference theme. Certainly they know that, but other characters aren't always so wise; we can feel dropped into the middle of a conversation, and it doesn't always work.
VERDICT Sometimes fascinating, sometimes frustrating tales of modern absurdity; Homes's many fans will want. [See Prepub Alert, 12/11/17.]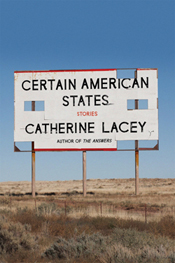 Lacey, Catherine. Certain American States: Stories. Farrar. Aug. 2018. 208p. ISBN 9780374265892. $26; ebk. ISBN 9780374714352. F
A Granta Best of Young American Novelists whose Nobody Is Ever Missing was an NYPL Young Lions finalist, Lacey delivers an accomplished collection featuring characters suffering a sense of dislocation, as if they've just been pushed off a cliff. A man worried that his former wife will portray him badly in her writing stumbles when he confronts her; a woman who's moved to New York from Texas cannot regain her traction when her beloved brother dies and further fails to connect with her mother, her discomfort reflected in her inability to understand what a homeless man is trying to say. A sense of helpless solitude permeates the stories, as when a woman agrees to cat-sit for a man with whom she has little in common. Even the cat doesn't like her, and cats, dogs, and other animals show up throughout to highlight human failings. Lacey is a fluid writer whose stylistic choices expertly reflect her characters' state of mind; the endless sentences articulated by the man fearing his ex-wife's retaliation bespeak a sort of breathless anxiety; elsewhere, parentheses within parentheses embody the constant asides of someone who cannot speak her
mind.
VERDICT Highly recommended. [See Prepub Alert, 2/12/18.]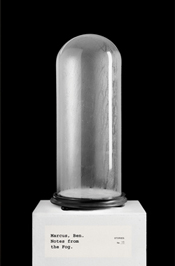 Marcus, Ben. Notes from the Fog: Stories. Knopf. Aug. 2018. 288p. ISBN 9781101947456. $26.95; ebk. ISBN 9781101947463. F
Fog, hardly; confounded though his characters might be, Marcus (Leaving the Sea) delivers slightly tilted, sometimes futurist worlds in beautifully, icily precise language. Often his characters are crushed by corporate excess, as when moody, slightly misanthropic Carl is disfigured after serving as the guinea pig for his company's new nutritional supplement or employees clumping together at mournful gatherings realize that "an obituary had just been written for their industry." The pills they are prescribed after regular company physicals ("maybe so you didn't die…and cause a lapse in productivity") are literally hard to swallow and frequently pop out, as if the body knows to reject them. In more personal stories, Martin and Rachel are dismayed by their preternaturally smart, mature, suddenly withholding ten-year-old, while hapless George must deal with his hostile therapist, the randy paramour of his recently deceased father, and the celebrity sister he barely knows. In a particularly effective story, a couple whose marriage is freezing over must continue with their business—building memorials after terrorist attacks. Personality fault lines afflict the latest project, as pragmatic Roy challenges Helen's idealism; she thinks the project should communicate oblivion, perhaps via sticky smoke.
VERDICT Excellent for smart readers.
Owen, D. Wystan. Other People's Love Affairs: Stories. Algonquin. Aug. 2018. 224p. ISBN 9781616207052. pap. $15.95; ebk. ISBN 9781616208837. F
DEBUT "In the restaurant, people were eating alone," begins one story in this debut collection set in the English coastal town of Glass. (Owen was raised in both England and California, where he now lives.) Another story observes, "Sunday nights along the boardwalk are slow: locals retired, weekenders gone." Thus does Owen capture the sense of lives sometimes lonely, sometimes melancholy, yet moving steadily like the sea. In the touching opening piece, a woman caring for infants at a hospital seeks out an old man who knew her wild, dangerously irresponsible mother. He wants to help with the children, and when she must refuse, their friendship fades. The owner of a club remains in love with May, who sings there, though she has moved on; a woman tends house for a widower whose daughter rarely visits and finds connection as she reads to him; in the title story, Erma realizes after the death of longtime companion Violet that while she loved more deeply, people saw them as equally involved, itself a comfort. ­
VERDICT Quietly affecting stories for readers tired of fireworks.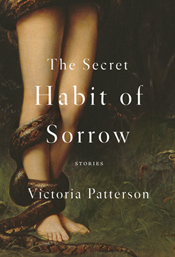 Patterson, Victoria. The Secret Habit of Sorrows: Stories. Counterpoint. Jul. 2018. 224p. ISBN 9781640090521. pap. $16.95; ebk. ISBN 9781640090538. F
Some story writers can't resolve the moment they've managed to capture, but in her first collection Patterson (The Little Brother) shows that she's skilled at offering satisfying and effectively contained slices of life. Frequently, her characters battle family or personal issues but won't give up. A woman facing divorce, suspecting her son of smoking pot, and contending with her thrice-widowed mother tosses her own wedding dress out the window but collects it from the bushes. A divorced father reaches out to a girl his teenage son has scorned, even as he catches her preparing to vandalize his ex-wife's house; she finally helps him refill the pond he's emptied. Natalie tries to help her dead sister's nerdy young son while shoving down disappointment about her inability to get pregnant, and a young woman battling addiction still talks with preachy Christian friend Vivian, unable "to shake the intimacy of [their] girlhood friendship" or memories of her crush on Vivian's bad-boy older brother, whom she's convinced sacrificed himself for his sister. Another drug-troubled young woman, well-to-do yet cleaning houses as part of her recovery, wins a smile from a nasty woman on her cleaning brigade.
VERDICT You don't have to be a short story fan to enjoy this collection.
Rich, Simon. Hits and Misses: Stories. Little, Brown. Jul. 2018. 224p. ISBN 9780316468894. $25; ebk. ISBN 9780316518239. F
Former Saturday Night Live writer Rich boasts a handful of deftly droll story collections (Spoiled Brats), and this latest includes concise, punchy tales that will make you smile when you want relief from mindful reading. A novelist isn't too upset when his study becomes a nursery; he's thrilled when an ultrasound reveals that the fetus is a boy holding a pen and suggests that the baby howls at birth because he wants to do a quick manuscript revision. A young man in thrall to his fiery Hollywood boss, Jack Krieger, finds he has an advantage over Krieger when they are killed in a plane crash and meet Saint Peter at the Pearly Gates. A World War II dictator gets celebrity-style magazine coverage, a jester in 17th-century France gets one-upped by his ever-humble protégé, a monk proves his worth to his brethren but still narrowly avoids getting his hands chopped off for sacrilege, and Paul Revere's horse, Oatsy, resents not getting full credit for their midnight ride; it was his idea, and Revere just hung on for the gallop. In the end, though, says Oatsy, "For a moment, I was happy. I was free."
VERDICT These pieces are often more vignette than fully conceived story, and some could have been developed further. Yet they're entertaining if not always laugh-out-loud funny, and, as with Oatsy's tale, often carry a certain sweet poignancy. [See Prepub Alert, 1/22/18.]
Rodriguez, Ivelisse. Love War Stories. Feminist. Jul. 2018. 200p. ISBN 9781936932252. pap. $16.95. F
DEBUT Love and war indeed. In the opening story of this promising debut collection chronicling the lives of Puerto Rican girls, Noelia eagerly anticipates her quinceañero but worries that the festivities will be disrupted by her aunt Lola, the butt of town jokes because she still awaits the man who abandoned her. Starry-eyed Noelia wants the joyous glitter of the event, Lola knows the heartbreak becoming a woman means, and the two are on a collision course that will change both their lives. In "Holyoke, Mass.: An Enthography," set in a Massachusetts town that has always attracted immigrants, most recently Puerto Ricans, tough, sexy 15-year-old Veronica struggles to hold onto her hard-earned popularity and equally hard-earned boyfriend. But her world is as cutthroat competitive as Wall Street, and her narrative ends in blood and tears. Elsewhere, young people deal with family and friends, sexual desire and former lovers, creating the portrait of a community.
­VERDICT The stories here can feel a little rough or imperfectly developed, but this reviewer kept returning to them for their freshness, urgency, and sheer heart. Good for YA and adult readers alike.
Van Booy, Simon. The Sadness of Beautiful Things: Stories. Penguin. Oct. 2018. 160p. ISBN 9780143133049. pap. $16; ebk. ISBN 9780525504863. F
If there is indeed sadness in beautiful things, life being achingly evanescent, there is also great beauty in the stories here, even when they touch on life's darker moments. An old woman who learned late in life of her tragic beginnings acts as benefactor to a family burned out of their home; an elderly man suffering from depression is vivified by magical glasses reminding him of life's best moments and a promise to keep; and a young blind woman and a Chinese American trumpeter are brought together by their love of jazz. In the futuristic "Playing with Dolls," parents painfully, lovingly decide to let go of a daughter who was physically refabricated after a terrible accident yet will never be able to grow. "Not Dying," another story of love and loss, features Lenny's obsession with protecting his wife and daughter from Armageddon-like dangers. Yet the real danger comes from a collision on a snowy road; poignantly, we catch Lenny thinking earlier that he "could feel the happiness he would lose when his life ended."
VERDICT Winner of the Frank O'Connor International Short Story Award for Love Begins in Winter, Van Booy was often inspired here by stories people told him, so the sparkle is nicely balanced by a conversational, down-to-earth tone with broad appeal.
Wilson, Kevin. Baby, You're Gonna Be Mine: Stories. Ecco: HarperCollins. Aug. 2018. 288p. ISBN 9780062450524. $25.99; ebk. ISBN 9780062450685. F
As evidenced by his debut novel, The Family Fang, and now this second affecting story collection, Wilson expertly limns fraught family relations and especially the trouble many adults have growing up. In the title story, a self-absorbed rock star quits music and moves home, then rejoins his band after a successful turnaround; what's heartening is not his smug delight but his mother's reaction at story's close as she watches a video of his singing: "But Gina knew what was in his heart. Her son." Similarly, in "Housewarming," a long-suffering father intervenes yet again to help a helpless adult son who can't control his emotions, this time dragging a dead deer from a pond near where the son and his wife live; the result is pitch perfect and absolutely wrenching. Elsewhere, a young man assists his girlfriend with the feral, neglected children of her sister, who's just stabbed her husband with a kebab skewer, and a teenage boy finds a magical razor that allows him to go back in time and redo bad days. Gruesomely, he's got to cut his throat with the razor for its magic to work, but he uses it repeatedly into adulthood to avoid truly reckoning with life.
VERDICT Highly recommended. [See Prepub Alert, 2/26/18.]
Barbara Hoffert is Editor, Prepub Alert, LJ
This article was originally published in Library Journal's August 2018 issue.