The push for diverse works across genres and formats gathers new energy given the roiling political climate, and many highly regarded graphic novels are now being released in paperback, including Ron Wimberly's Prince of Cats, David Walker and others' The Life of Frederick Douglass, and Damian Duffy and John Jennings's adaptation of Octavia Butler's Kindred.
Next year will see Butler's Parable of the Sower released by Abrams' ComicArts. Also in 2020, Abrams will debut the new imprint Megascope, which, curated by Jennings, will focus on works by creators of color. Butler has been called "the mother of Afrofuturism" for her sf/dystopian emphasis, themes notable in some of the outstanding works below.
Exciting new superhero paperbacks include: from ­Marvel, Shuri: The Search for Black Panther; Wakanda Forever; Daughters of the Dragon: Deep Cuts; Luke Cage: Everyman; from DC, Black Lightening: Cold Dead Hands andThe Terrifics: Meet the Terrifics; from Valient,Livewire: Fugitive; and from Lion Forge, Noble: No One Man.
Celebrating its seventh year at the New York Public Library's Schomburg Center for Research in Black Culture, Harlem's Black Comic Book Festival welcomed over 10,000 attendees this past January. While some large comic cons have strong librarian-focused programming, it's heartening to see librarians running big cons themselves.
In the larger cartooning world, Darrin Bell (Candorville; Rudy Park) won a 2019 Pulitzer Prize for his "beautiful and daring" editorial cartoons. And in July, the late Morrie Turner was inducted into the Will Eisner Hall of Fame for Wee Pals, created in 1965 and the first syndicated strip with an integrated, inclusive cast.
---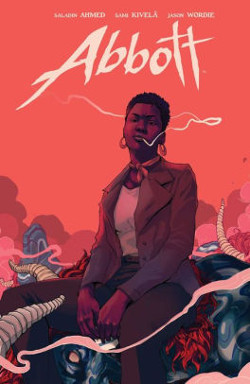 Ahmed, Saladin (text) & Sami Kivelä & Jason Wordie (illus.). Abbott. BOOM! Oct. 2018. 128p. ISBN 9781684152452. pap. $17.99. HORROR
Badass newspaper reporter Elena Abbott bangs out honest stories about police brutality for the Detroit Daily, the only Black staffer at a White paper, while her supportive if hard-bitten editor holds off critics clamoring to oust her. But her already dangerous job turns supernatural when a prominent eccentric manipulates occult forces and creates grisly human-animal monsters to destroy "soft" civilization. Mystical, dark-light polarities, and pulp occultism set in the 1970s with period-appropriate color art.
Anderson-Elysée, Greg (text) & Daryl Toh & Walter Ostlie (illus.). Is'nana the Were-Spider. Vol 2: The Hornet's Web. Webway. 2018. 176p. ISBN 9780997362817. pap. $19.99. HORROR
Spider god Anansi and his were-spider son Is'nana have accidentally released malevolent insect beings into the real world, and now they must send these creatures back to the supernatural realm. A human family caught in the conflict forms an alliance with Is'nana and Anansi, while hornet queen Mmboro and daughter-princess Kantite join forces for mastery over all the others. A beautifully creepy horror tale with roots in African/Caribbean folklore.
Barnes, Rodney (text) & Paolo Villanelli & Andres Mossa (illus.). Star Wars: Lando—Double or Nothing. Marvel. 2018. 112p. ISBN 9781302911645. pap. $15.99. SF
Hunkiest playboy-smuggler in the Galaxy, Lando Calrissian talks a good game. But when he's hired to help a band of Petrusian slaves escape their Imperial masters, it takes two canny gals—including his droid L3-37—to help pull off the caper. Plenty of bad jokes, derring-do, ugly creatures up to no good, and some nice closing twists. Classic superhero art; Lando resembles actor Donald Glover, who played him in 2018's Solo: A Star Wars Story. (LJ 11/15/16)
Bernardin, Marc (text) & Adam Freeman & Rosi Kampe (illus.). Genius. Vol. 2: Cartel. Top Cow/Image. Feb. 2018. 136p. ISBN 9781534304864. pap. $19.99. Rated: Mature. CRIME
Wunderkind military strategist Destiny Ajaye united the feuding South-Central Los Angeles gangbangers to bring the LAPD to their knees. The 17-year-old's message? Black lives matter. Now surrendering herself to assure amnesty for her "troops," she is taken to a mysterious governmental Institute that intends to remake her into their superbrain tool. But Destiny has her own ideas about killing and rescuing. Parallels to real-life events plus ballsy women characters make this a gripping read.
Campbell, Bill (text) & David Brame & Damian Duffy (illus.). Baaaad Muthaz. Rosarium. Sept. 2019. 140p. ISBN 9781732638815. pap. $14.95. SF
They're Afro Desia, Cali Vera, Alley Bastard, Candy Ass, and Katana Jade: "The all-female space pirates who double as a James Brown revival band!" exclaims Pamela, an alligator-like pwanta seeking music to mate by. Transporting a priceless cargo of Karvigjian sperm, the Muthaz come up against rival Captain Sky, mandrill guerillas, an antlered Prince-look-alike—and the pwantas. The Afrofunk characters and gonzo plot draw on retro-Blaxploitation clichés for messy, exuberant fun bursting with puns and in-jokes.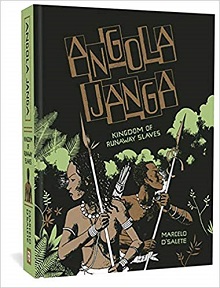 D'Salete, Marcelo. Angola Janga: Kingdom of Runaway Slaves. Fantagraphics. Jun. 2019. 432p. tr. from Portuguese by Andrea Rosenberg. maps. bibliog. ISBN 9781683961918. $39.99. HIST
Brazil's east coast, 1600–1740. Portugal establishes sugarcane plantations and buys millions of enslaved Africans as labor. But during the temporary Dutch occupation, many escape to hidden fugitive communities known asmocambos. Angola Janga, also called Palmares, is a group of mocambos that the Portuguese aim to destroy despite heroic escapee resistance. With moody, heavily shaded black linework, D'Salete dramatizes the harrowing struggle by focusing on individual Africans and Portuguese, some characters based on real people.
Daniels, Ezra Claytan. Upgrade Soul. Lion Forge. Sept. 2018. 271p. ISBN 9781549302923. $19.99. SF/HORROR
Elderly sf author Hank Nonnar enrolls with beloved scientist-wife Molly in an experimental rejuvenation procedure designed to prolong life and enhance human functions. Unsurprisingly, things don't go as planned, and now "before" and "after" versions of both partners exist—all defective. Daniels exquisitely draws out the yearnings, strengths, and weaknesses of all characters, appearing to release rather than push the twisty plot towards its conclusion. A breathtaking mad-sf/thriller about identity, love, and family ties. (LJ 11/1/18)
Daniels, Ezra Claytan (text) & Ben Passmore (illus.). BTTM FDRS. Fantagraphics. Jun. 2019. 288p. ISBN 9781683962069. $24.99. GRAPHIC NOVELS
Escaping her upwardly mobile parents, Darla moves back to their old neighborhood in Chicago's Bottomyards to find bare-bones housing where she can grow her design business on the cheap. Paradoxically, the area's "authentic" ambiance has begun attracting the trendy-chic media and business interests. But her huge, windowless building hides a secret legacy from a biotech invention twisted by would-be exploiters. A savage Afrofuturistic horror comedy about gentrification, racial invisibility, and cultural appropriation in knock-your-eyes-out, "non-literal" coloring. (SLJ 6/14/19)
Fauthoux, Xavier. James Brown: Black and Proud. IDW. Jan. 2019. 136p. tr. from French by Jeremy Melloul & Edward Gauvin. ISBN 9781684053384. $24.99. BIOG
"The Godfather of Soul" came to fame during the 1960s civil rights movement. Brown's acrobatic performances, personal life, and social activism all grew larger than life during his heyday. Indeed, his legend and pop music legacy continue, as does the struggle for human rights. In somber black/greyscale piqued by red and yellow, Fauthoux's chronology minimizes Brown's dark side of substance abuse and domestic violence while compellingly dramatizing his rise to stardom and cultural impact.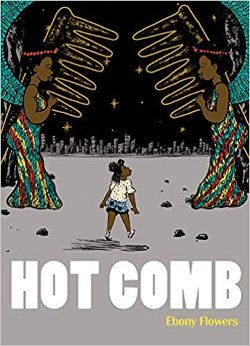 Flowers, Ebony. Hot Comb. Drawn & Quarterly. Jun. 2019. 184p. ISBN 9781770463486. pap. $21.95. SHORT STORIES
DEBUT It's not just "hair," but a symbol of female beauty, incubator of relationships, lifelong obsession, race and status indicator. With humor and hard realism, extraordinary fictionalized vignettes testify to the uniqueness of black hair and the many ways it is experienced. As with fellow cartoonist Whit Taylor, Flowers's anthropology training shows in her eye for intimate detail and nuances of cultural perceptions. Her energetic, tangly ink drawings recall Taylor's and Lynda Barry's work. (LJ 8/19)
Jackson, Dmitri. Blackwax Boulevard: Five Years, What a Surprise (2012–2017). Frotoon. Oct. 2018. 232p. ISBN 9780999259634. pap. $30. F
His fledgling music blog has no followers, his diabetic amputee boss has a guitar for a leg prosthesis, and his crush dates a guy nicknamed "Brother Rage." Can stuttering nerd Marsalis ever find happiness, even clerking in a record store like Blackwax Boulevard? This intellectually dizzying comedy plays a likeable crew of misfits against a potpourri of pop music esoterica—jazz, rock, metal, grunge, and beyond. A challenging and insightful treat. (Collects the webcomic.)
Fox, Ted (text) & James Otis Smith (illus.). Showtime at the Apollo: The Epic Tale of Harlem's Legendary Theater. ComicArts: Abrams. Jan. 2019. 240p. ISBN 9781419731389. $24.99. HIST Since 1934, Harlem's Apollo theater has married devoted, multiracial audiences with the best among African American performers—who thought of the place as "home." The Apollo became legendary for its music: swing, bebop, rhythm and blues, jazz, gospel, soul, funk, and hip-hop. This updated adaptation of Fox's 1983 book is channeled through Smith's free-form panels with lively black and blue cameos of the music legends who powered the mutual theater-audience love affair. (LJ 11/1/18)
Marie, MD (text) & Carlos Miko & Dema Jr. (illus.). Vindication. Vol. 1. Top Cow: Image. Jul. 2019. 120p. ISBN 9781534312371. pap. $12.99; ebk. ISBN 9781534315358. CRIME
Meet two cops gone rogue (one with good intentions), their two ex-girlfriend gumshoes who collaborate, three murder victims, three former jurors in dire straits—and one man with family problems who did ten years in prison but shouldn't have. A finely plotted police procedural that twists and turns through racism and corruption toward justice all around.
Okorafor, Nnedi (text) & Tana Ford & James Devlin (illus.). LaGuardia. Berger: Dark Horse. Jul. 2019. 136p. ISBN 9781506710754. pap. $19.99. Sf
Here, the stigmatized immigrant aliens are aliens from outer space, the Nigerians are the good guys, a family's "putting down roots" acquires novel implications, prosthetic body parts bypass the usual assumptions, and genocide turns up where you least expect it. This playful allegory joins evocative, beautiful art with a wild imagination and mind-bending plot that comes off as both sad and hopeful. A creative commentary on xenophobia and recent U.S. immigration bans.
Parisi, Paolo. Blues for Lady Day: The Story of Billie Holliday. One Peace. May 2019. 112p. tr. from Italian by Denise Tripodi. ISBN 9781642730210. pap. $14.95. BIOG
Known for her recording of "Strange Fruit," a lyrical ballad about lynchings, Billie Holiday became one of the greatest jazz singers of all time despite a troubled life of poverty, jail, violence, discrimination, ill-fated love, and substance abuse. Parisi's spare, approachable account uses mostly Holiday's voice as narrator, dramatized by understated images and vignettes in black and grayscale.
Phillips, Gary (text) & Dale Berry & J. Brown (illus.). The Be-Bop Barbarians: Comic Book Bohemians to a 1950s Jazz Beat. Pegasus. Feb. 2019. 112p. ISBN 9781681777764. $24.95. F
In 1955 Harlem, three African American comikkers battle Cold War politics, prejudice, and temptation. Ollie draws for a left-wing newspaper yet is fired from his day job for fighting harassment. Stef takes an FBI gig then twists the message for her own female-centered strip. Cliff, passing as white, loses the rights to his comics heroine but conspires with his boss's wife. Real-life inspiration plus juicy dollops of pulp keep the story sadly believable yet entertaining.
Pryor, Shawn & B. Alex Thompson (text) & Jay Reed (illus.). F.O.R.C.E. Vol. 1: The Wright Time. Action Lab. Feb. 2018. 96p. ISBN 9781632293299. pap. $9.99. SPORTS
The playing fields of sport and love intersect when Terrance "T" Wright hits snags in in his game as the starting quarterback for the Tennessee Boxers while getting serious in his romance with Cassandra Knox, the franchise's dazzlingly competent operations manager—and his boss's daughter. Reed's excellently drawn kinetic characters vibrate with movement and color, whether on the gridiron or soothing a crush. An engaging and realistic football drama with relatable characters and zippy dialog.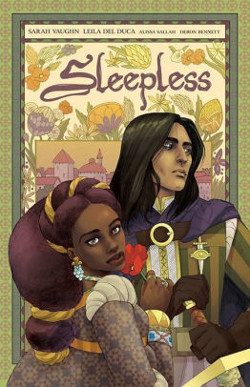 Vaughn, Sarah (text) & Leila Del Duca & Alissa Sallah (illus.). Sleepless. Vol. 1. Image. Jul. 2018. 168p. ISBN 9781534306844. pap. $16.99. FANTASY
The illegitimate daughter of the late King of Harbeny, Lady "Poppy" Pyppenia would like nothing better than to retire from court. But intrigues, assassination attempts, and relations with the new king's family all tangle her in a potentially fatal web. She and Cyrenic, her faithful guard from the Sleepless Order of knights, develop feelings for each other, yet all seems to conspire against them. A gorgeously drawn sword-and-sorcery romance with Mediterranean and Moroccan influences. (SLJ 10/18)
Walker, David F. & others (text) & Rico Renzi & Sanford Greene (illus.). Bitter Root. Vol. 1: Family Business. Image. May 2019. 160p. ISBN 9781534312128. pap. $16.99; ebk. ISBN 9781534314719. sf/fantasy
The Sangereye family—Ma Etta, Blink, Cullen, Berg, Ford, and Uncle Enoch—blends potions of roots and other conjurings to rid souls of hate and racism. But new monsters materialize in this Harlem Renaissance New York, and a family split on how to deal with them threatens everybody. Superbly designed characters as well as vivid, kinetic panels with period detail keep the story moving and the twists surprising. An energetic blend of historical fiction, supernatural horror, and steampunk.
(LJ 8/19)
Whitted, Qiana. EC Comics: Race, Shock, and Social Protest. Rutgers Univ. (Comics Culture). Mar. 2019. 196p. bibliog. index. ISBN 9780813566313. pap. $29.95; ebk. ISBN 9780813573106. comics
Long before diversity became a buzzword and rallying cry throughout publishing, the notorious EC Comics sneaked socially conscious stories about civil rights and justice for minorities into its 1950s sensationalist anthologies. In a series titled Shock SuspenStories , Weird Fantasy, and even Tales from the Crypt lurked plots about rebellious slaves, comeuppance for hateful neighbors, and a Black astronaut censuring a racist robot culture. Whitted (English, African American studies, Univ. of South Carolina), gives the inside story.
---
Martha Cornog is a longtime reviewer for LJ, and, with Timothy Perper, edited Graphic Novels Beyond the Basics: Insights and Issues for Libraries (Libraries Unlimited, 2009)