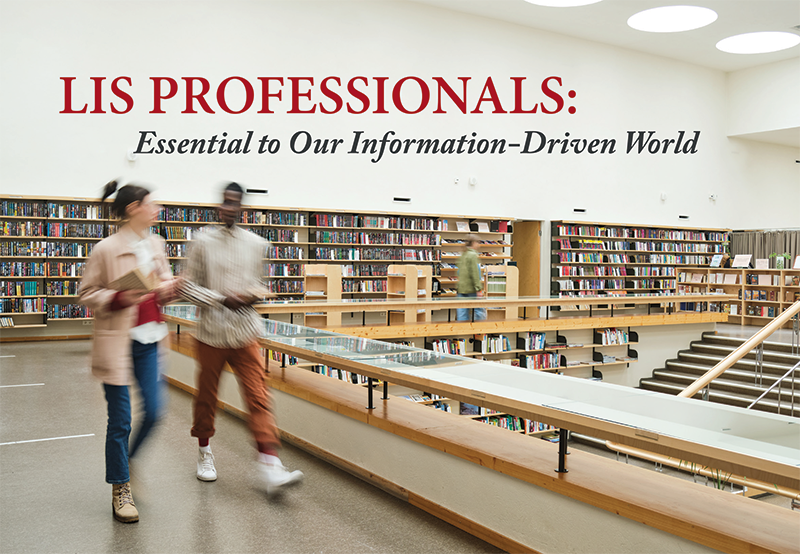 In 1833, the first public library was opened in Peterborough, New Hampshire. In 1840, the first library card catalog was created at Harvard with 35,762 cards written by hand. It wasn't until 2015—175 years later—that OCLC printed its last library catalog. Now technology becomes obsolete seemingly overnight.
"In our increasingly digital world, data continues to increase exponentially," says Rebecca Hall, marketing & web development creative manager at the University of Wisconsin School of Information Studies. This information proliferation creates challenges for everyone, particularly for those in the various librarianship professions. But as experts trained in understanding how to corral all that data into comprehensible, usable formats, librarians are at the vanguard of disseminating information in our contemporary, technological world.
Keeping up with technology has for decades been a necessary skill in the wheelhouse of librarians. Today's master's programs in library and information science are tasked with educating future librarians to meet these challenges—and those of tomorrow. Among each year's graduates are a crop of individuals who go above and beyond essential duties and deserve recognition.
Library Journal honors these individuals with its annual Movers & Shakers awards, now celebrating its twentieth anniversary. LJ has put a spotlight on five of these university programs to explicate the secret sauce that creates leaders in a wide array of fields including public and school libraries, health information, data science, academic librarianship, and more.

San Jose State University
"We are Silicon Valley's School of Information," says Dr. Anthony Chow, the newly appointed director of San Jose State's MLIS program (known as the iSchool), who took the helm last summer. That the school once again produced a Mover & Shaker in 2022 lends further testimony to the high bar that SJSU iSchool sets for itself. The honor "suggests that [the curriculum] we are teaching our students is relevant and empowers them to go into the field to use what they have to do meaningful and impactful things for others," Chow said.
The largest MLIS program in the nation, SJSU typically has around 1,800 actively enrolled students from the 50 states and all over the world. The school's 100 percent online and asynchronous program enables this global reach. Students can take courses from anywhere, whenever it is convenient for them. Since San Jose's MLIS program has been online for over a decade, the pandemic did not affect its running or curriculum. "In terms of the art and science of providing a high-quality teaching and learning environment," said Chow, "we feel the world was forced to adapt to a model like ours."
SJSU strives to be "high touch, high tech, high quality, and highly relevant" for both students and the industries it serves, according to Nicole Purviance, director of marketing and communication for the school. Faculty continuously confer with employers and leaders in the field, and track business, technology, and library trends to ensure that the curriculum stays up-to-date and prepares graduates for the future. On the other side, students have access to one of the most expansive suites of LIS courses available in the field.
SJSU offers extensive electives to allow their diverse students to customize the curriculum to their individual goals. Courses are organized into 14 career pathways including School, Public and Special Librarianship; Data Science; Digital Curation; Management, Digitization, and Preservation of Cultural Heritage and Records Management; and more. Students may also mix and match from numerous pathways and build a skillset applicable to multiple positions and industries.
Located in Silicon Valley—the world's generator of new technologies—it is no wonder that technology is integrated into all iSchool courses and is a major component of the program. A fully digital program demands cutting-edge technology, which means "allocating significant resources to ensure a high-quality experience for our students, as well as robust tech support," says Chow. Staff and peer mentors are available to assist any student who has a need or concern.
Students can partake of many networking and community opportunities through the school, which offers student chapters of the American Library Association, the Association for Information Science and Technology, the Society of American Archivists, and the Special Libraries Association.
The newest student organization is a REFORMA group (The National Association to Promote Library and Information Services to Latinos and the Spanish Speaking), under the advisement of Assistant Professor Michele A.L. Villagran, who is chair of the REFORMA National Education Committee. It fits well into the school's mission to "educate information professionals who contribute to the well-being of our global communities," as Purviance says.
Learn more at: https://ischool.sjsu.edu/master-library-and-information-science

University of Tennessee
Ranked in the top 10 library and information sciences programs by US News and World Report, the University of Tennessee's School of Information Sciences online master's program "prepares students for careers in managing, analyzing, and turning information into action." Abebe Rorissa, Ph.D., professor & director, School of Information Sciences, attributes the US News ranking to both the alumni, who are leaders in the library profession, and to the dedicated faculty and staff, who provide students with an excellent educational experience.

In today's technological and information society, "the only constant is dynamic change—in the creation, storage, management, access, retrieval, and dissemination of library and information resources," Rorissa says. Keeping up and effectively managing is one of the most significant challenges those entering the library and information sciences field will need to overcome.
At the University of Tennessee, these challenges are met by constantly evaluating the curriculum and soliciting feedback from all stakeholders, including faculty, staff, alumni, and employers. Based on this feedback and on keeping abreast of trends and forecasts, new topics, courses, and career pathways are introduced on an ongoing basis.
The program goes well beyond providing a theoretical foundation and gives students the tools for practical application with a wide range of skills. Current offerings include Data Curation and Data Management, Digital Collections, Science Information, and User Experience and Design, as well as a range of traditional pathways such as those to Geographic Information, Public Librarianship, Archives and Records Management, and more.
Rorissa ascribes the success of graduates to the curriculum that serves this range of career pathways—that assure students success in the real world. This allows alumni "to be innovative trailblazers," he adds.
From its modest-sized student body of approximately 300, the MSIS program has graduated several Mover and Shakers, including one in 2022. "We are proud to introduce alumni who are ambassadors of our program," said Rorissa. These alumni embody a volunteer spirit that connects students, alumni, community, and business and sets the University of Tennessee apart. "They light the way and inspire future and current students to achieve the same kind of impact in their work."
Learn more at: https://sis.utk.edu/exploreprograms/masters

Emporia State University
While the acronym for Emporia State University's School of Library and Information Management is SLIM, their program is anything but. Founded in 1902, SLIM is the oldest library and information studies school west of the Mississippi. For more than a century, it has evolved to meet the massive changes and developments in the library profession.
Wooseob Jeong, dean of the School of Library and Information, says that today "librarianship is engaged in an examination of its foundational values, necessitated in part by national and world events, social justice movements, and the role of disinformation in the political life of the nation." For SLIM, this means that its curriculum is built around community need analysis and outreach.
Jeong feels that 21st-century librarians need far more than traditional knowledge and skills to realize Emporia's vision of "embracing an interdisciplinary culture of collaboration and diversity for the common good." He asserts that "critical thinking, flexibility in the face of ambiguity, and resiliency" are as important to the modern librarian as building a collection, managing, organizing, and disseminating information.
Never were these attributes more important than during the pandemic, which necessitated a quick and complete overhaul of how libraries serve their constituencies. Jeong believes that the health crisis precipitated "a renewed awareness and appreciation of libraries and their role in the community." Fully online and asynchronous, SLIM's program proceeded without interruption during this difficult time.
While SLIM's emphasis is on a traditional library science program that prepares students who intend to work in libraries, it also offers several concentrations with broader reach and applications. They include Archives Studies, Informatics, Leadership & Administration, School Library Media, Youth Service, and Health Information. In all SLIM's pathways, students also learn technological competencies that are essential in every area of library and information science.
SLIM's curriculum is "a dynamic mix of theoretical and practical applications courses grounded in professional values and ethics," says Jeong. Electives are offered in various concentrations that examine current issues, to ensure that students stay abreast of new developments in the field. Among them are System Analysis and Design within the Informatics concentration; Disaster Preparedness and Emergency Response for Information Professionals within the Health Information program; and Preservation Strategies for students of Archives Studies.
SLIM's student body of around 350 includes students fresh out of undergraduate programs, professionals wishing to advance their careers, and later-in-life career changers. Whatever their stage, SLIM provides support for all, with each student having a dedicated adviser who works with them to develop a course strategy aligned with their career goals.
Developing community among students is another important facet of SLIM's program. Groups loosely based on geographic location take their required core courses together; once they decide on a concentration, they take courses with other students in that specialty. Additionally, SLIM offers a series of virtual sessions each semester where students can talk with instructors in their concentration.
Beyond the classroom, SLIM hosts a student chapter of the American Library Association and offers frequent webinars and guest panels of alumni and working professionals. Students also benefit from SLIM's wide and firmly established alumni base throughout the country.
Jeong is extremely proud of the distinctive accomplishments of SLIM alumni. They include two current state librarians, two recipients of the 2021 I Love My Librarians! Award, and last, but not least, two recipients of LJ's Movers & Shakers recognition in 2021 and two again in 2022.
Learn more at www.emporia.edu/slim/

Dominican University
Located in the Chicago suburb of River Forest, Illinois, is Dominican University, a small, private university with a big impact. It is rated tenth among all master's-level universities in the Midwest, according to U.S. News & World Report. Its School of Information Studies "empowers students to become professionals who connect individuals and communities to the world of information and learning with reason, compassion, and a commitment to service and radical inclusion," says Dr. Kate Marek, director of the School of Information Studies.
Domincan's SOIS program has graduated several Movers & Shakers from its student body of around 240. Marek believes that the success of these high-achieving librarians is a result of three factors: "access to strong mentors in the area; outstanding faculty; and excellent students who love libraries and are prepared to be leaders."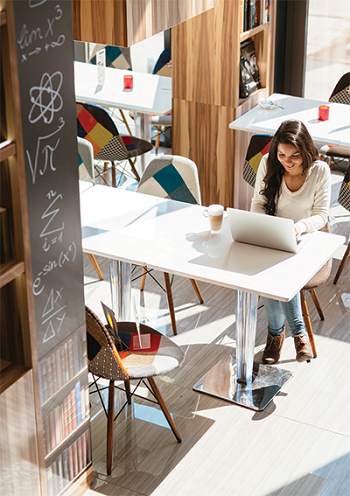 Students in Dominican's SOIS program can study on campus, completely online, or a combination of both. The pandemic prompted Dominican to offer an online option, which launched in 2020. The program offers several areas of concentration including Information Management, Library Media, Youth Culture, Professional Studies, and a traditional MLIS degree. Marek is quick to emphasize that "traditional" does not mean without technology. Certificate programs are also offered. All curricula are rich in technology.
Marek sees librarians' roles as crucial in the existing political climate. She summed it up saying, "Information is of critical importance in today's society. Equity of access to quality information resources is a basic human right. Libraries help counter disinformation and censorship, two key threats to democracy."
Learn more at: http://sois.dom.edu

University of Wisconsin – Milwaukee
With data and its usage increasing exponentially, "library and information science professionals are the experts at understanding how to find, organize, and harness this information," says Rebecca Hall, web development & marketing creative manager of the university's School of Information studies (SOIS). To that end, the curriculum has evolved "not as a reaction to external forces or market demand, but rather from looking at our ever-evolving society and world," she explained.
This focus has worked well for graduates. One alumna, Cynthia Larson, executive director, Experience Delivery at Abundant Health Acquisition, said that she is "equipped to sit at the table with CTOs and CIOs" because of her education. Courses are offered in such areas as data science, information security, and information technology, but plenty also cater to those who want to pursue a more traditional library career.
The student body of approximately 390 have the option of attaining their degrees completely online, on campus, or a combination of both. Online options have been available for more than 20 years. In any of these settings, the students have a range of opportunities for community, networking, and career guidance. A virtual student lounge is available online, where students can meet, discuss projects, and share ideas and support one another.
SOIS has a dedicated career services adviser who hosts workshops and networking opportunities throughout the year. The premier event is the "Professional Immersion Day" held each fall for incoming students. It features a recent graduate as a keynote speaker, panel discussions, Q&As with local professionals, and "speed dating" information sessions with professionals from the spectrum of library and information science jobs. Additionally, "Enhance Your Chance" events focus on résumé building, mock interviews, and other skills that aid in the job hunt.
Learn more at: http://ischool.uwm.edu/


SPONSORED CONTENT