If you ask Lance Werner, executive director of the Kent District Library, MI, and LJ's 2017 Librarian of the Year, what makes him a strong leader, an effective legislative advocate, and a champion of access for his patrons, his answer is simple: it's all about forming relationships.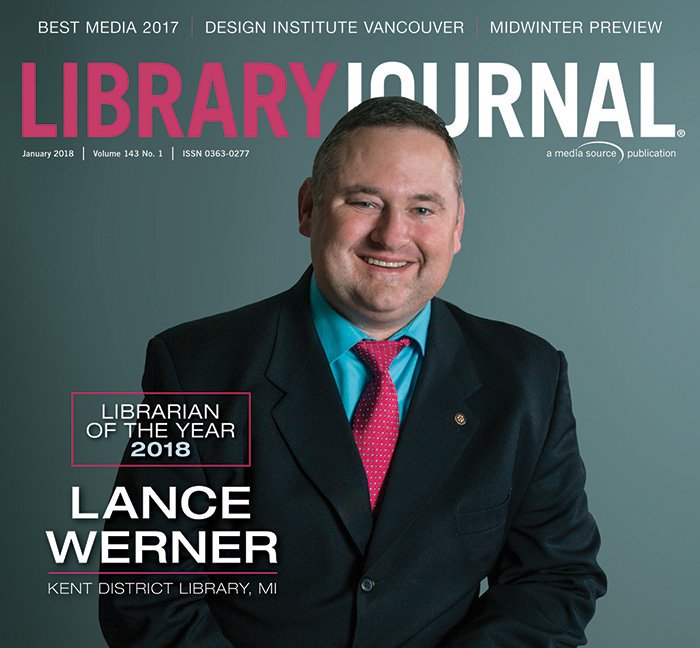 If you ask Lance Werner, executive director of the Kent District Library (KDL), MI, what makes him a strong leader, an effective legislative advocate, and a champion of access for his patrons, his answer is simple: it's all about forming relationships—with his staff, legislators, local business owners and CEOs, county commissioners, Michigan Library Association (MLA) administrators, LIS educators, patrons, and anyone else in a 100-mile radius. Ask him again, and he'll bring up words such as kindness and empathy and that he loves his job.
Underneath those soft skills lie persistence and passion. Werner gets the job done, whether that involves convincing KDL trustees to invest $400,000 in ebooks, testifying before the Michigan Senate and House committees to win tax capture amnesty for libraries, securing health care for part-time KDL employees, spearheading a countywide literacy initiative, or securing grant money to bring back the library's bookmobile after a 30-year hiatus. It's no surprise that he was named a 2016 LJ Mover & Shaker and the 2017 MLA Librarian of the Year. Add to those accolades the 2018 ­Library Journal Librarian of the Year, sponsored by Baker & Taylor. Ask Werner why, and he'll tell you it's just a matter of being a regular guy who cares about his constituents. Ask his constituents, and they'll tell you there's more to the story.
THE LONG ROAD TO THE LIBRARY
Werner's path to KDL was, as he puts it, "meandering." He initially wanted to become an FBI agent and enrolled in the Michigan State University College of Law in East Lansing. Halfway through law school, Werner met his wife, who had a young daughter, and "I decided maybe working for the FBI wasn't such a great job for a new family man," he recalls. He loved his part-time library job (following in the footsteps of his mother, a librarian), so he decided to pursue a master's degree in library and information science—not instead of the law degree but in addition to it.
Werner enrolled at Detroit's Wayne State University with the goal of becoming an academic law librarian. He graduated from law school, took off a semester from Wayne State to study for (and pass) the bar, and earned his MLIS in 2004. Although he liked his first job as a reference librarian in a law library, Werner says, "I wanted a new challenge."
He took a job at the Library of Michigan, in Lansing, as a library law specialist. In the process, "I developed this profound respect and a greater understanding of the invaluable work that public libraries do," says Werner. In 2009, he made the move to the Capital Area District Library, also in Lansing, where he served as director for two years.
Yet Werner had his sights set on the 18-branch KDL, which had a reputation for out-of-the-box thinking that appealed to him. When the director's position opened up at KDL, longtime board member Shirley Bruursema encouraged Werner to apply; he stepped into the role in 2011.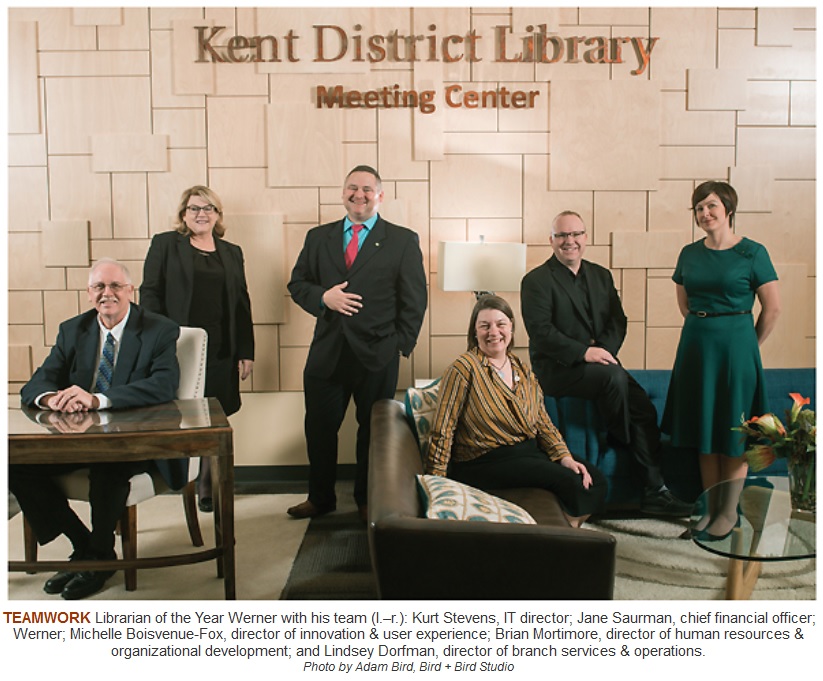 WHERE THE PEOPLE ARE
At his first board meeting as KDL director—"before anyone knew my name"—Werner proposed that the board spend half a million dollars to build the library's ebook collection. "I think the board thought I was insane," says Werner. But he'd made his point, and at the next meeting the board approved a $400,000 investment. KDL was the first public library in the state to offer e-magazines, e-movies, e-comics, and, in early 2016, streaming video games. (Werner repaid the board's trust—literally—in 2014, when he helped secure a 45 percent increase in library millage, convincing several antitax opponents to vote yes and securing library funding into the future.)
Still, content is only useful if it can be accessed. Much of Kent County's 734 square miles are rural, and with the state's savage winters, transportation is a major issue. Werner recognized the county's access limitations as a digital divide issue and began circulating iPads and Wi-Fi hot spots. "It's another philosophy of ours that we want to be wherever people are—we want to meet them on their own terms," Werner explains.
In addition to ensuring that the library's now-robust electronic collection could reach all customers, Werner had a series of Little Free Libraries installed around the county. There are currently 14, housed in community centers, senior centers, parks, and the local airport. And thanks to a recent $208,000 grant from the Steelcase Foundation, KDL's new bookmobile will be hitting the streets in 2018.
In 2016, Werner worked with his team of directors to create a new manager of community outreach position to reach out to residents not adequately served by the library. The role was filled by Ruben
Campos, who is fluent in Spanish; 6.55 percent of Kent County's population is made up of native Spanish speakers. The library has since seen increased interest in Spanish materials and more Spanish entries in the Write Michigan writing contest it cosponsors.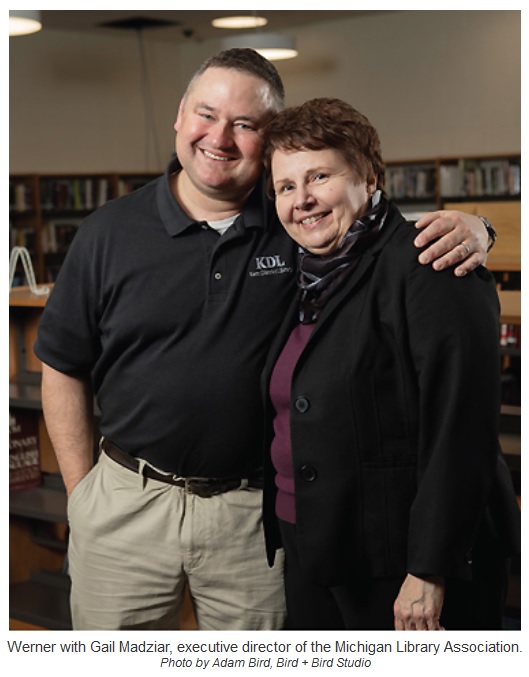 A LEG UP ON LITERACY
Werner has also stepped up KDL's literacy initiatives. Approximately one-third of Kent County's third graders read below grade level, and the low literacy rate among adults hovers at about 14 percent. Under his watch, KDL instituted a multipronged early literacy resource, Play Grow Read, that provides information for parents and caregivers and features crafts, recipes, and other activities linked to reading.
Local organizations, including the Literacy Center of West Michigan (LCWM), the Kent Intermediate School District, and Steelcase Corporation, have actively partnered with the library to help implement the program, as well as a collaboration between Grand Rapids Community College and KDL to provide all-ages STEAM (science, technology, engineering, the arts, and mathematics) programming.
The Kelloggsville school district opened a new high school in October 2017, with a multilevel media center staffed by KDL librarians and stocked with materials from the library's collection that will feature a rotation of KDL programs. Not only will the media center serve Kelloggsville High School students—71 percent of whom come from low-income families—but it will be open to the general public outside of school hours.
LEGISLATING FOR LIBRARIES
While shifting the culture both in and outside of his library, Werner has also been effecting top-down changes for libraries across the state. Since joining the MLA in 2009, Werner has been the organization's president and chair of the legislative committee and an active advocate on its behalf.
In late 2015, the state was faced with an amended finance reform measure, SB 571, containing language that would have prevented libraries from communicating "by means of radio, television, mass mailing, or prerecorded telephone message if that communication references a local ballot question" for 60 days prior to an election. This would have effectively placed a gag order on libraries when they most needed to get the word out. Werner met with Lisa Posthumus Lyons, then a Republican member of the Michigan House of Representatives from Kent County's district, to suggest alternate language for the bill.
"I understand you're worried about this whole concept of electioneering, using public moneys to [advocate] for the yes vote, which is illegal," he recalled telling Lyons. "But this legislation is going to hurt us." Lyons agreed and adopted some of the wording Werner suggested. The bill eventually passed despite their efforts, although Gov. Rick Snyder provided clarifying language that worked in libraries' favor.
Werner's efforts on tax capture relief, however, were an unqualified win. For more than 20 years, the MLA and the library community had been fighting the use of a percentage of library millages to benefit various Michigan development organizations, often against the libraries' wishes and without taxpayer approval, that took more than $10 million from library coffers annually.
Werner testified before the state House and Senate for a bill exempting libraries from the allocation as part of an extensive library-driven advocacy effort. In early 2017, SB 619-624, legislation redressing that appropriation, passed both chambers.
"This is what I said to the legislators," Werner told LJ. "This is important to us because transparency's important. When people come to me and [ask], 'What's my money being used for?' I can't tell them.... And that's a crime." Governor Snyder signed the bill into law on January 10, and Michigan libraries are now entitled to opt out of all new tax capture.
This was a major milestone for Michigan's libraries, says MLA executive director Gail Madziar, who initiated ­Werner's nomination, and much of its success had to do with Werner's relationship with his elected officials. When he brought the issue up, she explains, "They already understood that he was a good spokesperson for the community and had his finger on the pulse of what the community wanted. I think when it's time to ask for support from your representatives and senators, and they know that you are a knowledgeable source for reliable information about…their constituents, then they're going to be much more open to listening to your requests."
PUTTING THE "HUMAN" IN HR
Recently, Werner and the KDL human resources (HR) department unveiled a series of benefit programs for part-time staff members, including one that will provide primary health care at no cost to the employee. The service covers doctors' visits and prescriptions in full. KDL has also instituted a four-year student loan assistance program for employees and in 2017 arranged a disability audit for the branches, conducted by Disability Advocates of Kent County (DAKC). As a result, the library became the first recipient of DAKC's Community Champion Award.
"At any organization, it takes backing from the leadership to make change happen. It's as simple as that," says the library's director of HR and organizational development Brian Mortimore. "At KDL, Lance has gone beyond simply backing these changes that have so positively impacted the lives of staff and patrons—he has embraced them in a profoundly passionate manner and helped take them to the next level."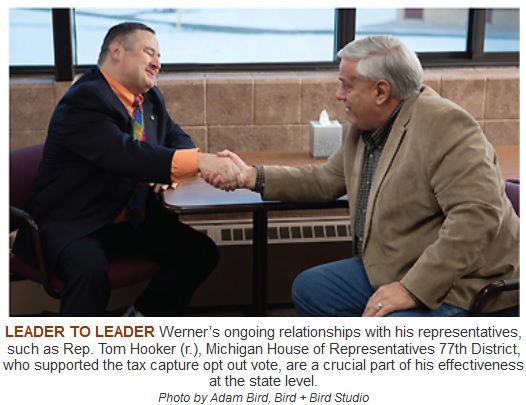 Werner's care extends far beyond the library walls. In October 2017, he helped organize a KDL fundraiser and book drive to help the Port Arthur Public Library, TX, reopen its doors after losing all its children's materials, DVDs, and audiobooks to damage from Hurricane Harvey. The goal is to get the Texas library up and running again by March, but along the way KDL hopes to inspire other libraries to support one another.
"It's evident…that Lance is passionate"—that word again—"about supporting other cultural institutions," says Rich Baker, president and CEO of the Grand Rapids Area Chamber of Commerce, "whether it means bringing together a handful of local organizations to collaborate on a project or leveraging his resources to lend a helping hand to another library over 1,000 miles away."
Werner also serves on the Lakeland Library Cooperative Board and on the advisory board of the Wayne State Capital Campaign Committee, fundraising and working on strategic planning and curriculum issues. This last is both service oriented and part of minding the shop, says Werner—he often hires Wayne State grads, and "I can ensure that I have great librarians by being involved at that level."
"JUST LANCE"
How has Werner accomplished so much in his six years at KDL? "I made a point of getting to know everybody," he says. "I wanted to hear their stories, I wanted to figure out what their concerns were, and figure out a way that the library can meet those concerns." He adds, "Things I've been able to accomplish legislatively have all been based on the friendships that I have, real friendships, with the folks who represent this county."
Fishing helps, too, explains Werner. "I go fishing with a lot of different people during steelhead season because it helps buttress our relationships, it's a good time with friends, and it gives us the chance to talk about issues and have a genuine conversation."
Werner's spirit of generosity has also allied him with library leaders, users, and supporters well beyond his region. "Lance brings a passion for...all libraries, not just his," says MLA's Madziar. "When he's working on an issue or he's coming up with new ideas or some state-of-the-art technology that he wants to get into his library, he's thinking of libraries across the state, across the country."
"I preach the gospel of 'don't make it too complicated,' " says Werner. "Always act with kindness, love, and empathy. Try your hardest, be passionate, believe in what you're doing, and things are going to work out fine."
"This is the best time ever to work in the library," Werner adds. Because we're at a crossroads, and we can make changes that will impact how library service is offered for the next hundred years...we can do something that can change the trajectory and push us to a new level. And that's the greatest gift at all."