Fiction in translation featuring pianists, autofiction, and war from award winners and debuters.
Diop, David. At Night All Blood Is Black. Farrar. Nov. 2020. 160p. tr. from French by Anna Moschovakis. ISBN 9780374266974. $25. F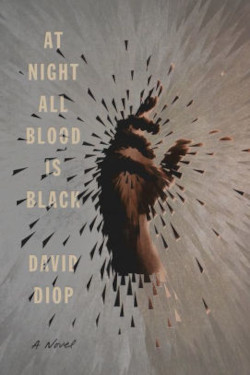 "God's truth," says Alfa Ndiaye repeatedly, offering unexpected musical cadence to the harrowing tale he relates here. Along with "more-than-brother" Mademba Diop, Alfa is a Chocolat—an African soldier fighting with the French troops during World War I. When Mademba is mortally wounded, Alfa remains with him yet despite Mademba's pleas cannot bring himself to end his suffering. Thereafter, he decries his inhumanity in having dutifully listened to the voices of his ancestors rather than thinking for himself, a theme purveyed throughout the story. To avenge his friend—and exercise the sort of moral strength that initially failed him—Alfa takes to sneaking behind enemy lines at night, capturing a soldier, and cutting off his hand before dispatching him quickly. When he returns with the hands, his fellow soldiers initially greet him with awe but soon avoid him as a dëmm, a devourer of souls. Diop gracefully backtracks to the early friendship of the two men, with Alfa acknowledging his haughty behavior toward Mademba the morning of his death as the novel veers toward a transcendent ending for them both. VERDICT Paris-born, Senegalese-raised Diop's second novel is scalding, mesmerizing, and troubling in the best way. Highly recommended.
Ferrante, Elena. The Lying Life of Adults. Europa. Sept. 2020. 324p. tr. from Italian by Ann Goldstein. ISBN 9781609455910. $26. F
Recalling Ferrante's acclaimed "Neapolitan Quartet" in its keen investigation of female coming of age, Ferrante's new novel features inquiring young Giovanna, shocked at age 13 to overhear her father, Andrea, derisively describe her as starting to look like his sister, Vittoria. The cultured Andrea and Vittoria, brash and ­challenging, have been estranged since Andrea abandoned their lower-class roots and broke up Vittoria's passionate affair with a married policeman. Giovanna doesn't even know Vittoria but finagles a meeting and succumbs to her dark charm, even as Vittoria preaches virulently against Giovanna's parents and pulls Giovanna into her unexpectedly close relationship with the wife and children of her now-dead lover. Giovanna soon begins feeling alienated from her own parents, but to her credit (and ­Ferrante's) she doesn't allow this tension to become an either/or situation, eventually questioning Vittoria's pronouncements and finding her own way to adulthood. ­VERDICT While Ferrante sometimes draws out what she's made obvious, her spot-on delineation of Giovanna's struggle will delight her many fans.
Kadare, Ismail. The Doll: A Portrait of My Mother. Counterpoint. Nov. 2020. 208p. tr. from Albanian by John Hodgson. ISBN 9781640094222. pap. $16.95. F
Winner of the inaugural Man Booker International Prize, Albanian novelist/poet Kadare opens this autofiction with a description of his mother as a paper doll, and throughout the novel, this gentle, remote woman is called the Doll. But as Kadare points out, from her arrival at the ominous Kadare house and household to marry his father, he must often imagine what she saw and felt, and he reveals the novelist's craft in a narrative that expands into cultural history and finally memoir. The tension between the Doll and her formidable mother-in-law permeates his childhood, with his father sitting in judgment between the two women instead of siding with his mother, as tradition would dictate. Later, Kadare outlines his intellectual growth and shows how it set him apart from his mother, though he finally realizes, "She surrendered the freedom and authority of a mother—in short, turned herself into a doll—to give me all possible liberty as a human being, in a world where freedom was so rare and hard to find." VERDICT What starts out modestly gathers strength, lending perception to a particular time and place and to Kadare as a writer. For literary readers.
Modiano, Patrick. Invisible Ink. Yale Univ. Oct. 2020. 176p. tr. from French by Mark Polizzotti. ISBN 9780300252583. $24. F
Nobel Prize winner Modiano's title smartly ties together the theme, plot, and ambience of his latest book to be translated, which opens with the narrator taking a low-level job with a detective agency in Paris as background for his writing. Soon he's tasked with discovering what happened to Noëlle Lefebvre, whose disappearance may or may not be entirely innocent. Recalling the 30-year-old case in the present—and how he tried to pick it up ten years after it first surfaced—he relates trying to untangle threads leading to friends and lovers, some of whom he knows tangentially from Annecy. The past overlaps and memories half-emerge in classic Modiano fashion, just as a message in invisible ink tentatively reveals itself in the right light. The book has that foggy-night-on-the-Seine feel but ends up in Rome, where a new character articulates her need to have escaped and, somewhat unusually for Modiano, her actual pain in remembering and the desire to tie up loose ends. VERDICT Not a place to start with Modiano but a familiar pleasure for fans, again rendered excellently by Polizzotti.
Murata, Sayaka. Earthlings. Grove. Oct. 2020. 240p. tr. from Japanese by Ginny Tapley Takemori. ISBN 9780802157003. $25. F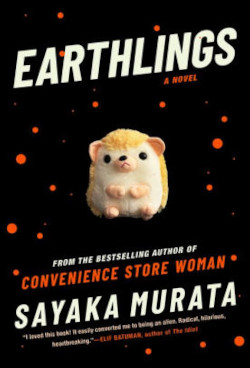 Recalling the socially out-of-step heroine of Murata's acclaimed Convenience Store Woman, Natsuki lives with her parents and sister in a uniformly gray town and sees society as a Factory for producing babies and keeping everyone in line. She's routinely dumped on by her family and preyed upon by her pop-star handsome cram-school teacher. But she can rely on Piyyut, a ­stuffed-animal friend whom she insists has given her magical powers, and she looks forward each year to family gatherings at her grandparents' house in the Akishina mountains, where she can see her soulmate, cousin Yuu. Yuu proclaims himself an alien from outer space and promises to take Natsuki there, but their more mundane entanglements split the family apart, and she doesn't see him for years. As the story takes a dark turn, Murata expertly limns Natsuki's outsider status in a conformist, consumerist society, creating an indelible portrait of an imaginative young woman learning to survive. VERDICT Original in conception and astute in its social critique; highly recommended.
Reyes, Dolores. Eartheater. HarperVia. Nov. 2020. 224p. tr. from Spanish by Julia Sanches. ISBN 9780062987730. $24.99. F
DEBUT When a girl from an Argentine slum eats the dirt in which her dead mother has been buried, she starts having visions of people missing or dead. Paramount among them is her teacher, Señorita Ana, gang-raped and murdered, who offers guidance while badgering her to track down her killers. The Earth­eater, as the protagonist becomes known, is both shunned for her sometimes danger-inducing behavior—her sort-of boyfriend and the aunt who initially took responsibility for her and her brother quickly leave—and sought out by people desperate to locate loved ones, giving her dirt associated with them to eat. The missing are mostly women, as first-time Argentine novelist Reyes highlights the numerous awful incidents of femicide in Latin America. Among them is Maria, whose case gets the Eartheater involved with Ezequiel, a steady policeman she initially distrusts, and the book ends in a moment of heady vengeance. VERDICT The premise might initially be hard to swallow, but Reyes succeeds in making the feisty Eartheater and her visions both persuasive and affecting. Kudos to Sanches for effectively rendering Argentine slang.
Singer, Lea. The Piano Student. New Vessel. Oct. 2020. 230p. tr. from German by Elisabeth Lauffer. ISBN 9781939931863. pap. $16.95. F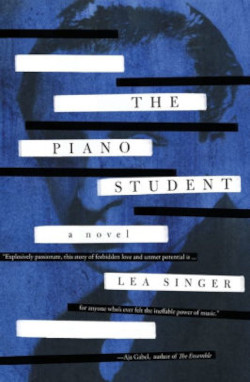 DEBUT Writing pseudonymously, German cultural historian Singer draws on unpublished letters she unearthed in Switzerland to reimagine the tumultuous love affair between phenomenal pianist Vladimir Horowitz and his young student Nico Kaufmann. Here, Horowitz can be unnervingly dismissive of Kaufmann as both person and pianist but still needs him desperately. A Jew in 1930s Europe who had lost his family in the Russian Revolution, Horowitz is married to famed conductor Toscanini's daughter Wanda, a tactical move bringing unhappiness to all involved, and he's looking for somewhere to belong. The relationship is captured less with Rachmaninoff-like lushness than jagged modernist intensity, with Horowitz as manipulator and Kaufmann as self-serving sybarite. What emerges is a portrait of gay life and limitations in the mid-1900s, the era's painful political upheavals, and a great pianist on the edge, told decades later by aging bar player Kaufmann to a man who had sought out someone to play Schumann's Träumerei. VERDICT Not always smoothly delivered but an intriguing look at passion, history, and culture, for more than classical music fans.
van Heemstra, Marjolijn. In Search of a Name. Atria. Nov. 2020. 208p. tr. from Dutch by Jonathan Reeder. ISBN 9781982100483. $26. F
This latest from award-winning Dutch author van Heemstra is unsettling autofiction investigating issues of war, vengeance, and morality in a profoundly personal way. The protagonist has always hero-worshipped her great-uncle Frans Julius Johan, celebrated in her family as a resistance fighter who killed a collaborator after World War II ended. She even plans to name her unborn son after Frans. But what she discovers while investigating his background blasts away the family myth; Frans was an unsavory character with no actual proof of his victim's guilt, and other, clearly innocent people died in the bombing. At issue is his being "convinced of the rightness of his deed, not ruffled by collateral fatalities, because a single life is meaningless in the light of the stars and one's own moral law," and what stands out here is van Heemstra's sharp and nuanced exploration of just how moral one's own law can be. VERDICT Striking portraiture of a fallen hero and the woman who finds him out; piecing together clues, van ­Heemstra keeps readers absorbed.
Wondratschek, Wolf. Self-Portrait with Russian Piano. Farrar. Sept. 2020. 224p. tr. from German by Marshall Yarbrough. ISBN 9780374260491. $26. F
In this elegiac, deeply meditative work by distinguished German author Wondratschek, the narrator first encounters legendary Russian pianist Suvorin at a Viennese coffee house, and their friendship evolves over many subsequent conversations as Suvorin rambles through his memories. A prodigy who puzzled his native villagers, he eventually played major concert halls to thunderous applause he began to hate as more about the show of cheering than of what is being cheered—the music itself. The authorities are appalled—"Art, Comrade Suvorin, belongs to the people"—but advice from a stranger to "play what no one likes, then you won't get any applause" changes his life; he loses his audience with outrageously atonal work while enjoying Bach on his own. Yet in the end, he is a lonely old man, his wife dead and children remote, though still trying to find scraps of pleasure in life. Happiness is something you don't search for, Wondratschek reminds us, and we all wind toward death, the last "irrevocable folly of fate." VERDICT A thought-provoking study on the meaning of art and life; highly recommended.
Yehoshua, A.B. The Tunnel. Houghton Harcourt. Aug. 2020. 336p. tr. from Hebrew by Stuart Schoffman. ISBN 9781328622631. $24. F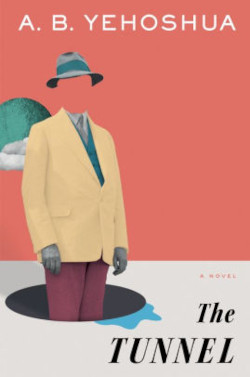 A 72-year-old engineer with the Israel Roads Authority, Zvi Luria has quit his job because of encroaching dementia and crankily resists pediatrician wife Dina's efforts to keep him positive. Then he meets Asael Maimoni, son of a former legal adviser the aloof Zvi barely remembers. Asael is building a secret road for the military, Dina recommends Zvi as an unpaid assistant to keep his mind challenged, and soon Zvi is involved in a venture larger than he had anticipated. Asael needs Zvi's tunnel-building expertise because he refuses to flatten a hill along the route he's constructing; with a former army commander, now with the Nature and Parks Authority, he is protecting a small family of Palestinian refugees who live there. As the engrossing, carefully crafted narrative unfolds, Zvi is drawn into the cause, with Yehoshua exploring tangled issues of identity, the uneasy balance of personal and political, the consequences of aging, and what it takes to sustain hope. A shocking final image reminds us never to take anything for granted. VERDICT Multilayered and accessible; from award winner Yehoshua (A Woman in Jerusalem).