Lives that teach us something.
Click here for additional new Prepub Alert columns
Devine, Alexis. I Am Bunny: How a "Talking" Dog Taught Me Everything I Need to Know About Being Human. Morrow. Nov. 2023. 256p. ISBN 9780358674306. $35. CD. MEMOIR
Creator of the viewer-besieged TikTok account @WhatAboutBunny, Devine relates recovering from severe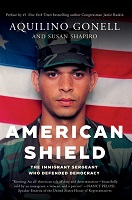 mental health issues while training her sheepadoodle Bunny to communicate using over 100 buttons (e.g., "Love you Mom" and "Ugh why?"). Bunny, named a top creator of 2022 by Forbes magazine (its first animal to be so honored), is a pilot member of a study being conducted by the Comparative Cognition Lab at University of California, San Diego. With a 40,000-copy first printing.
Gadson, Col. Gregory (Ret.) & Terese Schlachter. Finding Waypoints: A Warrior's Journey Toward Peace and Purpose. Schaffner. Nov. 2023. 320p. ISBN 9781639640249. $28. MEMOIR
A battalion commander and former West Point football player, Gadson lost both legs to an IED attack in 2007 Iraq and emerged to become a spiritual guide and assistant coach to the New York Giants, facilitating their rise from last place to a Super Bowl championship in 2008. He's since become an actor (Battleship), motivational speaker, and leader of veterans' programs and outdoor healing expeditions. Written with three-time Emmy Award–winning documentarian Schlachter, a longtime friend.
Gonell, Aquilino & Susan Shapiro. American Shield: The Immigrant Sergeant Who Defended Democracy. Counterpoint. Nov. 2023. 240p. ISBN 9781640096288. $28. MEMOIR
Having immigrated to the United States from the Dominican Republic as a child, Gonell joined the army to pay for college and returned from service in Iraq with PTSD. After working hard to heal, he joined the U.S. Capitol Police and rose to the rank of sergeant. The injuries he sustained during the January 6 insurrection ended his law enforcement career, but what truly angers him is hearing those for whom he risked his life deny or dismiss what happened. Written with journalist Shapiro (e.g., the award-winning The Forgiveness Tour and New York Times best-selling Unhooked ).
Jenkins, Malcolm. What Winners Won't Tell You: Lessons from a Legendary Defender. S. & S. Nov. 2023. 320p.ISBN 9781668004494. $28.99. CD. MEMOIR
Two-time Super Bowl champion. Three-time Pro Bowler. First-round draft pick. Jim Thorpe Award recipient. And now an entrepreneur (Malcolm Inc. and Listen Up Media) and philanthropist (the Malcolm Jenkins Foundation), plus the father of two daughters. Former NFL player Jenkins has had great successes and his sorrows, too, which he shares in a memoir that's also meant to show us how to manage that fine line between victory and defeat.
Land, Stephanie. Class: A Memoir of Motherhood, Hunger, and Higher Education. One Signal: Atria. Nov. 2023. 288p. ISBN 9781982151393. $28. MEMOIR
Having captured our attention with the New York Times best-selling Maid, which sparked a hit Netflix series, Land revisits her struggles to finish college (and launch a writing career) while living below the poverty line. Along the way, she clambers through a barely navigable loan system, rarely has enough money for food, and faces professors and students oblivious to her plight. She finally got her degree in her mid-thirties.
Lagoze, Miles. Whistles from the Graveyard: My Time Behind the Camera on War, Rage, and Restless Youth in Afghanistan. One Signal: Atria. Nov. 2023. 320p. ISBN 9781668000038. $29.99. MEMOIR
Aiming to capture the experience of confused young millennials in the U.S. Marines, Lagoze recalls serving as a combat cameraman in the Afghan War and witnessing both bonding with locals against the Taliban and brutality toward innocent people by young men too practiced in violence. A companion to his well-received documentary Combat Obscura, which comprises raw, unnarrated footage from his time in service; originally scheduled for May 2023.
Li, Fei-Fei. The Worlds I See: Curiosity, Exploration, and Discovery at the Dawn of AI. A Moment of Lift: Flatiron. Nov. 2023. 336p. ISBN 9781250897930. $29.99. Downloadable. MEMOIR
Li was raised in straitened circumstances after emigrating with her middle-class family from China to the United States, but she maintained her passion for science. Good news for the rest of us, as she is the creator of ImageNet, a crucial element in modern artificial intelligence (AI). Now she's a computer science professor at Stanford and founding director of the Stanford Institute for Human-centered AI. With a 150,000-copy first printing.
Rodriguez, Edel. Worm: A Cuban American Odyssey. Metropolitan: Holt. Nov. 2023. 304p. ISBN 9781250753977. $29.99. MEMOIR
A regular contributor to venues like The New Yorker, Cuban American illustrator Rodriguez has exhibited worldwide, created over 200 magazine and book covers, and illustrated 10 children's books. His first graphic novel recalls his arrival on the Mariel Boatlift ((whose passengers Fidel Castro called traitors of the revolution, or worms) and his subsequent coming-of-age, pointing to immigrants as the safeguard of U.S. democracy. With a 75,000-copy first printing.
Vargas, Vincent. Borderline: Defending the Home Front. St. Martin's. Nov. 2023. 320p. ISBN 9781250285577. $28. Downloadable. CD. MEMOIR
After four years of active duty in the U.S. Army, Vargas became a U.S. Border Patrol agent, working the vast United States–Mexico divide. Eventually, he joined the Border Patrol Search, Trauma, and Rescue Unit; though intent on "defending the home front," as his subtitle states, he was also aware that the cartels, the human traffickers, and the desert itself posed grievous risks for immigrants. With a 100,000-copy first printing; likely to stir controversy.