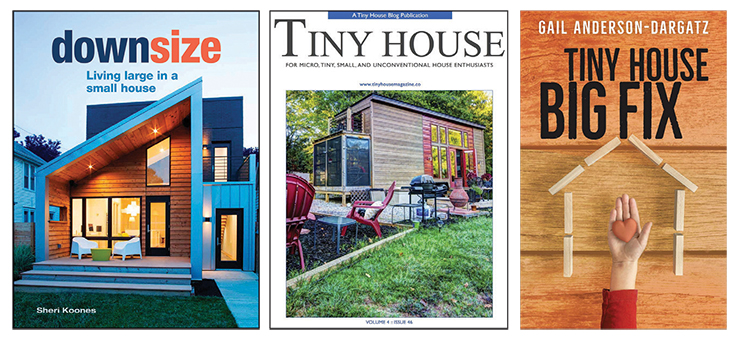 While the square footage of the average single-family house in the United States has increased over the last 40 years from over 1,000 square feet to nearly 2,650 square feet as of 2018, per the National Association of Home Builders (NAHB), there has also been a rising movement for smaller living spaces that promote sustainability, recycling, and minimalism. Small homes in the United States are those that are under 1,000 square feet, while tiny homes are under 400 square feet.
The focus on small, sustainable living spaces is not new. Sarah Susanka, an architect and author, has been touted as the originator of the tiny house movement. Her approach to home design has always prioritized quality over quantity, and in 1998 she published the first of nine books devoted to her design principles, beginning with The Not So Big House: A Blueprint for the Way We Really Live. Jay Schaefer, the founder of the Tumbleweed Tiny House Company, first started showing small houses on wheels in the early 2000s, and two of his Small House Society cofounders, Shay Salomon and Nigel Valdez, published their guide to the modern small house movement in 2016, Little House on a Small Planet.
The housing market fluctuations and increasing prices in many areas have also had an impact on attitudes around home size. The State of the Nation's Housing 2018 report, developed by the Joint Center for Housing Studies of Harvard University, noted that housing prices, especially in high-demand, metro and coastal cities, can have a home price-to-income ratio averaging 4.2 percent, with some areas reporting housing prices over six times buyers' annual income. By contrast, tiny homes cost, on average, much less than traditional single-family homes, typically between $10,000–$40,000. Other costs can be associated with tiny homes, including land rentals or purchase and insurance, but maintenance is typically much less expensive. According to a 2018 survey by the NAHB, 53 percent of respondents stated they would consider buying a tiny house under 600 square feet. Some areas have supported using tiny houses to combat homelessness, with the idea being developed in San Jose, CA, Ithaca, NY, and Olympia, WA, while Chicago leaders have discussed tiny homes as a way to bridge the housing gap in their city.
Increasing interest in minimalism—living only with the things you value and removing that which does not contribute to the former—has also allowed the tiny home movement to grow. By eschewing the original concept of the "American Dream" of the big house to reflect status, and supporting trends of conservation, global impact, and responsible consumption, people have found that tiny homes can be one cornerstone of a less consumerist lifestyle.
Librarians should be aware of the demand for tiny home materials in their own community, which can include more than just home plans. Dealing with clutter, downsizing, and small design and furniture elements are also part of the movement. While each community will see demand based on their own housing market, zoning and building regulations, and demographics, the idea of downsizing into a tiny home is one big idea that has captured the attention and interest of many.
Starred titles (
) are considered essential purchases for most collections.
---
Kristi Chadwick is a consultant with the Massachusetts Library System in Northampton, MA, and is LJ's sf/fantasy columnist. A 2013 Reviewer of the Year and a 2014 Mover & Shaker, she currently serves on the 2020 LITA Excellence in Children's & Young Adult Science Fiction Notable Books committee. Readers can find her on Twitter as @booksNyarn
---
Fiction
Anderson-Dargatz, Gail. Tiny House, Big Fix. Orca. Jan. 2019. 144p. ISBN 9781459821187. pap. $9.95. ebk. ISBN 9781459821200.
Sadie builds houses for a living, but when divorce and a housing shortage force a relocation to a travel trailer, she realizes that the only way to keep her daughters with her is to build her own tiny home. This novel highlights that no matter the size of the home, it is still where the heart resides.
Magazine
Tiny House Magazine.
A digital magazine devoted to the tiny house movement. Single issues and subscriptions available in PDF and Kindle formats.
Nonfiction
Brown, Azby. The Very Small Home: Japanese Ideas for Living Well in Limited Space. Kodansha International. 2012. 112p. photos. index. ISBN 9781568364346. $29.95.
Brown showcases 18 homes in Japan, including design themes that emphasize openness and intentionality. Special features of each home are described in detail.
Country Living Tiny Homes: Living Big in Small Spaces. Hearst. 2018. 208p. photos. index. ISBN 9781618372543. pap. $24.95; ebk. ISBN 9781618372550.
Country Living inspires tiny house living by offering in-depth looks at dwellings across the United States, ranging from 100 to 1,500 square feet. Color photographs also highlight storage solutions, decorating tips, and other smart suggestions.
Engberg, Joshua & Shelley Engberg. Tiny House Basics: Living the Good Life in Small Spaces. Mango Media. 2017. 172p. photos. index. ISBN 9781633535718. pap. $19.95; ebk. ISBN 9781633535725.
Tiny house designers and experts themselves, the Engbergs show that downsizing does not mean giving up everything you own and admire. Purging belongings, housing pets, and all the realities are covered in their debut book.
Fivecoat-Campbell, Kerri. Living Large in Our Little House: Thriving in 480 Square Feet with Six Dogs, a Husband, and One Remote—Plus More Stories of How You Can Too. Reader's Digest. 2016. 240p. bibliog. index. ISBN 9781621452522. $24.99; ebk. ISBN 9781621452539.
The story of the American Dream of a large home was shattered for ­Fivecoat-Campbell and her family when they ended up in a 480-square-foot home in the woods. Through the author's journey of self-discovery, learning that larger is not always better, this memoir offers lots of practical advice for those who may desire the same change.
Hutchinson, Katie. The New Small House. Taunton. 2015. 224p. photos. ISBN 9781631864407. $32; pap. ISBN 9781627109185. $24.95.
Presenting smaller home strategies and case studies for residences across North America, Hutchinson looks at 24 residences, new builds and renovations, that will please families searching for a modest starter home, or those downsizing into their forever small home.
Jameson, Marni. Downsizing the Family Home: What To Save, What To Let Go. 2016. 256p. ISBN 9781454916338. pap. $16.95; ebk. ISBN 9781454917250.
Jameson, Marni. Downsizing the Family Home: A Workbook; What To Save, What To Let Go. 2018. 160p. ISBN 9781454926528. pap. $14.95.
ea. vol.: (Downsizing the Home). Sterling. illus. index.
For many, downsizing comes with aging, especially for empty-nesters. These books help readers from start to finish, with relevant insight from accredited organizers, appraisers, and psychologists. The workbook, though not suitable for library lending, encourages readers to both plan and chronicle their process.
Koones, Sheri. Downsize: Living Large in a Small House. Taunton. Oct 2019. 240p. photos. index. ISBN 9781641550338. $34.95.
Presenting 33 houses that are all 2,000 square feet or less, Koones evaluates the reasons that the owners have built or remodeled homes for smaller-space living. The book showcases various styles and locations, and highlights green and sustainable features.
Linsley, Leslie. Upscale Downsizing: Creating a Stylish, Elegant, Smaller Home. Sterling. 2017. 224p. photos. index. ISBN 9781454921974. $24.95.
No matter the size of one's space, elegant design is possible. Linsley showcases many small homes and apartments using tips from her own home design background. Stories from people who have downsized offer ample inspiration.
Marshall, Roger. How To Build Your Own Tiny House. Taunton. Sept. 2019. 224p. photos. index. ISBN 9781631869075. pap. $26.95.
In this comprehensive guide to building a tiny home, woodworker and builder Marshall clearly explains common building codes and regulations, outlines steps, including framing through wiring, and suggests appropriately sized appliances and furniture. Several designs ranging from 250 to 500 square feet are listed, along with ways to expand as needed.
Mitchell, Ryan. Tiny House Living: Ideas for Building and Living Well in Less Than 400 Square Feet. F+W. 2014. 176p. illus. index. ISBN 9781440333163. pap. $26.99; ebk. ISBN 9781440333248.
Exploring the philosophy behind the tiny house lifestyle, with guidance on transitioning to a smaller space. Includes worksheets to help readers define their space needs and explore potential
layouts.
Ryan, Maxwell. Apartment Therapy's Big Book of Small, Cool Spaces. Potter: Ten Speed. 2010. 304p. photos. index. ISBN 9780307464606. $27; ebk. ISBN 9780307985064.
The cofounder of the popular design website Apartment Therapy shows that small spaces can be elegant, quirky, homey, and stylish. Using small budget items, Ryan details how to make a small or tiny house a home. Includes a robust resource guide, including websites.
Schapdick, Chris. The Joy of Tiny House Living: Everything You Need To Know Before Taking the Plunge. Fox Chapel. Jul. 2019. 176p. photos. index. ISBN 9781580118347. pap. $19.99.
Learn about the challenges of tiny living from award-winning builder Schapdick, plus information about construction, design, and legalities.
Small Space Decorating. Houghton Harcourt. (Better Homes and Gardens Home). 2011. 191p. photos. index. ISBN 9780470887103. pap. $21.99; ebk. ISBN 9780470887103.
A leading source of home design, Better Homes and Gardens offers practical tips to create a roomy home in a smaller space. Solutions for small home owners or renters are also included.
Susanka, Sarah. The Not So Big House: A Blueprint for the Way We Really Live: 10th Anniversary Edition. Taunton. 2009. 240p. photos. index. ISBN 9781600851506. pap. $27.95.
The inspirational book that highlighted the message of quality before quantity in home design, now with a new introduction and more homes to explore.
Wilhide, Elizabeth. Small Spaces: Maximizing Limited Spaces for Living. Aurum. (Small Book of Home Ideas). 2009. 144p. illus. ISBN 9781906417154. $19.95.
A small space need not be a cluttered space. This guide helps readers reenvision their existing space and find ways to create storage and openness, no matter the size of their rooms.
Williams, Dee. The Big Tiny: A Built-It-Myself Memoir. Plume: Penguin. 2015. 304p. illus. ISBN 9780142181799. pap. $16; ebk. ISBN 9781101634714.
After a near-death experience, Williams sold her huge house and built her own 84-square-foot home. Part memoir, part how-to, this book brings to light the decision-making process around Williams's choice to slow down and scale back.
Websites
Langston, Bruce. Living Big in a Tiny House. YouTube.
This web series highlights tiny homes around the world and includes shorts on Langston's own tiny house construction.
The Tiny Life.
Covers tiny homes, minimalism, and homestead living. Includes articles, links to other web resources, and a newsletter.
Tiny Living.
A website devoted to showcasing tiny homes, including photos, design elements, and prices. Links to builders and tiny home festivals.