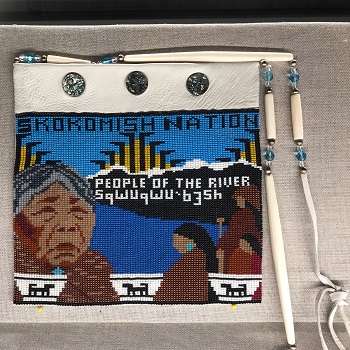 Art by Denise Emerson (Diné/Twana)
Photo by Tracy Rector

This fall, the Seattle Public Library (SPL) kicked off a partnership with yəhaw̓, an Indigenous-led arts project created to spotlight the creativity of the local Native community. With support from the Seattle Public Library Foundation and guidance from the Native Advisory Committee, from October 4 through December 9 the SPL Central Library will host a series of artists in residence, as well as a curator in residence: Indigenous artist Denise Emerson, who organized and installed an exhibition of Coast Salish women artists.
The project's name, "yəhaw̓," (pronounced "yahowt"), is taken from a Coast Salish story of Native people of all tribes meeting around a common cause and lifting the sky together; the word means to proceed, go forward, do it. The open call exhibition, which will ultimately feature more than 200 artists, celebrates work from a range of Indigenous communities around the Pacific Northwest. Beyond the library, yəhaw̓ also features community exhibits, artists' residencies, arts fairs, and other public events throughout the region, culminating in a group exhibition at the Seattle Office of Arts and Culture's ARTS gallery at King Street Station in early 2019.
VALUING VOICES
In 2017, SPL hired a consultant and put together a team of Native advisors to help shape the library's programming to reflect regional Indigenous culture and involve the local Native community. "We spent a lot of 2018 working on addressing those recommendations," said SPL community engagement manager Valerie Wonder, "and one of them was that we do more arts programming that showcases Native artists and voices."
For the past few years, SPL public engagement programs manager Davida Ingram has been spotlighting an annual topic related to equity, bringing in community members to work on a series of programs. This year's topic, environmental equity, dovetailed neatly with the themes that the Native advisors put forward—particularly land, food, and water sovereignty. The library has made a point of centering the voices of Native people in its ongoing programming, such as SPL's recent Summer of Learning youth and adult programs, which featured projects led by Native artists. This summer, the city of Seattle celebrated the 150th birthday of local photographer Edward Curtis, a white ethnologist who sought to document Native cultures.
But SPL wanted to showcase contemporary Indigenous Seattle voices, noted Wonder, "[recognizing] the fact that native people are in our community in huge numbers, and we haven't done a lot to demonstrate to the world that we value those voices that have been here since time immemorial."
Some members of SPL's Native advisory committee were involved with yəhaw̓ in its planning stage, and the idea of collaborating was a natural fit from the beginning. "I already knew that they were doing some awesome work with the indigenous community here," yəhaw̓ curator Asia Tail told LJ. "We had a sense of the library being a really open and accessible place, a place that was interested in social practice work or deeper engagement through the arts."

SPL asked the yəhaw̓ leads— filmmaker, curator, and community organizer Tracy Rector (Choctaw/Seminole), painter and curator Tail (Citizen of Cherokee Nation), and multidisciplinary artist Satpreet Kahlon—to help guide the project on the library side as well. "It was very much Indigenous-led," Wonder told LJ. "The library did not step in and say exactly how this should look. We stepped back, and I think have stretched appropriately as a result."
Yəhaw̓ had put out a call for Indigenous creatives in March, and the project launched publicly in August with an exhibition at King Street Station Plaza. A series of programs and satellite shows have been planned at more than 20 partner sites leading up to the February exhibition and through the spring, including mini-residency programs at Centrum, an artists' center in nearby Port Townsend, WA. Some yəhaw̓ artists will be having their first solo shows at participating galleries.
"Generally, there has been a lot of movement in Indigenous communities, especially in the last several years after [the Dakota Access Pipeline protests at] Standing Rock, to advocate for ourselves, to tell our own stories, and to unify—to come together as community," Tail told LJ. "I think artists are often at the forefront of social issues, and are key voices in terms of great political change…. We're seeing lots of different programs and organizations and new grassroots groups coming together in Indigenous communities, creating these really visible projects, in the last couple of years."
INDIGENOUS ARTS AT SPL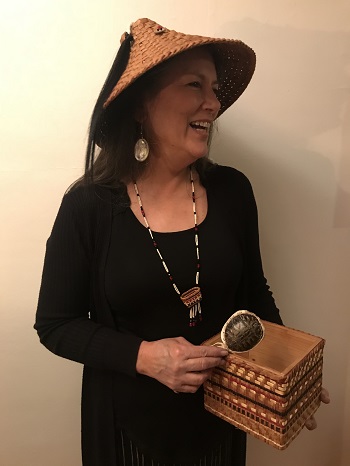 Kimberly Miller (Skokomish) pictured with her cedar tool box, cedar hat, and turtle rattle on display at SPL
Photo by Tracy Rector
In her role as SPL's curator in residence, Emerson worked closely with both with the yəhaw̓ curatorial team and library staff on the exhibition, which will be displayed at the SPL Central Library's 8th floor gallery through December. The show, "This Is Our Home, Where We Belong: Coast Salish Female Artists on Identity, Spirituality, and Environment," comprising the work of five Coast Salish artists—Caroline Edwards (Swinomish), Denise Emerson (Diné/Twana), Karen Engel (Shoalwater Bay), Kimberly Miller (Skokomish), and Abbey Pierson (Cowlitz)—explores themes of environmental justice, identity, and place.
One yəhaw̓-driven request was to include three artists in residence as part of the project, with each spending one day a week at the library for a period of three weeks, engaging with the public. SPL already had an artist in residence program planned, noted Wonder, which she had originally conceived of as a single person. "I had an idea going in of what I wanted things to look like," she said. "But in this case we said, 'You tell us what's most important to you,' and they said, 'We want three artists."
Multiple short residencies, explained Tail, enable the artists to fit in time at the library with their existing schedules. Taking three months off for a residency is not possible for many working artists, she noted, and presents a barrier to taking advantage of this kind of opportunity.
Those three turned out to be four—one team and two individuals. The team, Native Kut, composed of artists Pah-tu Pitt (Warm Springs & Wasco) and Sean Gallagher (King Island Inupiat), explored themes of water in conservation throughout October, through printmaking and wood carving demonstrations inspired by Indigenous water rights. Mixed-media artist and storyteller Roldy Aguero Ablao (Chamoru) created work inspired by stories of home and connections to Indigeneity and environmental justice, along with guest collaborators. Printmaker Fox Spears (Karuk) will hold court throughout November, creating work centered around the relationships that plants, animals, and humans have formed with regional rivers.  
In addition to the exhibit and the artists in residence, yəhaw̓ organizers have worked with SPL to develop a range of programming. Rector, who is a filmmaker, selected a series of films to show throughout the fall. Ongoing community conversations are also part of the program, including a recent talk on food sovereignty that focused on the role of salmon in the Salish Sea, the network of Pacific Northwest coastal waterways of which Seattle is a port. Another event, "What Is at Stake for Washington's Native Nations Today," led by two University of Washington professors, Jean Dennison (Osage) and Josh Reid (Snohomish) in conversation with local Native leaders Lisa Wilson (Lummi) and Melvinjohn Ashue (Hoh), discussed Indigenous sovereignty, treaty rights, and urban planning. Both panels were also made available as podcasts.
A November program will focus on honoring legends, with elders from around Washington State visiting the library to tell their stories. And a family activity day, scheduled for December 1, will showcase a number of local craftspeople and feature several hours of craft making, a screening of the film RUMBLE: The Indians Who Rocked the World (reviewed in LJ 2/1/18), and a panel discussion among the artists in residence, facilitated by Emerson.
"It's a full effort on the part of the library at a lot of different levels to think about Indigenous sovereignty and Indigenous knowledge, and showcase that in a lot of different ways," said Wonder.
ENGAGEMENT AND EDUCATION
The public response has been overwhelmingly positive, SPL staff reported. In particular, the decision to host Coast Salish women artists was well received. Visitors told Wonder that Emerson "did a lovely job of also providing information on the Salish Sea and Coast Salish tribes, information that the average Seattleite doesn't know—which tribes are Coast Salish and which aren't, what the boundaries are, or what the history of treaties are that affect the tribes. She documented all of that, and people are really appreciating it."
Crowds have been mixed, ranging those who have heard about the program, including local Native residents, to people who have no idea what to expect from the show. The artists in residence often find themselves in the roles of instructor for those who have little prior knowledge of Indigenous culture." It was a little more of an educational role than maybe they were expecting," reported Tail. "They're answering a lot of sometimes tough, but also hopefully rewarding, questions for visitors."
Patron surveys revealed that Seattleites are hungry for more information. "We work hard, when we think about equity, to ensure that a part of that is developing programs that are community-led," said Wonder. Much of that involves "community [members] telling us how they want to be represented and telling us what they want to see, and ensuring that we're centering the people who are either most affected by an issue or who are the subject of the program."
The results not only engage visitors, but help the library grow, she added. SPL is "not only putting on a program that's designed by, features, and hopefully draws an audience of the primary community, but also stretches us as an institution to do things differently," she told LJ.
"The library definitely has been an amazing partner," said Tail. "They're putting in a lot of extra time and they really believe in the project. For an organization like the library…it makes sense for there to be an ongoing indigenous presence there, and opportunities to learn about living cultures."
As to whether there will be more collaborations down the line, she added, "At the very least I'd love to see the library and other organizations keeping their Native advisory committees on board and continuing to do at least one to three public programs with Indigenous creatives every year, building it into their budgets, building it into their programming plans. I'm big on small steps that can be lasting."