War, revolution, and power.
Click here for additional new Prepub Alert columns
Blackbourn, David. Germany in the World: A Global History, 1500–2000. Liveright: Norton. Jun. 2023. 832p.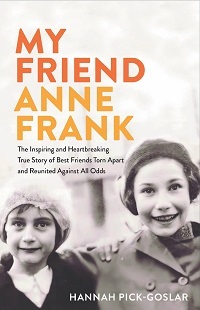 ISBN 9781631491832. $45. HISTORY
Borman, Tracy. Anne Boleyn & Elizabeth I: The Mother and Daughter Who Forever Changed British History. Atlantic Monthly. Jun. 2023. 320p. ISBN 9780802162069. $28. HISTORY
Clark, Christopher. Revolutionary Spring. Crown. Jun. 2023. 768p. ISBN 9780525575207. $40. HISTORY
Garton Ash, Timothy. Homelands: A Personal History of Europe. Yale Univ. May 2023. 368p. ISBN 9780300257076. $28. HISTORY
Glass, Charles. Soldiers Don't Go Mad: A Story of Brotherhood, Poetry, and Mental Illness During the First World War. Penguin Pr. 336p. ISBN 9781984877956. $29. HISTORY
Hartman, Darrell. Battle of Ink and Ice: A Sensational Story of News Barons, North Pole Explorers, and the Making of Modern Media. Viking. 400p. ISBN 9780593297162. $30. HISTORY
Pick-Goslar, Hannah. My Friend Anne Frank: The Inspiring and Heartbreaking True Story of Best Friends Torn Apart and Reunited Against All Odds. Little, Brown Spark. Jun. 2023. 288p. ISBN 9780316564403. $29. Downloadable. HISTORY/MEMOIR
Sullivan, Randall. Graveyard of the Pacific: Shipwreck and Survival on America's Deadliest Waterway. Atlantic Monthly. Jun. 2023. 272p. ISBN 978802162403. $30. HISTORY/MEMOIR
Thomas, Evan. Road to Surrender: Three Men and the Countdown to the End of World War II. Random. Jun. 2023. 336p. ISBN 9780399589256. $28. lrg. prnt. HISTORY
Vickers, Michael G. By All Means Available: Memoirs of a Life in Intelligence, Special Operations, and Strategy. Knopf. Jan. 2023. 576p. ISBN 9781101947708. $35. HISTORY
von Bremzen, Anya. National Dish: Around the World in Search of Food, History, and the Meaning of Home. Penguin Pr. Jun. 2023. 352p. ISBN 9780735223165. $29. HISTORY/CULINARY
Walker, Tamara J. Beyond the Shores: A History of African Americans Abroad. Crown. Jun. 2023. 352p. ISBN 9780593139059. $28. HISTORY/BLACK
Walton, Calder. Spies: The Epic Intelligence War Between East and West. S. & S. Jun. 2023. 704p. ISBN 9781668000694. $34.99. HISTORY
Award-winning Vanderbilt historian Blackbourn rethinks Germany in the World, arguing that it was a persuasive force even before unification in the 19th century. Joint Chief Curator of Historic Royal Palaces and a prolific historian, Borman (Crown & Sceptre) limns the historic significance of Anne Boleyn & Elizabeth I. In Revolutionary Spring, Wolfson Prize–winning Clark refreshes our view of the revolutions that rocked Europe in 1848. In Homelands, Oxford historian Garton Ash draws on both scholarship and personal experience to portray Europe post–World War II. In Soldiers Don't Go Mad, distinguished journalist Glass uses the friendship and literary output of outstanding war poets Siegfried Sassoon and Wilfred Owen—both gay and both ultimately opposed to fighting—to show how an understanding of post-traumatic stress disorder and its treatment first emerged during the industrialized slaughter of World War I. Journalist Hartman's Battle of Ink and Ice shows that the contention between explorers Robert Peary and Frederick Cook, both claiming to have discovered the North Pole, also sparked a newspaper war with all the earmarks of fake news. The long-anticipated My Friend Anne Frank recounts Holocaust survivor Pick‑Goslar's friendship with Frank (she's called Lies Goosens in The Diary of a Young Girl), having been together with her at the Westerbork transit camp and eventually Bergen-Belsen. Also known as the Graveyard of the Pacific, the Columbia River Bar forms where the river pours into the ocean off Oregon's coast and creates fearsome currents that have claimed numerous lives; like his abusive father, Sullivan risked crossing it, and he makes his book at once history, memoir, and meditation on male behavior at its extreme. Former undersecretary of defense for intelligence in the Obama administration, Vickers recalls a life in intelligence and special operations that arcs from his Green Beret days to his involvement in the CIA's secret war against the Soviets in Afghanistan to the war on terror. In Road to Surrender, the New York Times best-selling Thomas (First: Sandra Day O'Connor) relies on fresh material to convey the decision to drop the atomic bomb from the perspectives of Secretary of War Henry Stimson, Japanese Foreign Minister Shigenori Togo, and Gen. Carl "Tooey" Spaatz, head of strategic bombing in the Pacific. In National Dish, three-time James Beard award-winning food journalist von Bremzen investigates the relationship between food and place by examining the history of six major food cultures—France, Italy, Japan, Spain, Mexico, and Turkey. In Beyond the Shores, the Harriet Tubman Prize–winning Walker (Exquisite Slaves) considers why Black Americans leave the United States and what they encounter when they do, moving from early 1900s performer Florence Mills to 1930s scientists to the author's own grandfather. An historian at Harvard's Kennedy School of Government, Walton assays the century-long intelligence war between the West and the Soviet Union/Russia, considering lessons that can be gleaned today in Spies.