Click here for additional new Prepub Alert columns
Women's/Romance
Andrews, Mary Kay. The Santa Suit: A Novella. St. Martin's. Sept. 2021. 224p. ISBN 9781250279316. $19.99. CD. WOMEN'S
Slogging through a big clean-up at the old farmhouse she's bought sight unseen, freshly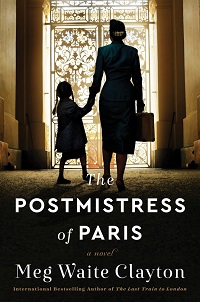 divorced Ivy Perkins discovers a clearly decades-old but gorgeously stitched Santa Claus suit with a note in the pocket: a little girl's Christmas wish is that her father return home from the war. That sends Ivy on a mission to discover more about the girl and her family and brings her into a community that helps her heal. With a 200,000-copy first printing.
Cabot, Meg. No Words. Morrow. Sept. 2021. 384p. ISBN 9780063082250. $27.99; pap. ISBN 9780062890092. $15.99. ROMANCE
Cabot takes us back to her beloved Little Bridge Island, though protagonist Jo Wright, a children's book author burdened with writer's block, isn't sure she wants to go. She's just won an all-expenses-paid trip to appear at the island's first-ever book festival, but will the condescending Will Price also be there? Rumors that he's not attending prove untrue, but maybe Will is not his old, unpleasant self. With a 75,000-copy paperback and 30,000-copy hardcover first printing.
Deveraux, Jude & Tara Sheets. An Impossible Promise. Mira: Harlequin. (Providence Falls Trilogy, Bk. 2). Sept. 2021. 368p. ISBN 9780778312123. $28.99; pap. ISBN 9780778332084. $16.99. ROMANCE/TIME TRAVEL
In Chance of a Lifetime, 1840s Irish thief Liam O'Connor lures away lovely Cora from her intended, and angels send him to small-town contemporary America to redress this wrong by convincing today's Cora, a police detective, to marry the man she loves. In this second in a trilogy, Liam and Cora are police officers rooming together in Providence Falls, NC, but Liam is finding modern-minded Cora not so easily swayed. With a 150,000-copy paperback and 10,000-copy hardcover first printing.
Graham, Heather. The Unknown. Mira: Harlequin. Sept. 2021. (Krewe of Hunters, Bk. 35). 368p. ISBN 9780778312154. $28.99; pap. ISBN 9780778311188. $9.99. ROMANCE/SUSPENSE
A new member of Graham's famed paranormal "Krewe of Hunters," FBI agent Ryder Stapleton wonders what modest young museum curator Xienna Murray has to do with a recent spate of fires in New Orleans. It turns out that she just knows when a fire is about to start, and the two team up to track down a dangerous arsonist. With a 400,000-copy paperback and 10,000-copy hardcover first printing.
Meltzer, Jean. The Matzah Ball. Mira: Harlequin. Sept. 2021. 336p. ISBN 9780778312130. $28.99; pap. ISBN 9780778311584. $16.99. JEWISH/ROMANCE
Billed as the first ever Hanukkah romance, this debut features Rachel Rubenstein-Goldblatt, who fills the trope of the "new Jewish girl" but actually writes Christmas fiction for a living—an uncomfortable secret she keeps from her observant family. Asked to write a Hanukkah romance, she decides to attend the Matzah Ball for inspiration, but with the ball sold out she must appeal to summer-camp archenemy Jacob Greenberg for a ticket. With a 75,000-copy paperback and 10,000-copy hardcover first printing.
Novak, Brenda. Keep Me Warm at Christmas. Mira: Harlequin. Sept. 2021. (Silver Springs, Bk. 9). 400p. ISBN 9780778312161. $28.99; pap. ISBN 9780778311256. $9.99. ROMANCE/HOLIDAY
Convinced that her career is waylaid when a nearly lethal accident leaves her with a facial scar, Hollywood actress Tia Beckett agrees to house-sit at her producer's quiet Silver Springs estate over the holidays. She doesn't realize that she'll be sharing her responsibilities with another guest, whose heart needs as much healing as hers. With a 400,000-copy paperback and 10,000-copy hardcover first printing.
Sparks, Nicholas. The Wish. Grand Central. Sept. 2021. 400p. ISBN 9781538728628. $28. lrg. prnt. CD. WOMEN'S
In 1996, 16-year-old Maggie Dawes is sent to live with an aunt on North Carolina's Outer Banks and misses her friends and family—until she meets kind, handsome Bryce Trickett, just admitted to West Point and eager to share his love of photography. In 2019, Maggie, now a renowned travel photographer grappling with a scary medical diagnosis, recalls her life-changing moments with Bryce as she shares memories of her long-ago Outer Banks Christmas with a young assistant.
Historical Fiction
Balson, Ronald H. Defending Britta Stein. St. Martin's. Sept. 2021. 352p. ISBN 9781250274809. $27.99. CD. HISTORICAL
Set to be honored by the Danish/American Association for his civic efforts, Chicago restaurateur Ole Henryks is also proclaimed for his heroism in German-occupied Denmark, but 90-year-old Britta Stein begs to differ. She gets herself arrested for spray-painting words like war criminal on the walls of Henryks's restaurant, and her initially reluctant defense attorney starts investigating what Henryks really did during World War II. From the author of The Girl from Berlin, winner of the National Jewish Book Award; with a 60,000-copy first printing.
Chakrabarti, Jai. A Play for the End of the World. Knopf. Sept. 2021. 304p. ISBN 9780525658924. $27. HISTORICAL
In 1972, Holocaust survivor Jaryk Smith and Southerner Lucy Gardener are just-arrived New Yorkers who've fallen in love when Jaryk learns that his best friend has died mysteriously in rural India. When he goes to collect the ashes, he gets embroiled in local politics, even joining in plans to protest the government by staging a play he saw performed as Nazi resistance in Warsaw. How does he balance past and present, politics and his love of Lucy? Pushcart, O. Henry, and Best American Short stories honoree Chakrabarti crafts an ambitious debut novel.
Clayton, Meg Waite. The Postmistress of Paris. Harper. Sept. 2021. 400p. ISBN 9780062946980. $27.99. lrg. prnt. HISTORICAL
Free-spirited young American heiress Naneé lives in Paris and loves learning to fly, which comes in handy when the German invade during World War II. She joins the Resistance and becomes known as the Postmistress, delivering news to those in hiding and spiriting them to safety. Based on the real-life Mary Jayne Gold, who helped American journalist Varian Fry smuggle artists and intellectuals out of France (for a novel about Fry's wartime efforts, see Julie Orringer's The Flight Portfolio). From a Bellwether Prize winner and Langum Prize winner for historical fiction; with a 75,000-copy first printing.
Sf/fantasy
Aoki, Ryka. Light from Uncommon Stars. Tor. Sept 2021. 368p. ISBN 9781250789068. $25.99. SF
To escape eternal damnation, Shizuka Satomi is tasked by the devil with persuading seven violin prodigies to surrender their souls for success. She's trying to deliver the seventh—brilliant young Katrina Nguyen, a transgender runaway—when she meets retired starship captain and interstellar refugee Lan Tran, who runs a San Gabriel Valley donut shop. Maybe donuts and the entwined relationships of these three women can break Shizuka's curse—and save the universe. With a 150,000 first printing.
Byrne, Monica. The Actual Star. Harper Voyager. Sept. 2021. 624p. ISBN 9780063002890. $27.99. lrg. prnt. SAGAS
Sprawling forth from a cave in the Belizean jungle, this multigenerational saga ranges from the collapsing Maya kingdom to a seething far-future utopia as it braids together three separate timelines involving twins who rule the Maya, a young American seeker, and two charismatics whose conflict will determine what happens to the few humans left straggling on an environmentally devastated Earth. Following the LJ-starred The Girl in the Road; with a 100,000-copy first printing.
Herbert, Brian & Kevin J. Anderson. Dune: The Lady of Caladan. Tor. (Caladan Trilogy Bk. 2). Sept. 2021. 416p. ISBN 9781250765055. $28.99. CD. SF
More Dune! In this second in the "Caladan" trilogy, Jessica, consort to Leto Atreides, Duke of Caladan, must face her betrayal of the Bene Gesserit and decide if her loyalty to the Sisterhood means more to her than her own family. Meanwhile, the empire is swinging out of control. With a 125,000-copy first printing.
Kristoff, Jay. Empire of the Vampire. St. Martin's. Sept. 2021. 752p. ISBN 9781250245281. $29.99. FANTASY
From the New York Times best-selling "Nevernight" chronicler comes the first in new saga that's dark indeed. With vampires ruling the earth, no one has seen the sun rise for 27 years, and the human kingdom has been all but destroyed. Of the Silver Order, a holy brotherhood committed to countering vampiric darkness, only Gabriel de León remains, and as he languishes in prison, he recalls the awful Wars of the Blood and the story of humanity's last hope: finding the Holy Grail. With a 100,000-copy first printing.
Novik, Naomi. The Last Graduate. Del Rey: Ballantine. (Scholomance). Sept. 2021. 368p. ISBN 9780593128862. $28. FANTASY
With the LJ-starred A Deadly Education, readers first attended Scholomance, a school for magically gifted youngsters who are tested ruthlessly not just on their ability to do magic but to survive the school itself. In this follow-up, graduation approaches, and Deadly protagonist Galadriel is mightily resisting her foretold destiny of dark sorcery.
Click here for additional new Prepub Alert columns