The complexities of women's relationships and women's tasks in the world.
Click here for additional new Prepub Alert columns
Bhanoo, Sindya. Seeking Fortune Elsewhere. Catapult. Feb. 2021. 240p. ISBN 9781646220878. $26. SHORT STORIES
From O. Henry Prize winner Bhanoo, this debut collection moves from Pittsburgh to Washington to Tamil Nadu as it illuminates the lives of South Indian immigrants to the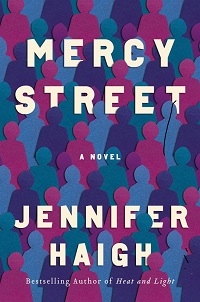 United States and the families who remain behind. Throughout, Bhanoo focuses on women like a widow in a retirement community anticipating her daughter's visit from America and a put-upon wife who makes a bold choice of her own when she inherits a house.
Dark, Alice Elliot. Fellowship Point. S. & S. Feb. 2022. 592p. ISBN 9781982131814. $28. LITERARY
Facing her third round of cancer at age 80, celebrated children's author Agnes Lee fends off requests to write her memoirs while struggling to complete the final volume of her series. She also wants to find a way to forestall development on a beautiful Maine peninsula called Fellowship Point after her death. That would require dissolving a generations-old partnership involving the peninsula that includes Agnes's best friend Polly as another shareholder, so the narrative also becomes the story of their lifelong friendship. A much-anticipated work from the author of In the Gloaming; with a 75,000-copy first printing.
Haigh, Jennifer. Mercy Street. Ecco. Feb. 2022. 352p. ISBN 9780061763304. $27.99. LITERARY
A counselor at Mercy Street, a woman's clinic in Boston, Claudia recognizes how important her work is for her patients. But she's feeling the stress of daily antiabortion protests outside the clinic doors and seeks relief from cheery pot dealer Timmy. Among the other customers she meets is woebegone Anthony, who spends much of his time chatting online with an antiabortion crusader going by the screen name Excelsior11. And now Excelsior11 is targeting Mercy Street. From the New York Times best-selling, PEN/Hemingway Award–winning Haigh; with a 100,000-copy first printing.
LaCour, Nina. Yerba Buena. Flatiron: Macmillan. Feb. 2020. 304p. ISBN 9781250810465. $26.99. CD. LITERARY
Sara Foster flees home at age 16 and eventually ends up as a popular (if slightly mysterious) bartender at the Los Angeles restaurant Yerba Buena. When directionless undergraduate Emilie Dubois takes a job arranging flowers at the restaurant, the connection between her and Sara sizzles. But can love conquer all, including the troublesome past? A first adult novel from Printz Award–winning YA author LaCour; with a 150,000-copy first printing.
Ladner, Kiare. Nightshift. Custom House: Morrow. Feb. 2022. 256p. ISBN 9780063138247. $27.99. LITERARY
In late 1990s London, 23-year-old Meggie meets glamorous new coworker Sabine and is so entranced that she trots along when Sabine changes to the nightshift, sacrificing boyfriend and diurnal routine in the process. Recalling her infatuation years later, Meggie reveals that Sabine started pushing her away, and their relationship fell into dangerous territory. From debuter Ladner, shortlisted for the BBC National Short Story Award; with a 50,000-copy first printing.
Morris, Amelia. Wildcat. Flatiron: Macmillan. Feb. 2020. 304p. ISBN 9781250809216. $26.99. LITERARY
Once a shopgirl, now a new mother and aspiring writer, Leanne is becoming increasingly uncertain of her path in life—and suspicious of her putative best friend, the wealthy and socially prominent Regina. As she sorts through issues of friendship, class, and whether her father is really speaking to her from the grave, Leanne benefits from a blooming new friendship with the distinguished author Maxine Hunter. A debut from popular blogger/podcaster Morris; with a 75,000-copy first printing.
O'Neill, Heather. When We Lost Our Heads. Riverhead. Feb. 2022. 400p. ISBN 9780593422908. $26. LITERARY/HISTORICAL
At age 12, bubbly Marie Antoine rules over the children of the glittering 19th-century Montreal neighborhood called Golden Mile until sly-eyed, decidedly unbubbly Sadie Arnett moves in. The two girls bond obsessively yet remain a combustible, even dangerous mix, oscillating between closeness and absence into adulthood as Marie inherits her father's sugar empire and Sadie becomes absorbed in working-class revolution. From the author of the Orange Prize–nominated Lullabies for Little Criminals.
Otsuka, Julie. The Swimmers. Knopf. Feb. 2022. 144p. ISBN 9780593321331. $23. LITERARY
Known to one another only by their preferred lanes (slow, medium, or fast), a group of women who share the pleasure of swimming regularly at the local pool are disrupted when it is closed owing to a bad crack. Alice is particularly affected; she swam to ward off her descent into dementia, and as her health fails precipitously, she's troubled by memories of the Japanese American internment camp where she spent World War II and visited by an estranged daughter who has missed her chance to reconnect. From National Book Award finalist Otsuka.
Walker, Saria. The Cherry Robbers. Mariner: HarperCollins. Feb. 2022. 432p. ISBN 9780358251873. $27. LITERARY
In 2017 New Mexico, celebrated artist Sylvia Wren is confronted by a journalist wanting to expose her secret: she's living under an assumed identity, having been born Iris Chapel in 1950s Connecticut, one of six sisters who stand to inherit a fortune built on firearms. Their mother believed that victims of gun violence haunt their house, and with tragedy striking repeatedly as the sisters begin to marry, Iris flees to build a new and safer life. Following Dietland, turned into a hit TV show; with a 40,000-copy first printing.
Wang, Weike. Joan Is Okay. Random. Feb. 2022. 224p. ISBN 9780525654834. $26. LITERARY
A hard-charging ICU physician at a New York City hospital, Joan feels deeply appreciated by her colleagues and somewhat pushed about by her Chinese immigrant parents, who returned from America to China once their children were grown. Now, with her mother visiting and a terrible health crisis descending, Joan wrestles with being Chinese American, meeting the demands of her male-dominated profession, and finding her own voice. From a 5 Under 35 honoree of the National Book Foundation, author of the PEN/Hemingway Award–winning Chemistry,