From Benn to Winspear, who launches a new series.
Click here for additional new Prepub Alert columns
Benn, James R. The Refusal Camp: Stories. Soho Crime. Mar. 2023. 264p. ISBN 9781641294515. $26.95. MYSTERY
Deciding to write short and sweet, Barry and Macavity Award finalist Benn flies beyond the horizon of his World War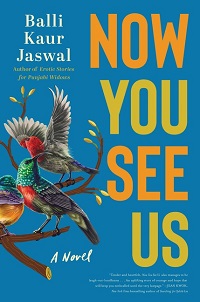 II–set Billy Boyle series in this first collection. The stories range from bloody murder and betrayal during the Revolutionary War to a futuristic collapse of the time-space continuum as two cousins wrangle over an atomic supercollider.
Bowen, Rhys & Clare Broyles. All That Is Hidden: A Molly Murphy Mystery. Minotaur: St. Martin's. Mar. 2023. 320p. ISBN 9781250808097. $26.99. MYSTERY/HISTORICAL
Former private detective Molly Murphy Sullivan is gobsmacked when policeman husband Daniel announces that he's moving them to a lush Fifth Avenue home and running for New York sheriff on the Tammany ticket, making bedfellows of the corrupt politicians he's always despised. From the New York Times best-selling Bowen and Broyles, her teacher/musician daughter.
Jaswal, Balli Kaur. Now You See Us. Morrow. Mar. 2023. 320p. ISBN 9780063161603. $27.99. CD. MYSTERY/INTERNATIONAL
Experienced Corazon hides a secret from her rich employer, while high-spirited newcomer Donita labors for the demanding Mrs. Fann and heartsore caretaker Angel worries that she's about to be replaced. They're Filipina domestic workers in Singapore, on high alert when one of their own is accused of murdering her employer. From Singapore-born Jaswal, whose Erotic Stories for Punjabi Widows was a Reese Witherspoon Book Club Pick; with a 75,000-copy first printing.
Leon, Donna. So Shall You Reap. Atlantic Monthly. Mar. 2023. 320p. ISBN 9780802162366. $27.MYSTERY/INTERNATIONAL
Investigating the death of an undocumented Sri Lankan immigrant, Commissario Guido Brunetti must rely on hearsay and books, found at the victim's tiny abode on the grounds of a university professor's palazzo, that concern Buddhism, the Tamil Tigers, and the political terrorists of 1980s Italy. In the end, Brunetti is reminded of Italy's complex history and the tarnished idealism of his youth. Leon was declared among the 50 Greatest Crime Writers of all time by both Time and the Times of London.
Pandian, Gigi. The Raven Thief: A Secret Staircase Mystery. Minotaur: St. Martin's. Mar. 2023. 320p. ISBN 9781250805010. $26.99. MYSTERY
After her family's Secret Staircase Construction company completes one of its clever renovations, Tempest Raj joins Grandfather Ash at the homeowner's celebration—a mock séance meant to banish the bad vibes of her faithless ex-husband. Then he turns up dead, with Grandfather Ash the main suspect. Following Agatha/Anthony/Lefty award winner Pandian's well-received series launch, Under Lock & Skeleton Key; with a 50,000-copy first printing.
Rosenfelt, David. Good Dog, Bad Cop. Minotaur: St. Martin's. 304p. ISBN 9781250828965. $27.99. CD. MYSTERY/PRIVATE INVESTIGATORS
Joined by K-9 partner Simon Garfunkel, Corey Douglas's K-Team has its pick of cold cases from the Paterson (NJ) Police Department. The latest concerns the death of a cop named Jimmy Dietrich, unhappy in retirement, whose body was wrenched from the Passaic River with that of a local woman named Susan Avery amid lurid speculation. From Edgar-nominated, Shamus-winning Rosenfelt; with a 60,000-copy first printing.
Swanson, Peter. The Kind Worth Saving. Morrow. Mar. 2023. 320p. ISBN 9780063204980. $28.99. lrg. prnt. CD. MYSTERY/PRIVATE INVESTIGATORS
Private investigator Henry Kimball is uneasy when Joan, connected to a tragedy during his teaching days, suddenly appears and asks him to keep tabs on her husband. Good thinking: his investigation leads him to two dead bodies in an empty suburban home touting a "for sale" sign—and lots of questions about the possibly treacherous Joan. From the New York Times best-selling Swanson; with a 100,000-copy first printing.
Winspear, Jacqueline. The White Lady. Harper. Mar. 2023. 352p. ISBN 9780062867988. $28.99. lrg. prnt. CD.
In 1947, former wartime operative Elinor White lives quietly in the Kentish village of Shacklehurst, occupying a "grace and favor" property granted to distinguished servants of the Crown. She keeps her neighbors at bay until stepping in to help the Mackies; husband and father Jim is being sought by his powerful crime family, who wants him back in the fold. A series launch from the author of the beloved "Maisie Dobbs" mysteries; with a 100,000-copy first printing.