From journalist Brian Hall's account of his devastating injury while covering the war in Ukraine to celebrated Ukrainian novelist Serhiy Zhadan bearing witness to the first months of the war.
Click here for additional new Prepub Alert columns
Hall, Benjamin. Untitled. Harper. May 2023. 304p. ISBN 9780063309661. $29.99. INTERNATIONAL AFFAIRS/MEMOIR
A war correspondent who switched to covering the U.S. State Department for Fox News, British journalist Hall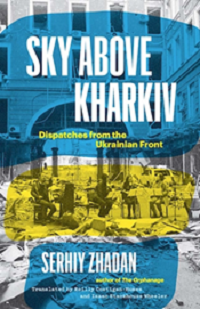 decided that he had help report on the Russian invasion of Ukraine in February 2022. On March 14, 2022, he was seriously injured in a drone attack that killed Ukrainian journalist Oleksandra Kuvshynova and Hall's Irish cameraman, Pierre "Zak" Zakrzewski. Here he talks about his rescue, his ongoing efforts to recover, and his wartime experiences in Ukraine and elsewhere. With a 150,000-copy first printing.
Haugen, Frances. Every Choice Matters: How I Found the Strength To Tell the Truth and Why I Blew the Whistle on Facebook. Little, Brown. May 2023. 320p. ISBN 9780316475228. $30. TECHNOLOGY/MEMOIR
In 2021, data engineer and product manager Haugen disclosed tens of thousands of Facebook's internal documents to the Securities and Exchange Commission and the Wall Street Journal. Her aim was to show that Facebook not only set its algorithm to reward extremism but that it knew the platform was being used to spread lies and stir up violence. Here she explains how and why she became a whistleblower.
Pahlka, Jennifer. Recoding America: Why Government Is Failing in the Digital Age and How We Can Do Better. Metropolitan: Holt. May 2023. 320p. ISBN 9781250266774. $29.99. POLITICAL SCIENCE/TECHNOLOGY
Former deputy chief technology officer of the United States and in that capacity founder of the United States Digital Service—a gathering of top technologists tasked with improving government operations—Pahlka also founded Code for America, a nonprofit, nonpartisan organization aiming to help the public sector catch up with the private sector in its effective use of technology. Here she provides a blueprint for how that can be done. With a 60,000-copy first printing.
Sengeh, David Moinina. Radical Inclusion: Seven Steps Toward Creating a More Just Society. Flatiron: Macmillan. May 2023. 256p. ISBN 9781250827746. $26.99. Downloadable. SOCIAL SCIENCE/ACTIVISM
Minister of Basic and Senior Secondary Education and Chief Innovation Officer for the Directorate of Science, Technology and Innovation in Sierra Leone, Sengeh was shocked by opposition to his lifting the policy banning pregnant girls from attending school. Everyone, he felt, deserved an education. Here he uses his battle to reverse the ban as a template for a radical reimagining of engrained practices, drawing on personal experiences from racial profiling as a Harvard student to combatting algorithmic bias as a data scientist to envision a more just society. The first title from Melinda French Gates's Moment of Lift Books.
Sexton, Joe. The Lost Sons of Omaha: Two Young Men in an American Tragedy. Scribner. May. 2023. 384p. ISBN 9781982198343. $30. SOCIAL SCIENCE/ACTIVISIM
On May 30, 2020, during protests in Omaha, NE, following George Floyd's murder, white bar owner Jake Gardner shot Black protestor James Scurlock to death. An investigation by white district attorney Don Kleine concluded that Gardner had legally acted in self-defense and released him, while a second investigation by Black special prosecutor Fred Franklin indicted Gardner for manslaughter and demanded that he face trial. Gardner subsequently committed suicide. Pulitzer Prize–winning journalist Sexton examines the truths and falsehoods surrounding the case as he reflects on issues of divisiveness and social justice in the United States today.
Shahvisi, Arianne. Arguing for a Better World: How Philosophy Can Help Us Fight for Social Justice. Penguin. May 2023. 336p. ISBN 9780143136835. pap. $18. Downloadable. ETHICS/PHILOSOPHY
A professor of ethics at the Brighton and Sussex Medical School, Kurdish-British author Shahvisi examines how we can better understand our own beliefs—and therefore argue them more effectively as a means of promoting justice and understanding—by first examining our own deep-seated assumptions. Shahvisi has worked as an ethics consultant for Doctors Without Borders and the UK government, and UK rights were sold in a seven-way auction, presaging interest.
Taylor, Miles. Blowback: A Warning To Save Democracy from the Next Trump. Atria. May 2023. 256p. ISBN 9781668015988. $30. POLITICAL SCIENCE
In 2018, former Department of Homeland Security chief of staff Taylor wrote an anonymous opinion piece for the New York Times titled "I Am Part of the Resistance Inside the Trump Administration," explaining that he and other members of the administration saw Donald Trump as dangerously unfit for office and sought to undermine his orders for the sake of the country. He subsequently wrote the New York Times best-selling A Warning, also anonymously. Here he comes out to warn against a second Trump presidency and the continued fracturing of the country.
Tobar, Héctor. Our Migrant Souls: A Meditation on Race and the Meanings and Myths of "Latino." MCD: Farrar. May 2023. 256p. ISBN 9780374609900. $27. SOCIAL SCIENCE
A Pulitzer Prize–winning journalist whose books include the New York Times best-selling Deep Down Dark and the Carnegie Medal long-listed novel The Last Great Road Bum, Tobar draws on personal experience as the son of Guatemalan immigrants and conversations with his students to clarify what the term Latino truly signifies and challenge the stereotyping and harassment frequently experienced by Latinx people today. With a 100,000-copy first printing.
Toobin, Jeffrey. Homegrown: Timothy McVeigh and the Rise of Right Wing Extremism. May 2023. 448p. ISBN 9781668013571. $29.99. POLITICAL SCIENCE
After the 1995 Oklahoma City bombing, Timothy McVeigh declared, "I believe there is an army out there, ready to rise up, even though I never found it." Here, top-notch journalist and New York Times best-selling author Toobin offers not just a thoroughgoing account of the bombing but its consequences, showing how McVeigh's tactics and beliefs have spread in the intervening years, culminating in the January 6 insurrection.
Wong, Chun Han. Party of One: The Rise of Xi Jinping and China's Superpower Future. Avid Reader: S. & S. May 2023. 400p. ISBN 9781982185732. $30. POLITICAL SCIENCE
When the Chinese government refused to renew Wall Street Journal reporter Wong's press credentials and shoved him from mainland China in 2019, he moved to Hong Kong and continued reporting on Chinese politics from afar. Here, he relies on conversations with Party insiders and grassroots members, scholars and diplomats, plus analyses of official speeches and documents to offer a portrait of Xi Jinping, general secretary of the Chinese Communist Party, and his rise to extraordinary power.
Zhadan, Serhiy. Sky Above Kharkiv: Dispatches from the Ukrainian Front. Yale Univ. May 2023. 160p. tr. from Ukrainian by Reilly Costigan-Humes & Isaac Stackhouse Wheeler. ISBN 9780300270860. $26. INTERNATIONAL AFFAIRS
Author of the PW best-booked Orphanage and the LJ-starred Mesopotamia, Ukrainian novelist Zhadan turned to social media when Russia invaded his country in February 2022, coordinating a network of resistance workers and sending encouragement to his compatriots. His efforts quickly drew an audience worldwide. This volume covers the first four months of the war, with Zhadan bearing witness to Russian atrocities and relating his adjustment, day by day, to a new reality. On October 24, Zhadan received the German Friedenpreis (Peace Prize) from the German Publishers and Booksellers Association at the Frankfurt Book Fair.