From an A.S. Byatt short story collection to Japanese Prize winner Sosuke Natsukawa's book-saving cat, Korean American debuter Juhea Kim's tour of 20th-century Korean history, and visits with Irish writers Lisa Harding and Clare Keegan to Neel Patel's U.S.-based Tell Me How To Be.
Click here for additional new Prepub Alert columns
Byatt, A. S. Medusa's Ankles: Selected Stories. Knopf. Nov. 2021. 464p. ISBN 9780593321584. $28. Downloadable. SHORT STORIES
Drawing from five previous collections, with a few pieces appearing in book form for the first time, this collection spans more than 30 years' worth of work from Booker Prize winner Byatt. Settings range from a British candy factory to a Turkish bazaar to a fairytale castle, with characters including a middle-aged client raging at the hairdresser's and a child who may or may not exist. Just announced; David Mitchell writes the introduction.
Harding, Lisa. Bright Burning Things. HarperVia. Dec. 2021. 336p. ISBN 9780063097148. $26.99. LITERARY
Celebrated stage actress Sonya's career has crashed, along with the glamorous lifestyle it entailed, and she now keeps company constantly with alcohol. As she contemplates her painful childhood and aborted career, the one thing that keeps her reaching for the light is son Tommy—whom she risks losing if she cannot conquer her addiction. Harding's first U.S. outing follows her debut, Harvesting, a best seller in Ireland that won the Kate O'Brien Award, was short-listed for other awards, and was optioned for film. She's also an actress, so she should get the theater details right. With a 100,000-copy first printing.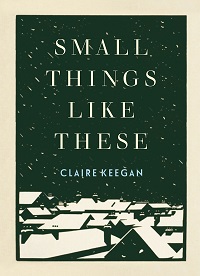 Keegan, Claire. Small Things Like These. Grove. Dec. 2021. ISBN 9780802158741. $22. LITERARY
In 1985 small-town Ireland before Christmas, a coal merchant and father of five discovers something shocking while make a routine convent delivery and is forced to confront his own past and his town's subjugation by the Church. Keegan's debut story collection, Antarctica, received the inaugural William Trevor Prize, the Rooney Prize for Irish Literature, and Los Angeles Times Book of the Year honors, but this is her first novel published in North America. Officially pubbing the last day of November, in time for the big holiday push.
Kim, Juhea. Beasts of a Little Land. Ecco. Dec. 2021. 416p. ISBN 9780063093577. $27.99. LITERARY/SAGA
Kim's debut sweeps through 20th-century Korean history, from a starving hunter rescuing a young Japanese officer from a tiger attack in 1917 to the sale of little Jade to Miss Silver's courtesan school by her downtrodden family to Jade's befriending an orphan boy named JungHo. When the fight for Korean independence arrives, JungHo joins in, and Jade—now an admired performer with a nobleman as a romantic possibility—must make hard choices. Billed as good reading for fans of Min Jin Lee, Lisa See, and Isabel Allende, which recommends it for a crossover audience of literary and pop fiction readers; with a 100,000-copy first printing.
Natsukawa, Sosuke. The Cat Who Saved Books. HarperVia. Dec. 2021. 208p. ISBN 9780063095724. $24.99. LITERARY
A No. 1 best seller in Japan whose physician author won the Shogakukan Fiction Prize for his debut novel, this smart charmer should appeal to readers everywhere. Book-loving high school student Rintaro Natsuki is on the verge of selling the secondhand bookstore he inherited from his grandfather when a talking cat named Tiger appears and demands his help in rescuing misused books from their cruel or oblivious owners. Whether anguishing on a bookshelf, cut up to facilitate speedreading, or victimized by publishing dullards who want only best sellers, these books are reached by different mazes, with the last maze promising to be a special challenge. Multiple foreign rights sales; with a 35,000-copy first printing.
Patel, Neel. Tell Me How To Be. Flatiron: Macmillan. Dec. 2021. 288p. ISBN 9781250184979. $26.99. LITERARY
In this follow-up to the NPR best-booked If You See Me, Don't Say Hi, Los Angeles–based songwriter Akash leaves Los Angeles (and the boyfriend he keeps secret from his family) and returns home to Illinois when his widowed mother sells the family home. He plans to pack his things, mourn his father, and mend family ties, but he didn't anticipate meeting his first romantic interest and falling in love again. With a 75,000-copy first printing; originally scheduled for Dec. 2020.
Click here for additional new Prepub Alert columns