When bad things happen to parents, children, and siblings.
Click here for additional new Prepub Alert columns
Fielding, Joy. The Housekeeper. Ballantine. Aug. 2022. 368p. ISBN 9780593158920. $28. SUSPENSE
With her mother succumbing to Parkinson's disease, successful real estate agent Jodi Bishop believes that her father, however alert and commanding, can't manage the caretaking. So she hires peppy, sixtyish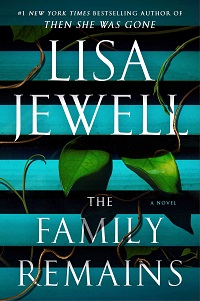 widow Elyse Woodley as housekeeper. Big mistake. From the New York Times best-selling Fielding, author most recently of Cul-de-Sac.
Jewell, Lisa. The Family Remains. Atria. Aug. 2022. 384p. ISBN 9781982178895. $28. CD. SUSPENSE
DCI Samuel Owusu learns that the bones featuring in his latest case are connected to the murder of three people decades ago at a Chelsea mansion. Meanwhile, Rachel Rimmer is reeling when she learns that husband Michael has been found dead in the cellar of his house in France but doesn't want to share anything about his past with the police. And Lucy Lamb returns to London 30 years after a tragedy and plans to buy her first-ever house, though her brother's interest in digging up the past could prove unsettling. The No. 1 New York Times best-selling Jewell promises to bring these intriguing threads together; with a 250,000-copy first printing.
Johnson, Tyrell. The Lost Kings. Anchor. Aug. 2022. ISBN 9780593466865. $27. Downloadable. SUSPENSE
When 12-year-old Jeanie King's father appears one night soaked in blood and disappears the next morning with Jeanie's twin brother, Jeanie is taken by authorities from her Washington State home and separated from childhood crush Maddox. Two decades later, Maddox seeks out a still-troubled Jeanie in England to tell her that he's found her father. From the author of The Wolves of Winter, a Canadian best seller that got Indie Next, PopSugar, and Vogue.com attention.
Kellerman, Faye. The Hunt. Morrow. (Decker/Lazarus Novels). Aug. 2022. 384p. ISBN 9780062910493. $28.99. lrg. prnt. POLICE PROCEDURAL
Even as Det. Peter Dexter discovers a body in the woods, Teresa McLaughlin, the biological mother of Peter and wife Rina's foster son, Gabe, needs him. She's fled to Los Angeles during a complicated divorce from a former hitman, whom Peter and Gabe reluctantly call on for help when Teresa is beaten up and her children snatched. With a 100,000-copy first printing.
Mosberg, Jason. My Dirty California. S. & S. Aug. 2022. 432p. ISBN 9781982178666. $28.99. CD. LITERARY THRILLER
Jody is thrilled when younger brother Marty arrives to visit him and their father in Pennsylvania, then horrified to find them both murdered the next day. His search for their killer sends him to Marty's Los Angeles home, where a stash of disturbing videos reveals the city's uglier aspects and leads him to more mysteries—e.g., a documentary filmmaker who thinks humanity is living in a simulation—that might help solve his. With a 40,000-copy first printing; from screenwriter Mosberg.
Oates, Joyce Carol. Babysitter. Knopf. Aug. 2022. 448p. ISBN 9780593535172. $30. NOIR
A criminal dubbed Babysitter is abducting and killing children in the affluent suburbs of late 1970s Detroit, and his path soon crosses with two other key characters. Local businessman's wife Hannah is having an affair with a dashing, enigmatic stranger, while street-hustling Mikey is on a surprising quest for justice. Oates in haute thriller mode, examining the risky plunge into an alternate life within the context of police corruption, deep-seated racism, and a world that facilitates sexual predation.