From Janelle Brown to Danielle Steel.
Click here for additional new Prepub Alert columns
Brown, Janelle. I'll Be You. Random. Apr. 2022. 368p. ISBN 9780525479185. $28. lrg. prnt. CONTEMPORARY
Identical twins Ellie and Sam are former child actors whose success crash-landed as they entered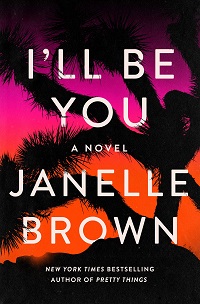 adulthood. Ellie has contentedly settled into marriage with a real estate agent, while Sam is now addicted to drugs and alcohol, bitter about her lost career. Then she learns that life for Ellie isn't as good as it looks; her husband has left her even as she adopts a child, and she's checked into a mysterious spa in Ojai, CA. Is Ellie getting the help she needs there, or is she entrapped by a cult? From the New York Times best-selling author of Pretty Things.
Dolan, Lian. Lost and Found in Paris. Morrow. Apr. 2022. 320p. ISBN 9780062909022. $27.99. lrg. prnt. CD. CONTEMPORARY
Daughter of a prominent artist whose legacy she has tended since his death on 9/11, art historian Joan Blakely is so enraged when she learns of her husband's infidelity that she decides to get out of town, accepting a job as art courier and carrying valuable drawings to Paris in her overnight bag. After hooking up with handsome techie Nate, whom she met in business class, she awakens to find the drawings gone and a long-lost work by her father in their place. Now she's got mysteries to solve, with Nate's help. Billed as a "thinking woman's ultimate escapist adventure in Paris"; with a 50,000-copy first printing.
Ginder, Grant. Let's Not Do That Again. Holt. Apr. 2022. 352p. ISBN 9781250243775. $27.99. CONTEMPORARY
Nancy Harrison has all her credentials lined up for a run for office, but her listless, lackluster children could be a stumbling block. Son Nick is stalled on the musical he's writing about Joan Didion, while daughter Greta whiles away her time as an Apple store salesclerk. Then Greta shows up on the news, leading a violent protest in Paris, and Nancy and Nick are on the next plane to control the damage to Greta, the family, and the campaign. From the author of The People We Hate at the Wedding, being readied for the big screen; with a 75,000-copy first printing.
Green, Jane. Sister Stardust. Hanover Square: Harlequin. Apr. 2022. 336p. ISBN 9781335425782. $26.99. CD. CONTEMPORARY
In the late 1960s, Claire escapes her small-town life and its attendant burdens—a nasty stepmother, an unrequited love—for swinging London, then follows up a rumor about a truly happening place and heads to Marrakesh. At a hideaway where music, drugs, and communal living reign, she meets Talitha Getty, socialite wife of the famous oil heir, and a special friendship is born. The New York Time best-selling author's first foray into biographical fiction; with a 125,000-copy first printing.
McMahon, Jennifer. The Children on the Hill. Gallery: Scout: S. & S. Apr. 2022. 352p. ISBN 9781982153953. $27. CD. CONTEMPORARY
In 1978 Vermont, Dr. Helen Hildreth devotes herself to patients with mental health issues and to grandchildren Vi and Eric, who are intrigued when their grandmother brings home troubled young Iris to stay with the family. Soon, Vi invites Iris to join the siblings' Monster Club, explaining that there are monsters among us. Decades later, Lizzy Shelley, host of the podcast Monsters Among Us, travels to Vermont to cover a girl's abduction with the knowledge that monsters are indeed real—her sister is one. Interesting to see how these stories connect. A Frankenstein redo by the New York Times best-selling author of The Drowning Kind; with a 100,000-copy first printing.
Steel, Danielle. Beautiful. Delacorte. Apr. 2022. 256p. ISBN 9781984821645. $28.99. lrg. prnt. CONTEMPORARY
Supermodel Veronique Vincent would rather hang out with her beloved mother and sweetheart of a boyfriend than go to fancy parties, and after Paris Fashion Week she decides to take a trip with them. But they are both killed in a terrorist attack at Belgium's Zaventem Airport that leaves Veronique permanently maimed, and she withdraws from the fashion world. A special letter included with her mother's will helps her move forward to a meaningful life. Mega-best-selling Steel strikes again.