Big thrills from major players.
Click here for additional new Prepub Alert columns
Banville, John. The Lock-Up. Hanover Square: Harlequin. May 2023. 288p. ISBN 9781335449634. $28.99. CD.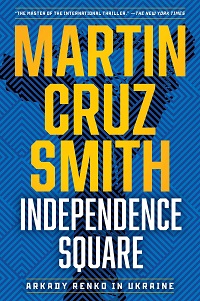 THRILLER
Barclay, Linwood. The Lie Maker. Morrow. May 2023. 368p. ISBN 9780063276246. $28.99. lrg. prnt. THRILLER
Bentley, Don. Tom Clancy Flash Point. Putnam. (Jack Ryan Jr., Bk. 10). May 2023. 480p. ISBN 9780593422786. $29.95. lrg. prnt. CD. THRILLER
Cronin, Justin. The Ferryman. Ballantine. May 2023. 560p. ISBN 9780525619475. $30. lrg. prnt. THRILLER
Isaacs, Susan. Bad, Bad Seymour Brown. Atlantic Monthly. May 2023. 400p. ISBN 9780802159069. $27. THRILLER
Lawton, John. Moscow Exile: A Joe Wilderness Novel. Atlantic Monthly. (Joe Wilderness, Bk. 5). May 2023. 448p. ISBN 9780802158024. $27. THRILLER
Maden, Mike. Untitled. Putnam. (Oregon Files, Bk. 17). May 2023. 400p. ISBN 9780593543931. $29.95. lrg. prnt. CD. THRILLER
Nakamura, Fuminori. The Rope Artist. Soho Crime. May 2023. 288p. tr. from Japanese by Sam Bett. ISBN 9781641293259. $27.95. THRILLER
Patterson , James & Maxine Paetro. The 23rd Midnight. Little, Brown. (Bk. 23, Women's Murder Club). May 2023. ISBN 9780316402781. $30. lrg. prnt. CD. THRILLER
Pochoda, Ivy. Sing Her Down. MCD: Farrar. May 2023. 288p. ISBN 9780374608484. $28. THRILLER
Powers, Kevin. A Line in the Sand. Little, Brown. May 2023. 368p. ISBN 9780316507127. $29. THRILLER
Roberts, Nora. Identity. St. Martin's. May 2023. 448p. ISBN 9781250284112. $30. CD/downloadable. THRILLER
Smith, Martin Cruz. Independence Square: Arkady Renko in Ukraine. S. & S. May 2023. 288p. ISBN 9781982188306. $27.99. CD. THRILLER
In The Lock-Up, Booker Prize winner Banville returns to 1950s Dublin, where pathologist Dr. Quirke and DI St. John Strafford are investigating the murder of a young history scholar when her sister points them to a powerful German family newly arrived in town after World War II (100,000-copy first printing). In Barclay's The Lie Maker, struggling author Jack is offered big money to write false histories for people in the witness protection program and now has the means to find his father, who vanished into the program when Jack was just a child (100,000-copy first printing). Bentley's Tom Clancy Flash Point gives Jack Ryan Jr. a terrorist plot to crack, but it turns out to be part of a larger, grimmer scheme. On the island paradise of Prospera, residents live contentedly until they're warned by a monitor embedded in their forearms that it's time for renewal and board the ferry for the Nursery, but The Ferryman (and some island resisters) begin to suspect that all is not as benevolent as it seems; a stand-alone from Cronin, seven years after he wrapped up his "Passage" series. With Bad, Bad Seymour Brown, New York Times best-selling author Isaacs brings back former FBI agent Corie Geller and her father, a retired NYPD cop, who must solve a cold case to prevent the murder of the crime's only survivor—unassuming professor April Brown, whose father laundered money for the Russian mob. Lawton's Moscow Exile moves from 1950s Washington, DC, where British-born socialite Charlotte has a pack of secrets to pass on to old flame Charlie Leigh Hunt at the British embassy, and 1969, with Joe Wilderness trapped behind the Iron Curtain and the stories converging in Berlin. Maden's Untitled new Cussler adventure brings back Juan Cabrillo and the crew of the Oregon for more fun and games. In Nakamura's latest, two detectives investigate the murder of The Rope Artist—an instructor in kinbaku, a form of rope bondage with both spiritual and sexual overtones—with Togashi finding himself pulled toward his own unorthodox desires and straight-arrow colleague Hayama seeking the truth in a case that's getting out of control. In The 23rd Midnight, Patterson and Paetro team up for another visit with the Women's Murder Club, as someone copycats the methods of a serial killer jailed by Det. Lindsay Boxer and profiled in a best seller by reporter Cindy Thomas, both women's murder clubbers. In multi-award-finalist Pochada's Sing Her Down, the imprisoned Diosmary Sandoval suspects that cellmate Florence "Florida" Baum isn't the innocent victim she claims to be and hounds her relentlessly when both are unexpectedly released (100,000-copy first printing). National Book Award finalist Powers (The Yellow Birds) draws A Line in the Sand with his first thriller, about former Iraqi interpreter Arman Bajalan, working at the Sea Breeze Motel in Norfolk, VA, after having barely survived the assassination attempt that killed his wife and child, who discovers a dead body on the beach (60,000-copy first printing). When her roommate is killed at the first party they throw at their Baltimore-area apartment, Morgan learns that she was the intended victim of the assailant, who steals each target's Identity and then kills her; a million-copy first printing for Roberts. After more than four decades of thrillers reflecting Soviet/Russian events, Smith drops longtime protagonist Arkady Renko in Independence Square in Kyiv, where Renko has gone to find the anti-Putin daughter of an acquaintance. Meanwhile, Renko discovers that he has Parkinson's Disease, as does Smith.