Leading thriller authors deliver fresh, new titles.
Click here for additional new Prepub Alert columns
Bartz, Andrea. The Spare Room. Ballantine. Jun. 2023. 352p. ISBN 9781984820495. $28.99. SUSPENSE
Stuck during Covid lockdown in the apartment she shares with the man who just canceled their wedding, Kelly gladly accepts an offer to move into the secluded Virginia mansion of childhood friend Sabrina—now a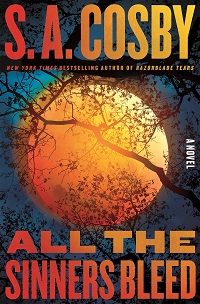 best-selling author—and her master-of-the-universe husband. Soon, she finds herself enchanted by her hosts, and they indicate their willingness to become a threesome, but then she learns some things about their past that give her pause. Following We Were Never Here, a Reese's Book Club Pick.
Chavez, Heather. Before She Finds Me. Mulholland: Little, Brown. Jun. 2023. 336p. ISBN 9780316531351. $28. THRILLERS/DOMESTIC
Delivering daughter Cora to college, Julia Bennett barely saves her from a violent attack on campus and suspects (given her own hidden past) that the attack was not as random as claimed. Meanwhile, when trained assassin Ren Petrovic learns about the attack, she thinks it looks exactly as if it were executed by husband and colleague in arms Nolan, but he never told her about it. From the rising star who wrote No Bad Deed and Blood Will Tell; with a 50,000-copy first printing.
Clarke, Amy Suiter. Lay Your Body Down. Morrow. Jun. 2023. 272p. ISBN 9780358418313. $30. THRILLER/PSYCHOLOGICAL
When Del Walker left behind her Minnesota hometown and its overweening church, she also left behind Lars, the man she loved, who had chosen to marry another. When he is killed six years later, she becomes suspicious and returns to find the church a full-blown cult run by the scarily patriarchal Pastor Rick Franklin. Now she must dig through layers of lies—and face her own long-buried religious trauma—to find out what happened. From the author of the acclaimed Girl, 11; with a 75,000-copy first printing.
Cosby, S.A. All the Sinners Bleed. Flatiron: Macmillan. Jun. 2023. 368p. ISBN 9781250831910. $27.99. CD/downloadable. THRILLER
Disgusted by the racist police force he encounters when he returns to his small Southern hometown, FBI agent Titus Crown tosses his name in the ring and becomes the town's first Black sheriff. A year later, after his deputies shoot a young Black man to death, he investigates what happened and finds himself on the trail of a serial killer. From the author of the New York Times best-selling Razorblade Tears.
Heaberlin, Julia. Night Will Find You. Flatiron: Macmillan. Jun. 2023. 368p. ISBN 9781250877079. $27.99. SUSPENSE
Vivvy Bouchet may be an astrophysicist, but years ago she used her psychic skills to save the life of a child. Now that child is full grown and a cop, and he's desperate for her second-sight help in solving a still-newsworthy cold case involving a kidnapped girl. From the author of the internationally best-selling Black-Eyed Susans; with a 100,000-copy first printing.
Quirk, Matthew. Inside Threat. Morrow. Jun. 2023. 352p. ISBN 9780063051683. $30. CD. THRILLER/ESPIONAGE
With the White House under attack, the President has fled to a doomsday bunker outside Washington, DC, with only the most trustworthy staff in his wake. One of them is Secret Service Agent Erik Hill, who comes to realize that the current attack has been fomented from within. From the New York Times best-selling author of Red Warning; with a 150,000-copy first printing.
Sager, Riley. The Only One Left. Dutton. Jun. 2023. 368p. ISBN 9780593183229. $28. SUSPENSE
Only young Leonora survived her family's vicious slaughter in 1929, and town gossip blames her for the deaths despite an absence of proof. Since then, she's refused to leave her family's crumbling mansion high on Maine's coastline, and by 1983 she's in need of a caregiver. Home-health aide Kit McDeere takes the job, and one night, Leonora, rendered mute by a series of strokes, taps out a single sentence on the typewriter: "I want to tell you everything." From the New York Times best-selling Sager, a LibraryReads Hall of Famer.
Trussoni, Danielle. The Puzzle Master. Random. Jun. 2023. 384p. ISBN 9780593595299. $27. lrg. prnt. THRILLER/SUPERNATURAL
Imprisoned for murder but refusing to speak of her crime, Jess Price draws a puzzle that her psychiatrist believes may explain what happened, and celebrated puzzle constructor Mike Brink is asked to take a look. Soon, Mike realizes that Jess is hiding something more terrifying than her crime, which leads him to the God Puzzle, a prayer circle created by the 13th-century Jewish mystic Abraham Abulafia. From New York Times best-selling Angelology author Trussoni.