Click here for additional new Prepub Alert columns
Cameron, Marc. Tom Clancy Untitled. Putnam. Dec. (Jack Ryan, Bk. 22). 2022. 512p. ISBN 9780593422755. $29.95. lrg. prnt. CD/downloadable. THRILLER
As president of the United States, Jack Ryan is one powerful man. But even he cannot outrun his past in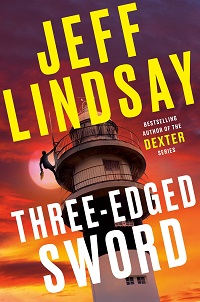 this latest Tom Clancy continuation from the author of the New York Times best-selling "Jericho Quinn" novels.
Cook, Robin. Night Shift. Putnam. Dec. 2022. 432p. ISBN 9780593540183. $29. lrg. prnt. CD/downloadable. THRILLER/MEDICAL
When a good friend and colleague is found dead in the hospital parking lot, newly appointed medical examiner Dr. Laurie Montgomery asks doctor husband Jack Stapleton to investigate. He has to break a few rules, but he uncovers some ugly truths about the hospital where he works.
Cosby, S.A. My Darkest Prayer. Flatiron: Macmillan. Dec. 2022. 288p. ISBN 9781250867636. pap. $16.99. THRILLER/CRIME
Having blasted into the thriller stratosphere with Razorblade Tears and Blacktop Wasteland, Cosby earns a reissue of his debut novel. Here, former marine and deputy sheriff Nathan Waymaker, now working at his cousin's funeral home, is tasked with uncovering the truth about a local preacher's untimely death. With a 75,000-copy first printing.
Friedman, Elyse. The Opportunist. Mira: Harlequin. Dec. 2022. 336p. ISBN 9780778386957. pap. $16.99. CD. SUSPENSE
Struggling single-mom Alana Shropshire assiduously avoids her family until her grasping brothers offer to pay her to prevent a 29-year-old from marrying their wealthy septuagenarian father. That should take just one little trick, but things spin rapidly out of control. From award-winning Canadian author Friedman; with a 75,000-copy first printing.
Kane, Darby. The Last Invitation. Morrow. Dec. 2022. 416p. ISBN 9780063271845. $28.99; pap. ISBN 9780063225565. $17.66. CD.THRILLER/PSYCHOLOGICAL
What has Jessa gotten into when she grabs that invitation to join the Sophie Foundation? Once a month, its members meet over a civilized spread of wine and cheese, consider the outré behavior of a few men, and decide which one will die. Following the film-optioned Pretty Little Wife and The Replacement; with a 100,000-copy paperback and 30,000-copy hardcover first printing.
Lindsay, Jeff. Three-Edged Sword. Dutton. (Riley Wolfe, Bk. 3). Dec. 2022. 384p. ISBN 9780593186220. $27. Downloadable. THRILLER
Wily if lovable Riley Wolfe returns for a third adventure, eager to emulate Robin Hood by stealing from the 0.1 percent. And this theft is his biggest yet despite rumblings from a growing list of enemies. From the author who gave us the durable Dexter.
Morrissey, Hannah. The Widowmaker. Minotaur: St. Martin's. Dec. 2022. 304p. ISBN 9781250795977. $27.99. CD. THRILLER
Back home in crime-ridden, grime-ridden Black Harbor, WI, struggling photographer Morgan Mori is snapping shots at the glittery-rich Reynolds family's holiday party when she witnesses a murder that could hold clues to the long-ago disappearance of family patriarch Clive Reynolds. And more clues could come from her own shadowy past. Following the LJ-starred Hello, Transcriber .
Morrison, Ewan. How To Survive Everything. Harper Perennial. Nov. 2022. 368p. ISBN 9780063247321. $17. SUSPENSE
From Morrison, a Saltire Society Scottish Fiction Book of the Year honoree, this multi-award-nominated thriller features two children kidnapped by their divorced father, who's determined to hide them away from what he believes will be the next ferocious wave of pandemic.
Woods, Stuart. Untitled. Putnam. (Stone Barrington, Bk. 64). Dec. 2022. 320p. ISBN 9780593540060. $28. lrg. prnt. CD/downloadable.
Another Stone Barrington adventure—and this one right on the heels of Distant Thunder, appearing in October. Woods and his readers never rest.