In an age when inaccuracy disseminates with the click of a mouse, reliable reporting is more vital than ever. These widely varied databases pay tribute to the history of journalism. Gale's American Historical Periodicals and Adam Matthew Digital's American Indian Newspapers consider American and Canadian reporting from the colonial era to the 20th century. Readex's Rand Daily Mail and Twentieth Century Global Perspectives: Propaganda and the Chinese Press explore antiapartheid sentiment in South Africa and the impact of a biased press, respectively. Finally, Adam Matthew Digital's Service Newspapers of World War Two takes users to the front lines, while EBSCO's Atlantic Magazine Archive presents a complete run of the well-known monthly from its inception in 1857 to 2014.
---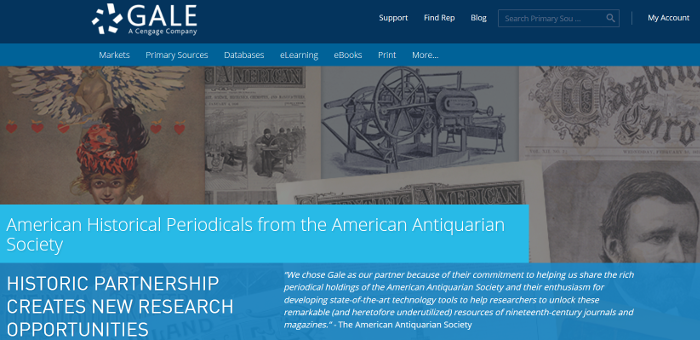 CONTENT Exploring the development of the United States from the colonial period to the early 20th century, this resource grants access to the American Antiquarian Society's (AAS) extensive collection of periodicals. Founded in 1812, the AAS holds the "single largest collection" of materials published through 1876, including books, magazines, pamphlets, broadsides, newspapers, music, and artwork. American Historical Periodicals is comprised of six series; the most recent addition emphasizes the early 20th century, with coverage up to 1923.
Gale presents short-lived and hard-to-find selections alongside well-known and long-established titles. More than 6,000 periodicals published in the United States and Canada are available, from the Abbott Courant to the Zodiac. While the majority are in English, additional tongues include German, French, Spanish, Norwegian, Swedish, Welsh, Italian, Portuguese, Armenian, Assamese, Burmese, Dutch, Latin, Tamil, Zulu, and a number of Indigenous languages. The oldest work in the collection is the 1684 Acta Eruditorum.
Colonial publications shed light on the rising tension that led to the American Revolution, while titles from the antebellum period reveal growing interest in the development of the nation, industrialization, and westward expansion, as well as regional differences in politics and thought. Others reflect the effects of the Civil War. Later works document the second industrial revolution and the changing face of America—immigration, women's suffrage, ­
World War I, and the impact of the Twenties on music and fashion.
USABILITY The database relies on Gale's typical interface. A basic search option appears on the homepage, along with links to "browse publications" and "explore term frequency."
The advanced search page provides a richer set of features: searching the entire document or by keywords, document title, author/creator, publication title, place of publication, issue number, start page, or document number. Users can limit searches to documents from Series 1–5 or to Series 6. They can also restrict results to materials from a specific date range or publication or in a particular language. Additional limiters include publication date, publication section, illustrated works, document type (article, essay, obituary, etc.), and language. "Allow variations" accounts for differences in spelling—a common issue with historical documents.
By default, results are sorted by relevance but can also be listed by date, document or publication title, and page number. A handy "keywords in context" option opens a pop-up window that previews the section in which the search term appears.
Patrons can also search within, refine, or analyze results using term clusters and frequency graphs. A term cluster for suffragette includes Suf Frage, England, Women, Suf Fragette, and more. Users can select between wheel and tile displays. The term frequency option graphs the use of words or phrases across time and can be set to frequency or popularity.
Newspaper articles are presented as high-quality scans. Relevant keywords are highlighted, making it easier to zoom in on sections of interest. Users can browse within an article or expand their search to include the entire issue or publication. They can view the relevant article, zoom out to access the whole page, browse the complete issue, or scroll through a sidebar list of all the articles.
Citations for publications and individual articles are available. Those who have a Gale account may add public and private tags to materials. A tool bar lets users bookmark, download, share, print, cite, and email items.
PRICING Pricing for American Historical Periodicals, Series 6 starts at $6,200 for the collection, with a hosting fee that begins at $53 annually. Public library pricing is based on population served and starts at $4,765 for the collection. Academic library fees are determined by an institution's full-time enrollment and other variables. Subscriptions are available upon request. Institutions holding two or more Gale Primary Source collections receive complimentary access to the Gale Primary Sources cross-search platform, which permits discovery of connections among other archival collections published by Gale.
Gale is offering free access to the six million–plus pages that comprise American Historical Periodicals, Series 1–5 to any U.S. or Canadian institution that owns at least one Gale Primary Sources archive.
VERDICT A valuable, comprehensive, and easy-to-use resource for primary source research on American culture and thought.
Adam Matthew Digital
Free trial available
CONTENT American Indian Newspapers compiles 45 periodicals printed in the United States and Canada between 1828 and 2016. This rich collection features national publications as well as community and student newspapers, including bilingual texts and those printed in Indigenous languages (e.g., Hawaiian, Cherokee, and Navajo). Publications includeAk-Chin O'odham Runner, Hocak Worak, Hopi Action News, and Win Awenen Nisitotung.
The majority of the papers here were established in the 1970s and reflect the rise in Indigenous journalism that grew out of a demand for reporting and representation from within the Indian community. Researchers will find information on the American Indian Movement, education, environmentalism, land rights, public health and welfare, representation, and more, with many of the titles available in runs of more than 500 issues.
Materials are selected from the Newberry Library in Chicago and the Sequoyah National Research Centre at the University of Arkansas, Little Rock. The Newberry Library is an independent institution with a wide collection of rare books and manuscripts, including newspapers published in Indigenous languages between 1828 and 1956. The Sequoyah National Research Centre holds the largest number of Indigenous publications, including American Indian, Alaska Native, and First Nations works. It is also the official repository for the American Indian Library Association's correspondence, the National Trail of Tears Association, and the Native American Journalists Association.
To ensure the rights of Indigenous publishers, title selections are made at the discretion of participating publishers and tribal councils and are subject to a "take down" policy based on agreements between the copyright holders and Adam Matthew Digital. Where copyright holders could not be identified, materials have been deemed "orphan" titles. Users are advised that reproduction of materials in the collection requires the consent of the copyright holder, and materials may not be reproduced for educational use without permission.
USABILITY Browsing and searching are robust. Basic search is available on the homepage. Users can perform advanced queries by keyword, newspaper title, publisher, and publication location. Additional options include word stemming, proximity searching, and filtering by language, date, newspaper, publisher, publication location, and library archive.
Results can be retrieved by article or publication and issue. High-quality scans of the newspapers can be viewed in-browser or downloaded in PDF format (entire document or a range of pages). Users can view thumbnail images of each page of an issue or peruse a list of all articles published in the issue. There's also the option to save items to an archive (which requires a personal account) and export citations to EndNote, RefWorks, and Zotero.
Viewing a specific article highlights that section, darkening the rest of the page; clicking "hide shading" offers a full picture of the page.
Clicking "newspapers" on the header permits browsing by publication. Users can view a list or an easy-to-use graphic array of titles, and drill down by language, publisher, publication location, and library/archive.
"Explore" lists descriptions of each newspaper's history and scope and relevant keywords, along with a video introduction to the collection, a gallery of photos, and links for additional research.
A frequency search option shows how often different terms appeared and reviews trends over time. A video provides instruction.
The "essays" section offers further insight on a number of specific periodicals, including research on the collection.
PRICING Cost is determined by a range of factors that influence the size of the potential user group, including but not limited to Carnegie Classification and full-time enrollment. Contact info@amdigital.co.uk for more information.
VERDICT With a user-friendly interface and publications representing various peoples and nations, the breadth of American Indian Newspapers is hard to match. This is an excellent option for institutions that support Indigenous and Native American studies.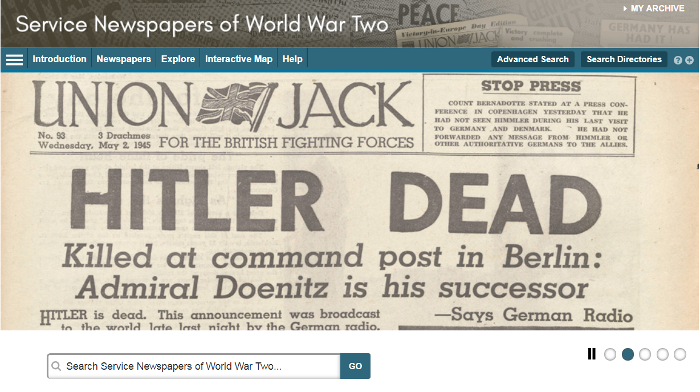 Service Newspapers of World War Two
Adam Matthew Digital
Free trial available
CONTENT Service Newspapers of World War Two curates publications that served troops during World War II and the years after (1939–48), keeping them apprised of battle wins and losses and providing local news and reports on life at home. A morale booster, the papers also spurred discussion and entertained soldiers with stories and cartoons.
The coverage of the newspapers varied depending on access to printing resources and the role of the editor (some editors were rank-and-file soldiers; others were senior officials). This intimate glimpse of soldiers' concerns reveals much about life on the front lines, the role of women, civilians' perspective, propaganda, education and welfare, and more.
The collection features titles from all key theaters of the war, including the South African Springbok, for troops in the Middle East; theMaple Leaf, for Canadian forces in Britain; the Eighth Army News, a British weekly for those serving in Italy; and more. Though most materials are in English, there are texts in German, Czech, Hindi, Russian, French, and Italian, as well as Afrikaans, Swahili, and other African dialects.
Members of participating libraries (the British Library, the Imperial War Museums, the Berlin State Library, the Alexander Turnbull Library, and the U.S. Army Heritage and Education Center) and academic board members in the fields of military, World War II, and journalism history selected the materials, which come from archives in the United States, the UK, Germany, and New Zealand.
USABILITY There are a variety of ways to access the collection. An "On This Day" feature highlights relevant items, while the header menu makes browsing simple.
Users can perform advanced searches by "keyword anywhere" or "newspaper title." Word stemming and proximity searching are available, and filters (date, newspaper, unit origin, unit location, service, theater, and library) make it simple to zero in on specified fronts. Results can be limited to image gallery items and secondary resources, with a list of previous searches included in the sidebar, along with suggested terms from the search directories. Browsing tips are included, too.
Results are grouped into two tabs: articles and issues. Searching for "dogs," for instance, yields a long list of articles, including "Terry Trains Sentry Dogs" (from the Maple Leaf, February 19, 1944). Article results are, by default, sorted by relevance but can also be arranged by article title, issue date, and issue title. Results can be limited to date range, newspaper, unit origin, unit location, service (army, navy, civilian, etc.), theater, and library. Filters that do not apply to a search are excluded.
The "issues" tab lists results by issue and date (e.g., the Maple Leaf, Vol. 1, No. 11). Each result is accompanied by a thumbnail of the document, and researchers can refine results using the limiters mentioned above. A "term frequency" graph provides another layer of discovery. Users can save searches by creating a personal profile or email themselves a copy of the results.
Clicking on the article "Canine Cuties Aid Charity" returns Issue No. 157 of Air Force News. High-quality scans let users experience the newspapers in near-original state or zoom in on pages through an in-browser viewer. As with American Indian Newspapers, relevant articles are highlighted, placing the rest of the page in shadow; however, a "hide shading" option is available.
Users can browse a newspaper issue by clicking on thumbnail images of the pages or by glancing at a helpful sidebar that lists all the articles. For instance, Issue No. 157 of the Air Force News also includes "Service Yachtsmen Get Busy" and "Airman Was Refused Drink, Pulled Gun." Documents can be saved (using a personal account) or downloaded, as well as emailed or shared via Facebook or Twitter.
Selecting "newspapers" on the site header allows for browsing each publication. The interactive map allows for searching by region, filtering data by date, service, theater, alliance,
and ­position.
The image gallery offers front covers of the publications and pin-up and celebrity pictures. The "explore" section provides descriptions of the newspapers, essays, an interactive chronology of the war, search directories, and links for further research.
PRICING Fees are determined by factors that influence the size of potential user groups, including but not limited to ­Carnegie Classification and full-time enrollment. Contact info@amdigital.co.uk for more information.
VERDICT This intuitive one-stop shop for primary source material on World War II is well curated and supports a number of research interests, including World War II front line experience, local news, and 20th-century cultural history.
EBSCOhost;
This resource houses articles from the Atlantic, a respected and culturally significant periodical that reports on politics, foreign affairs, business, the arts, technology, literature, and science. Material spans from the publication's founding in 1857 to 2014. The collection relies on the standard EBSCO interface: a basic search page with a drop-down list of options such as search modes, related words, search within full text, and equivalent subject expanders.
The advanced search page offers additional limiters and expanders. Results are displayed by relevance but can be sorted by date (oldest or newest) and author. Users can modify the page layout (standard, brief, detailed).
Each entry contains a detailed record and a link to a clearly reproduced full-text PDF. A sidebar offers standard options (save the record to Google Drive, print, email, cite, etc.). A "find similar results" option combines the list of subject terms included in the record to create a new query.
Users can browse within a title by exploring the contents menu or choose another issue from a list of publication years. A sidebar offers sharing and saving options.
This no-frills database provides access to the contents of a noteworthy publication, supporting research in economics, history, politics, and the other areas covered by the Atlantic.
Readex;
Free trial available
Part of Readex's collection of newspapers, Rand Daily Mail and Propaganda and the Chinese Press focus on two important eras in 20th-century reporting.
Established in 1902, the Johannesburg-based Rand Daily Mail was a key South African media publication. It was shuttered in 1985 because of its antiapartheid perspective. Readex has compiled every article, advertisement, editorial, cartoon, and photograph printed by the Rand Daily Mail, offering a new avenue for research on the turbulent history of 20th-century South Africa. Materials can be cross-searched via Readex's World Newspaper Archive with complement content found in Readex's Foreign Broadcast Information Service (FBIS) Daily Reports, 1941–1996, and Joint Publications Research Service (JPRS) Reports,
1957–1995.
Users can conduct basic and advanced searches or browse issues by date, limiting by full text, date, citation text, all text, and place of publication. Results can be sorted by best, newest, or oldest, and limited by decade and year. Scanned articles can be printed, emailed, or saved as PDFs. Those studying journalism, communications, or 20th-century history will find this a valuable addition.
Readex's Propaganda and the Chinese Press presents a trove of articles published in communist newspapers between 1946 and 1996, compiled and translated into English by a U.S. organization that eventually became part of the CIA. The collection was originally distributed by Xinhua, or the New China News Agency, the official voice of China's Communist Party. These findings shine a light on the influence of the Communist media on Chinese culture and the Cold War. The archive spans the rise of Mao Zedong to the aftermath of the Tiananmen Square protests and offers Chinese perspectives on the Korean War, the Cuban Missile Crisis, the Cultural Revolution, the collapse of the Soviet Union, and more, as well as insights on political leaders worldwide.
A tool offers search suggestions, such as "Chinese leaders," "U.S. Presidents," and "Soviet and Russian leaders." Users can conduct advanced searches by full text, title, article date, report date, language, source, citation text, all text, and Foreign Broadcast Information Service ID. Results can be sorted by best, newest, and oldest. As with the Rand collection, this resource displays excellent article scans and is an overall helpful resource for anyone interested in Asian studies, media studies, Cold War and 20th-century history, political science, communications, and propaganda.
---
Gricel Dominguez is a Librarian at Florida International University, Hubert Library, Miami
---
These ereviews were originally published in Library Journal's February 2019 issue