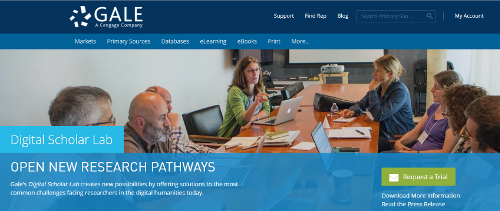 Gale's Digital Scholar Lab
Gale;
Trials available
By Brian T. Sullivan
CONTENT Gale's Digital Scholar Lab is a digital humanities platform that provides an analytical layer on top of Gale Primary Sources. This tool allows researchers to apply natural language open-access processing tools to analysis-ready raw text data drawn from dozens of digital collections available to libraries through the Gale Primary Sources platform. Researchers can use Digital Scholar Lab to analyze only materials for which their library has obtained access.
This resource removes several common barriers to entry into the world of digital scholarship, such as the difficulty of accessing, downloading, and compiling many OCR documents into a usable corpus; the need for multiple software packages that sometimes require knowledge of coding; and the challenge of organizing and sharing visualizations and discoveries. Gale has created a platform that makes it possible for both seasoned digital humanities researchers and those new to the field, including students, to perform textual analysis quickly on a large number of documents, allowing them to spend more time working with the results of their research and less time ­organizing results, cleaning up data, or learning the intricacies of many different tools.
Gale Primary Sources provides access to millions of pages of literary, political, social, and historical content from over the past 500 years. Users of the Digital Scholar Lab platform may search within these materials to create customized content sets. They can then use the analysis tools to examine the data and visualize their results. The platform further enables one to organize and manage the results, including the ability to download and share the visualizations and statistical data they have created.
There are currently six analysis tools available through Digital Scholar Lab, with more to be added later. "Clustering" analyzes similar words across documents. "Named entity recognition" extracts proper and common nouns and groups them by types such as people, organizations, or dates. "Ngram" looks at the frequency of various terms or phrases. "Parts of speech tagger" considers how authors' use of speech varies over time. "Sentiment analysis" tallies the positive or negative words in each document to produce a sentiment value. "Topic modeling" collects terms that frequently co-occur across a group of documents.
USABILITY Searching the interface to create customized content sets is straightforward and user-friendly. To enable the easy saving and retrieval of content sets, users must establish an individual account. Those who choose to log in with their Google credentials can save results to Google Drive. Researchers can use the basic search box to search with keywords and Boolean operators, or they can click on the advanced search to refine results by archive, publication year, content type, document type, publication title, language, source library, or illustrated works. Multiple search boxes allow users to query by document or publication title, subject, author, keyword, place of publication, and more. Thus, researchers can quickly examine, for instance, newspaper articles from 1983 to 1987 about the late Chicago mayor Harold Washington. These results can then be added to a new content set, which can be fed through any or all of the six analysis tools.
Before running the data analyses, the data can be cleaned up using a customizable configuration. The default configuration is set to perform basic tasks such as ignoring stop words (the, a, in) and removing line breaks. Users can choose additional elements such as removing numbers and replacing particular terms with different ones. Next, the analysis tools can be turned on. Content sets of under 1,000 documents take only a few minutes to complete. Users are limited to groups of 10,000 documents for analysis and 1,000 for downloading.
Once the analysis tools are run, the results can be viewed and downloaded. Depending on the tool used, some of the different result types are scatter plots, hierarchical trees, word clouds, bar graphs, line graphs, and time series. Visualization results can be downloaded in PNG, SVG, PDF, or JPEG formats. Tabular data can be downloaded as a CSV or JSON file. In addition, more advanced researchers can take any of the data or results obtained from Digital Scholar Lab and produce them through any other analysis tools outside of the platform, allowing for significantly more options.
To provide a taste of some of the possibilities this platform provides, this reviewer was easily able to generate a sentiment analysis of documents about Martin Luther King Jr. and civil rights from the 1960s to the present, a topic modeling bar graph about same-sex marriage and religion, and a word cloud from documents about the Emancipation Proclamation from 1863 to 1864. In more significantly skilled and experienced hands of digital humanities researchers and students, the potential for this tool is vast.
PRICING Academic library pricing for Gale's Digital Scholar Lab is based on a variety of factors, including but not limited to an institution's archival holdings, full-time enrollment, product-support requirements, and other institutional variables. Contact your Gale representative for a quote.
VERDICT This innovative and fascinating platform is useful both for seasoned digital humanities researchers and others interested in experimenting in this emerging field. Librarians eager to steer patrons toward library collections will appreciate the opportunities for collaboration this tool provides. Finally, humanities professors will find it helpful for introducing students to textual analysis and digital literacy. Recommended particularly for large research institutions, especially those already invested in Gale Primary Sources.
---
Brian T. Sullivan is Interim Director of Libraries, Alfred University, NY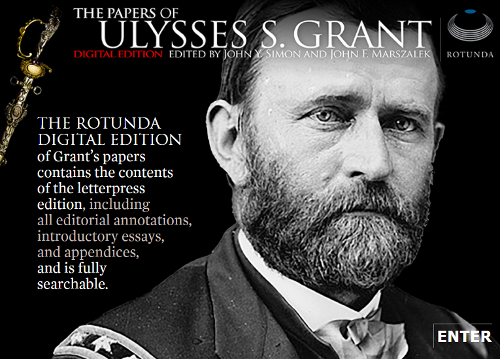 The Papers of Ulysses S. Grant Digital Edition
Univ. of Virginia Pr.;
By Rob Tench
CONTENT The Papers of Ulysses S. Grant is one of 19 resources on the American History platform of Rotunda, the University of Virginia's digital imprint division. The publications are divided into three parts: the Founding Era; the Antebellum, Civil War, and Reconstruction Era; and the American Century Era. The Grant Papers is one of three collections in the Antebellum, Civil War, and Reconstruction Era. Previous collections have been recognized for their attention to detail, erudite scholarship, careful editing, comprehensiveness, organization, and usability, and this offering is no exception.
This edition contains the content of the original 31 print letterpress volumes of Grant's letters, edited by John Y. Simon (deceased; history, Southern Illinois Univ.), including all editorial annotations, introductory essays, and appendixes, plus another volume of supplementary materials, edited by John F. Marszalek (retired; history, Mississippi State Univ.), as well as Grant's memoirs, a classic of American political and presidential history. The collection is interoperable with all Rotunda American History works except for two titles that have their own platforms.
The papers begin in the 1830s with Grant's enlistment in the army at age 17 and follow him into his postpresidential life. Users will find here letters to and from Grant, speeches, interviews, and correspondence surrounding the composition of his memoirs. Each of the individual volumes include front matter, text, and an appendix. The memoirs include front matter and the complete texts.
Users can search in English or in French. In contrast to the Library of Congress Grant Papers, these documents are not presented as facsimiles, making the text much easier to read.
USABILITY Six menu items are listed on the landing page: entry, about, search, preferences, log-out, and help. "About" is a great place to get started, with an in-depth guide on accessing the database, conducting searches, and making the best use of features and options. Helpful and detailed hints on phrasing and Boolean searching are essential to getting optimal results.
"Entry" links users directly to the letters or the memoirs. By selecting an individual volume, they can access the front matter, documents, and appendix. The entry page also features a navigational bar with two selections: publication or view. Publication allows users to search all Rotunda publications or to limit queries to the Grant Papers. "View" allows users to search by contents, chronology, index, or results. "Contents" features publications arranged by series, volume, chapter, and section. Items can be organized chronologically according to decade, year, month, and day, or by index, which lists all the volumes and a link back to the Grant Papers homepage. If a search is underway, the results view arranges matching documents according to relevance or date. A navigation compass on the entry page lets users move backward and forward.
Users can do searches by keyword, author, letter recipient, or date range. Single or multiple terms can be entered, and results can be sorted by relevance, date (ascending or descending), and editorial order.
The preferences menu permits users to customize how items are displayed. If cookies are enabled, preferences will be maintained from one session to the next. The "help" section explains options and browsing.
Searching is intuitive, results are quick and seamless, and the organization is impressive. A word, term, or name does not have to be correctly spelled to bring up results, and related words and terms will also be retrieved. Using an asterisk or question mark will extend searches. Browsing for "Sherman" retrieved 1,481 entries, and a query for "Appomattox" brought up 203 entries.
PRICING The onetime purchase price ranges from $420 to $4,200 depending on institution type and size. New customers will pay an annual hosting fee ranging from $100 to $200; this fee is waived for current Rotunda customers.
VERDICT The presentation of these important primary historical documents is outstanding. Moreover, the organization of material is first-rate and consistent with other publications in the UVA American History Series. Although the Grant Papers are available in their original form online at the Library of Congress, the quality and readability of this work's text and its user-friendliness make it an excellent alternative. Anyone with an interest in America's Civil War and Reconstruction era, presidential history, or military history will benefit from this database.
---
Rob Tench is Librarian, Old Dominion University Libraries, Norfolk, VA