From David Baldacci to Ruth Ware.
Click here for additional new Prepub Alert columns
Baldacci, David. The 6:20 Man: A Thriller. Grand Central. Jul. 2022. 432p. ISBN 9781538719848. $29. THRILLER
There's no word on plot, but this summer thriller is a stand-alone—Baldacci's first in over a decade—and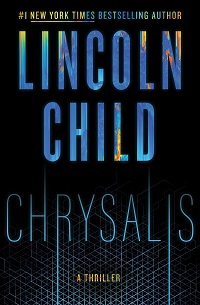 boasts a million-copy first printing.
Child, Lincoln. Chrysalis: A Thriller. Doubleday. Jul. 2022. 304p. ISBN 9780385543675. $29. THRILLER
Slipping away from regular coauthor Douglas Preston for another solo outing four years after Full Wolf Moon, Child brings back enigmalogist Jeremy Logan to probe the inexplicable, in this case something going haywire with the extraordinary new virtual reality technology being rolled out by the leading tech company Chrysalis. Jeremy quickly realizes that the new technology is a threat to the world.
Goodman, Carol. The Disinvited Guest. Morrow. Jul. 2022. 336p. ISBN 9780063248991. $27.99; pap. ISBN 9780063020702. $16.99. THRILLER/PSYCHOLOGICAL
Still combatting health issues from the 2020 pandemic when the next pandemic rolls around, Lucy Harper hastens to seek shelter with husband Reed on his family's private island off the Maine coast. Alas, there's something spooky in the air. Is the island haunted—typhus patients once quarantined here—or is a current resident wreaking havoc? From two-time Mary Higgins Clark Award–winning Goodman; with a 75,000-copy paperback and 30,000-copy hardcover first printing.
Greaney, Mark. Armored. Berkley. Jul. 2022. 528p. ISBN 9780593436875. $28. THRILLER/ESPIONAGE
Having lost his lower left leg while protecting a client, former bodyguard Joshua Duffy now works dispiritedly as a mall cop in New Jersey. Then he's offered one last glory job: protecting a UN mission attempting to broker peace between violent drug cartels in Mexico's Sierra Madre mountains. Based on Greaney's Audible Original drama, Armored.
Hillier, Jennifer. Things We Do in the Dark. Minotaur: St. Martin's. Jul. 2022. 352p. ISBN 9781250763167. $27.99. THRILLER/PSYCHOLOGICAL
When Joey was 13, her mother, Pearl, was convicted of murdering a married lover. When Joey was 20, she perished in an apartment fire. But years later, as Pearl is being released from prison, she insists that Joey is still alive and well in Seattle, using an assumed name, and Joey's old journalist friend Drew decides to investigate. From the author of the award-winning Jar of Hearts; with a 150,000-copy first printing.
Reichs, Kathy. Cold, Cold Bones. Scribner. Jul. 2022. 352p. ISBN 9781982190026. $27. THRILLER
Forensic anthropologist Temperance Brennan is enjoying the company of her daughter, fresh out of the army, when they discover a box on the back porch containing a human eyeball. GPS coordinates traced on the eyeball take them to a Benedictine monastery and another bloody find, after which they stumble upon a mummified corpse in a park. All these unpleasantries imitate cases in Temperance's past. With a 150,000-copy first printing.
Silva, Daniel. Portrait of an Unknown Woman. Harper. Jul. 2022. 496p. ISBN 9780062834850. $28.99. THRILLER/ESPIONAGE
Here's more international intrigue from the No. 1 New York Times best-selling Silva; with a 500,000-copy first printing.
Thor, Brad. Rising Tiger: A Thriller. Emily Bestler: Atria. Jul. 2022. 320p. ISBN 9781982182151. $28.99. THRILLER/POLITICAL
A new enemy is challenging the United States, and as the threat grows more ominous, there's only one thing to do: send in Thor stalwart Scot Harvath. Scot finds himself in a wholly unfamiliar culture, surrounded by threats; clearly, someone knew he was coming. With a 500,000-copy first printing.
Tremblay, Paul. The Pallbearers Club. Morrow. Jul. 2022. 288p. ISBN 9780063069916. $27.99. THRILLER/PSYCHOLOGICAL
In high school, decidedly not-with-it Art Barbara is befriended by a girl who's the epitome of chic when she joins the volunteer pallbearers club he has formed to assist at funerals. That she takes pictures of the corpses is one of many unsettling things about her that boil over decades later when Art writes a memoir about the club. From Bram Stoker/British Fantasy winner Tremblay; with a 75,000-copy first printing.
Vaughan, Sarah. Reputation. Emily Bestler: Atria. Jul. 2022. 336p. ISBN 9781668000069. $27. THRILLER/PSYCHOLOGICAL
Emma has made enormous sacrifices for her political career, hurting her relationship with school-age daughter Flora, which is further complicated by bullied Flora's advocacy of a law protecting women and girls from online abuse. But things get really bad when one of Emma's political enemies is found dead in her house. From former political journalist Vaughan, whose Anatomy of a Scandal is being readied for a Netflix series; with a 150,000-copy first printing.
Ware, Ruth. The It Girl. Scout: Gallery. Jul. 2022. 352p. ISBN 9781982155261. $28.99. THRILLER/PSYCHOLOGICAL
When she arrived at Oxford, Hannah was quickly pulled into the circle surrounding glittery April Clarke-Cliveden, who was shockingly murdered at the end of second term. A decade later, with the Oxford porter convicted of the crime dead in prison, Hannah is beginning to rethink April's murder—and believes that one of their friends has been hiding something. From No. 1 New York Times best-selling Ware; with a 300,000-copy first printing.
Click here for additional new Prepub Alert columns