From outer space to the ocean's depths, plus key healthcare questions.
Click here for additional new Prepub Alert columns
Bohannon, Cat. Eve: How the Female Body Drove 200 Million Years of Human Evolution. Knopf. Sept. 2023. 592p. ISBN 9780385350549. $35. lrg. prnt. SCIENCE
Casey, Susan. The Underworld: Journeys to the Depths of the Ocean. Doubleday. Sept. 2023. 352p. ISBN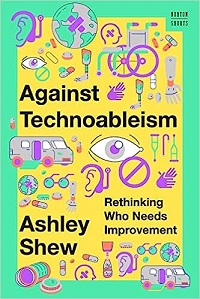 9780385545570. $32. lrg. prnt. SCIENCE/MEMOIR
Grush, Loren. The Six: The Untold Story of America's First Women Astronauts. Scribner. Sept. 2023. 416p. ISBN 9781982172800 $32. ASTROPHYSICS
Hill, Kashmir. Your Face Belongs to Us: A Secretive Startup's Quest to End Privacy as We Know It. Random. Sept. 2023. 384p. ISBN 9780593448564. $28.99. BUSINESS/TECH
Kissinger, Meg. While You Were Out: An Intimate Family Portrait of Mental Illness in an Era of Silence. Celadon: Macmillan. Sept. 2023. 320p. ISBN 9781250793775. $30. Downloadable. MEMOIR/MENTAL HEALTH
Loeb, Avi. Interstellar: The Search for Extraterrestrial Life and Our Future in the Stars. Mariner: HarperCollins. Aug. 2023. 256p. ISBN 9780063250871. $28.99. CD. SPACE SCIENCE
Merchant, Brian. Blood in the Machine: The Origins of the Rebellion Against Big Tech. Little, Brown. Sept. 2023. 368p. ISBN 9780316487740. $30. TECHNOLOGY/HISTORY
Montgomery, Sy (text) & Matthew D Patterson (illus). Of Time and Turtles: Mending a Stalled and Broken World, Shell by Shattered Shell. Mariner: HarperCollins. Sept. 2023. 272p. ISBN 9780358458180. $28.99. CD. BIOLOGY/CONSERVATION
Shew, Ashley. Against Technoableism: Rethinking Who Needs Improvement. Norton. (Short). Sept. 2023. 192p. ISBN 9781324036661. $22. TECHNOLOGY
Tabery, James. Tyranny of the Gene: Personalized Medicine and Its Threat to Public Health. Knopf. Aug. 2023. 336p. ISBN 9780525658207. $30. SCIENCE
From rising-star scientist Bohannon, Eve investigates the evolution of the female body to answer important questions that male-directed science has not been asking in. A New York Times best-selling journalist focused on the oceans (e.g., Wave), Casey plunges deep into the saltwater Underworld to reveal the jagged mountain ranges, seemingly bottomless valleys, and bizarrely unfamiliar wildlife there. A Bloomberg News reporter whose brief is space, Grush chronicles the experiences of The Six—astronauts Sally Ride, Judy Resnik, Anna Fisher, Kathy Sullivan, Shannon Lucid, and Rhea Seddon—who became the first U.S. women to pierce the heavens. In Your Face Belongs to Us, New York Times technology reporter Hill shows how Clearview AI's advanced facial recognition technology, which can assemble a welter of personal details from a single fuzzy image, is a clear threat to privacy. A Pulitzer Prize finalist who frequently covers the U.S. mental healthcare system, Kissinger relates growing up in a family beset by mental health issues in While You Were Out (75,000-copy first printing). Having argued in the New York Times best-selling Extraterrestrial that our solar system shows evidence of alien technology, Loeb, the longest-serving chair of Harvard's Astronomy Department, considers how we can connect with extraterrestrial civilizations in Interstellar (100,000-copy first printing). With Blood in the Machine, Wired/Vice contributor Merchant ( The One Device: The Secret History of the iPhone) revisits the Luddite rebellion of early 1800s England to see what it reveals about ourworries today (40,000-copy first printing; originally scheduled for Aug. 2022). In Of Time and Turtles, National Book Award finalist Montgomery (The Soul of an Octopus) arrives at the Turtle Rescue League with wildlife artist Patterson to witness often terribly wounded turtles recovering from encounters with cars, poachers, and pollution (40,000-copy first printing). From bioethicist and professor Shew, a self-described "hard-of-hearing chemobrained amputee with Crohn's disease and tinnitus," Against Technoableism argues that most people with disabilities don't want what abled people think they want, seeking social and embracing, rather than technological and individual, solutions to issues they face. A member of the Center for Health Ethics, Arts, and the Humanities, University of Utah professor Tabery examines today's Tyranny of the Gene, arguing that the new concept of tailoring healthcare to one's genome (pushed by pharmaceutical companies and beloved of politicians, scientists, and more) undermines care for the populace at large.