A memoir from Joseph Biden's sister, who has managed his campaigns, and a biography about Jill Biden.
Click here for additional new Prepub Alert columns
Biden Owens, Valerie. Growing Up Biden: A Memoir. Celadon: Macmillan. Apr. 2022. 304p. ISBN 9781250821768. $28. CD. MEMOIR
Pace, Julie & Darlene Superville. Jill: A Biography of the First Lady. Little, Brown. Apr. 2022. 320p. ISBN 9780316377508. $29. Downloadable. BIOGRAPHY
Biden Owens isn't simply the younger sister of President Joe Biden, here recalling their childhood in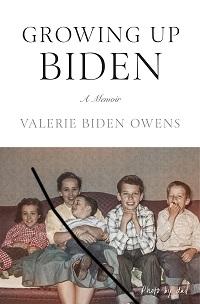 Delaware and helping to raise Biden's sons after the tragic deaths of their mother and sister. She has also been among Biden's key political advisers, having managed nearly all his political campaigns, including his successful presidential bid, and can offer important insights into both the president and U.S. politics generally. Her memoir tells a big story; with a 150,000-copy first printing. Pace and Superville, Washington bureau chief and White House reporter, respectively, for the Associated Press, have been following the First Lady closely and here present a thoroughgoing portrait, moving from her childhood, through her first marriage and divorce, marriage to Joe Biden, ascension to the public eye, commitment to her children, to ongoing career in education. The book presents her as a model for a wide range of women. With a 75,000-copy first printing.