The new novel from the National Book Award finalist.
Click here for additional new Prepub Alert columns
Yanagihara, Hanya. To Paradise. Doubleday. Jan. 2022. 720p. ISBN 9780385547932. $32.50. LITERARY
Following A Little Life, short-listed for the Man Booker Prize and a National Book Award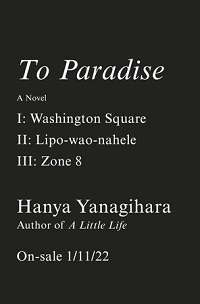 finalist, Yanagihara's new novel tracks themes of love, loss, illness, power, and the unfillable desire for heaven on Earth over three centuries in stories tied together by a townhouse on New York City's Washington Square Park. In an alternate 1893 America, with New York belonging to the more or less freewheeling Free States, the scion of a prominent family prefers a poor music teacher to a more polished suitor. In AIDS-ravaged 1993 Manhattan, a young Hawaiian man living with a controlling older partner quietly suppresses his tattered childhood. And in plague-shattered totalitarian 2093, a troubled woman seeking her missing husband misses the guidance of her powerful scientist grandfather.