Gun violence, children's welfare, two-tier justice, cancel culture, and the long battle for reproductive rights.
Click here for additional new Prepub Alert columns
Auster, Paul. Bloodbath Nation. Grove. Jan. 2023. 160p. ISBN 9780802160454. $26. VIOLENCE IN SOCIETY
Benforado, Adam. A Minor Revolution: How Prioritizing Kids Benefits Us All. Crown. Feb. 2023. 384p. ISBN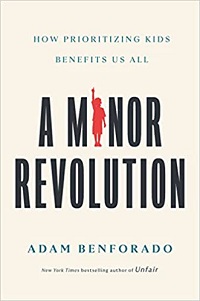 9781984823045. $28.99. DOMESTIC POLITICS
Bloom, Paul. Psych: The Story of the Human Mind. Ecco. Feb. 2023. 368p. ISBN 9780063096356. $29.99. CD. PSYCHOLOGY
Honig, Elie. Untouchable: How Powerful People Get Away with It. Harper. Feb. 2023. 288p. ISBN 9780063241503. $28.99. CD. POLITICAL SCIENCE
Kornbluh, Felicia. A Woman's Life Is a Human Life: My Mother, Our Neighbor, and the Journey from Reproductive Rights to Reproductive Justice. Atlantic Monthly. Jan. 2023. 448p. ISBN 9780802160683. $28. HISTORY/REPRODUCTIVE RIGHTS
Oreskes, Naomi & Erik M. Conway. The Big Myth: How American Business Taught Us to Loathe Government and Love the Free Market. Bloomsbury. Feb. 2023. 576p. ISBN 9781635573572. $30. BUSINESS
Owens, Ernest. The Case for Cancel Culture: How This Democratic Tool Works To Liberate Us All. St. Martin's. Feb. 2023. 256p. ISBN 9781250280930. $27.99. POLITICAL SCIENCE/CIVIL RIGHTS
Patterson, James & Matt Eversmann with Chris Mooney. Walk the Blue Line. Little, Brown. Feb. 2023. 352p. ISBN 9780316406604. $30. lrg. prnt. CD/downloadable. LAW ENFORCEMENT
Rae-Venter, Barbara. I Know Who You Are: How an Amateur DNA Sleuth Unmasked the Golden State Killer and Changed Crime Fighting Forever. Ballantine. Feb. 2023. 256p. ISBN 9780593358894. $28.99. MEMOIR/TRUE CRIME
Smialek, Jeanna. Limitless: The Federal Reserve Takes on a New Age of Crisis. Knopf. Feb. 2023. 384p. ISBN 9780593320235. $30. BUSINESS/POLITICS
Sommer, William. Trust the Plan: The Rise of QAnon and the Conspiracy That Reshaped America. Harper. Feb. 2023. 320p. ISBN 9780063114487. $28.99. POLITICAL SCIENCE
Yoshino, Kenji & David Glasgow. Say the Right Thing: How To Talk about Identity, Diversity, and Justice. Atria. Feb. 2023. 240p. ISBN 9781982181383. $28. SOCIAL SCIENCE
In Bloodbath Nation, Man Booker short-listed novelist Auster assays the history of gun violence in the United States from the time of the first white settlers through the current mass shootings that make the country the most violent in the Western world, with more guns than people. A New York Times best-selling author (Unfair), law professor Benforado uses real-life portraits in A Minor Revolution to detail how the United States fails its children, with 11 million in poverty, 4 million lacking health insurance, thousands prosecuted as adults or sent to orphanages when their parents are jailed for minor offenses, and countless struggling in substandard public schools mere miles from the polished halls of elite private institutions. Brooks and Suzanne Ragen Professor Emeritus of Psychology at Yale University, Bloom recapitulates one of Yale's most popular courses in Pysch, offering an up-to-date understanding of the mind's workings—particularly in the context of key contemporary moral and sociopolitical issues (75,000-copy first printing). CNN senior legal analyst Honig (Hatchet Man) challenges the two-tier justice system in the United States that allows the wealthy, the celebrated, and particularly the powerful to be Untouchable (35,000-copy first printing). In A Woman's Life Is a Human Life, historian Kornbluh (The Battle for Welfare Rights) offers a timely overview of a half-century's worth of fighting for reproductive rights. Having unearthed the dismal origins of climate change denial in Merchants of Doubt, Oreskes and Conway tackle another Big Myth, the magic of the marketplace, beginning in the early 1900s with business challenges to regulations and following through to the down-with-big-government cries still prevailing (150,000-copy first printing). Owens, a Black gay journalist with Forbes 30 Under 30 credentials and an interest in issues of race, LGBTQ+ rights, and pop culture, makes The Case for Cancel Culture by repositioning it not as suppression or put-down but as a key means of democratic expression and accountability (60,000-copy first printing). The mega-best-selling novelist Patterson joins with his Walk in My Combat Boots coauthor Eversmann and thriller writer Mooney to Walk the Blue Line, telling the true-life stories of police officers (300,000-copy first printing). Named by Nature among "10 People Who Mattered in Science in 2018," retired biologist and investigative genetic genealogist Rae-Venter explains in I Know Who You Are how she went from researching her family history to finding a serial killer in 63 days after he had eluded authorities for 44 years. The New York Times reporter charged with covering the Federal Reserve, Smialek shows in Limitless how this formerly behind-the-curtains institution has been forced into greater transparency by rising inequality, falling global economic prospects, and the ravages of pandemic. A political reporter for the Daily Beast who has spent the last several years tracking QAnon, Sommer explains what it is, why it has gained traction, what dangers it poses, and how to shake adherents loose from its dogma in Trust the Plan (100,000-copy first printing; originally scheduled for March 2022).Chief Justice Earl Warren Professor of Constitutional Law and executive director of the Meltzer Center for Diversity, Inclusion, and Belonging, respectively, at NYU School of Law, Yoshino and Glasgow investigate how we can Say the Right Thing in an era when issues of race, gender equity, and LGBTQ+ inclusiveness are at the forefront.