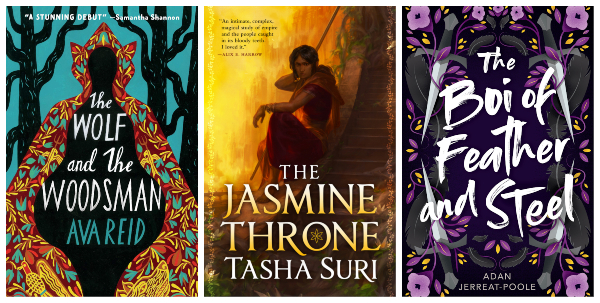 2020 has been a year marked by rapid and unexpected changes, whether politically, technologically, or socially, and these unprecedented times will have lasting effects on publishing well into 2021, particularly for genres as speculative and imaginative as sf and fantasy.
One of the main shifts that has changed the game for publishing is the transition to working remotely for both publishers and many consumers. This affects not only the processes needed to publish a work, but also the types of formats and stories that readers want.
In terms of workflow for publishers, the embrace of fully digitized processes is likely to change the way publishing functions for many authors and editors even after the pandemic subsides. Most publishing houses, like many other professions, have switched to a work-from-home model in accordance with the CDC's recommended social distancing practices. These changes, according to Ali Fisher, senior editor at Tor and Tor.com, will help open up the market to employees who might have had difficulties coming to New York City. "Decentralizing publishing from Manhattan would be an incredible step to diversifying the voices that have input on who, what, and how we publish," says Fisher.
Linda Howard, associate publisher at Tyndale House, echoes this sentiment regarding reduced travel. "Acquisitions professionals are on the road a lot, meeting with authors and agents in order to secure deals. We are finding that we can do a lot through video and may not need to travel quite as much as we have in the past," she says.
However, it's not only the workflows that have changed. Events and cons that have historically been great marketing tools for the genre have largely been cancelled due to the ongoing pandemic. "Publishers and authors are rethinking how to interact and engage with their consumer base without the in-person events we've traditionally relied on," says Catherine Zappa, the Dreamscape Media Publisher & EVP of Film & Television, "Especially in genres like sci-fi and fantasy, where author engagement is so integral to the reader experience. For instance, author meet and greets are a massive part of events like Comicon. Without an in-person component, publishers will have to get creative with reaching their base."
This push towards virtual events particularly impacts readers with disabilities. Some of these changes include "widespread adoption of digital events, from bookstores hosting virtual launch parties to entire conventions being recorded at participants' kitchen tables," says Sarah Guan, editor at Erewhon Books. "Many of these are much-needed adaptations that disability activists have championed for years, and I sincerely hope that these innovations are here to stay, as they will make our industry more inclusive and accessible as a whole."
With the economic downturn in the midst of the COVID-19 crisis, many publishing houses have chosen to delay release dates for several of their titles. However, some have found the digitization of the publication process and the increased demand has led to a shorter release time. "We have been able to shorten the production time on several of our books in order to release during the lag many larger publishers are enduring," says Rebekah Schneider of Forest Path Books. Howard agrees, noting that bureaucratic elements of the process have become expedited with the introduction of more digital means of collaboration. "On the process side, we've already taken much of our approval processes online, which, interestingly, seems to have sped things up in some cases."
Despite the changes surrounding anticipated release dates, there are still many exciting titles coming up in both sci-fi and fantasy, with more hard-hitting themes than ever before.
NO FRIEND AS LOYAL AS A BOOK
COVID-19 hasn't just impacted the way publishing functions but also the types of works being published in the coming year. "I expect to see exceptional books processing grief, isolation, fear, and global crises," says Fisher. Many titles are already stepping up to address the pain and loneliness that readers and authors alike are experiencing. One such title, Red Hands by Christopher Golden (St. Martin's Press/Macmillan; Dec.), features a protagonist who gains the ability to kill by simply touching someone, which results in the startling realization that she may never touch another human again. Another such title that addresses disease and how a virus or bacteria can affect humanity's identity is Amid the Crowd of Stars (DAW Books; Feb. 2021).
As many people have been forced to quarantine in toxic living situations, readers can find solidarity in Near the Bone (Berkley; Apr. 2021) which deals with feeling trapped with someone dangerous, and the horror of realizing that there could be something even worse just outside.
"It's not just about a virus and a vaccine. It's about how people deal with isolation and being deprived of support networks, or the innovation communities show in adapting and overcoming adversity," says George Sandison, an editor at Titan Books. "Or how governments have succeeded or failed to protect their citizens, or personal journeys of self-discovery, or sudden intimacies with certain spaces or people, or uncovering long-lost secrets and so much more."
Matching these themes to a tee is Jennifer Brody's upcoming graphic novel 200 (Turner Publishing; Feb. 2021) in which one woman considers just how lonely immortality could be. Similarly, A Flood of Posies (Black Spot Books; Feb. 2021) touches on grief and forgiveness from the perspective of a drug addict and her disabled sister trying to survive a barrage of aquatic monsters.
ESCAP(IST) ROOM
One trend to ke
ep an eye open for is the rise of escapist literature. "The emphasis on escapist genres is only going to grow," says Christopher Morgan, editor at Tor and Tor.com. "Authors are at home wanting to be anywhere else." Satisfying this itch to be in another world are myriad lighthearted fantasy titles, including Daughter of the Salt King (CamCat; Feb. 2021) which mixes forbidden love and fantasy; The Brass Queen (CamCat Books; Jan. 2021) which blends humor, steampunk, and romance; The Bright and Breaking Sea (Berkley; Nov.) a series launch that brings adventure on the high seas; and A Gentle Tyrant (Tyndale; Mar. 2021) a promising YA crossover with elements of Christian fiction.
For fans of high fantasy, Baen Books is publishing Serpent Daughter (Nov.), Penric's Progress (Jan. 2021), Initiate (Mar. 2021), and Blood and Whispers (Mar. 2021), among other titles. For readers looking for high fantasy with deep political intrigue, they can be on the lookout for The Councillor (DAW Books; Mar. 2021). If fantasy inspired by mythology circulates well, consider The Witch's Heart (Ace; Feb. 2021) which is a retelling of a Norse love story with a twist.
For a laugh or two to help readers relax and escape, We Could Be Heroes (Harlequin; Jan. 2021) is a superhero comedy with themes of friendship; Thirsty Mermaids (Gallery 13; Feb 2021) is a fantasy graphic novel that promises lots of laughs; and Now Before the Dark (Black Spots Books; Dec.), the third in the "Terribly Serious Darkness" series, is rich with satire and humor.
BLACK VOICES MATTER
Beyond the public health crisis and subsequent international quarantine, the sociopolitical movements that shaped 2020 will continue to have lasting effects on sff as a genre. "I think we're going to see more interest in books of all varieties—political, world-spanning science fiction to fluffy contemporaries with a hint of magic—from BIPOC, and specifically Black, voices," says Fisher.
The Library of the Dead (Tor Books; Mar. 2021) by Black author T.L. Huchu should be a promising read as it explores fantasy mixed with Zimbabwean magic. Readers can also expect another satisfying novel from Nigerian American author Nnedi Okorafor with Remote Control, a riveting science fiction adventure (Tor.com; Jan. 2021).
"I think the fight for racial equality will be more at the forefront of stories yet to be told," says Cassandra McNeil of Tantor Audio. "And authors and listeners will be actively writing and looking for more diverse books and less for books which reinforce systemic racism, sexism, and homophobia."
"Similarly, many upcoming titles not only represent authors of color, but feature themes relating to social justice. No Gods, No Monsters (Blackstone Publishing; Sept. 2021) focuses heavily on the civil rights movement from the perspective of preternatural beings as they advocate for equality.
"Given the rise of dystopic conditions in the world, we expect to publish more books exposing the workings of oppression, highlighting historical struggles, and raising up marginalized voices," says James DeMaiolo, marketing and publicity at Tachyon Books. "During and post-coronavirus, we expect there to be an even more concerted effort to examine the intersection of interpersonal and sociopolitical power dynamics."
Blood Indigo (F
orest Path Books; Feb. 2021), written by J. Tullos Hennig, an author of Choctaw/Chickasaw heritage, includes discussions of colonialism and tradition. In the same vein, Unbound (Uproar Books; Feb. 2021) by Ehsan Ahmad and Shakil Ahmad tackles faith and freedom from the perspective of native peoples fighting against being colonized by a galactic empire. Rise of the Red Hand (Erewhon Books; Jan. 2021) by Punjabi Sikh and Latvian/German author Olivia Chadha addresses issues of wealth inequality and oppression through the lens of climate change in South Asia.
"Fantasy thrives on mythology and world history so opening up the field is going to prove immensely powerful for the genre, I suspect," says Sandison. Harper Voyager is also planning to release a number of titles by authors of color and from varied cultural backgrounds, including I'm Waiting for You (Apr. 2021), translated from Korean into English for the first time; The Burning God (Nov.), the riveting conclusion to "The Poppy War" trilogy set in China; and The Wolf and the Woodsman (May 2021) which is based on Jewish traditional mythology.
QUEER TO STAY
Readers can expect to see a lot of LGBTQ+ representation, more now than ever. Already available is The Scapegracers (Erewhon Books; Sept.) which features teenage lesbian witches. Similarly, Soulstar (Tor.com; Feb. 2021) concludes the much-loved LGBTQ witch series "The Kingston Cycle." Readers can also look forward to Tasha Suri's The Jasmine Throne (Orbit Books; Jun. 2021) which is largely inspired by epics from India and features a lesbian romance subplot.
"We would hope
to see more unpacking of alternative world views, more exploration into the varied and many expressions that have always existed, but tend to be overlooked," says Schneider. "We hope to continue not only publishing, but also reading and supporting our genre with a wider cultural focus. There's no reason that fantasy can't reflect many colours, cultures, orientations, and belief systems."
For readers looking for specifically gay romance Under the Whispering Door (Tor Books; Mar. 2021) tells a tale of love in the afterlife, Everina Maxwell debuts with a gay romance space opera, Winter's Orbit (Tor Books; Feb. 2021), and Sonata Form (Forest Path Books; Mar. 2021) is a debut tale of love and dragons.
Look forward to the introduction of many nonbinary characters and greater representation for other gender identities. The Boi of Feather and Steel (Dreamscape; May 2021) features a protagonist who uses they/them pronouns, while Persephone Station (Saga Press; Jan. 2021) follows a crew of female and nonbinary heroes as they try to save a backwater planet from ecological destruction.
For intersex representation, readers can check out Across the Green Grass Fields (Tor.com; Jan. 2021) which follows a young intersex girl as she is transported to a fantasy land.
DISTANCING FROM DYSTOPIA?
Given COVID-19, wildfires, hurricanes, the 2020 election, and even murder hornets, will readers feel more inclined towards dystopian titles in 2021 or will they just want to take a break from the stress and choose more lighthearted reads? The jury seems to be out in the sff community, with publishers and books on both sides of the fence.
"I don't foresee dystopias making a comeback anytime soon," says Morgan. "I feel like folks are a bit weary of the darkest timeline." Many agree, though with more hopeful perspectives for the subgenre. "Dystopian is not selling the best at the moment, but according to how the election turns out, we could see an uptick in those stories," Howard predicts. "Everything that has happened politically has potential to stir author's imaginations
and can be great fodder for new stories."
On the other side of the argument, some publishers and authors believe that instead dystopia is due for even greater popularity in the coming year. "I think...more cli-fi and dystopian fiction will be on the horizon because of all the negative news we've been experiencing recently," McNeil says.
For cli-fi, keep an eye out for Unity (Tachyon Publications; Apr. 2021), set in a postapocalyptic world ravaged by climate change; The Forever Seas (DAW Books; Jan. 2021) which includes a mythical pirate city; and DAR & Earth: Revelations (Athena Productions; Feb. 2021), which focuses on global warming and its ramifications for the most vulnerable members of our society. Though not everyone agrees the subgenre is about political instability. "Dystopian has always been a successful subgenre of sci-fi," says Zappa. "I'd say readers turn to dystopian titles for escapism, not the political undertones."
For readers looking for more dystopia that touches on the human condition, look forward to Machinehood (Saga Press; Mar. 2021) which unpacks humanity's need to keep up with AI, Dark Lullaby (Titan Books; Feb. 2021) which speaks to a mother's desperate struggle to preserve her family in a society that severely regulates parenting, and The Rude Eye of Rebellion (Uproar Books; Feb. 2021) which is a satirical take on a post-apocalyptic world.
Others recognize that the genre isn't just about how bad the world could be, but also how we can pursue change. "Dystopian sci-fi serves both comfort to readers that they're not alone and a roadmap for how to emotionally handle the crisis—but most importantly for hope," Jennifer Brody and Jules Rivera, author and illustrator of 200 (Turner Publishing; Feb. 2021), say.
Whether readers look to 2021's sff to see their own experience finally reflected, a happy ending, a model for resilience, or simply a reminder that the future can be different, that thread of hope runs through even the bleakest of the genre and keeps its fans coming back.
---
Anja Webb is an assistant editor at LJ and SLJ. In her spare time she enjoys the finer things in life, including video games, anime, and playing Dungeons & Dragons campaigns as a halfling paladin named Noodle.
---