Armentrout, Armstrong, Percy, Vo, and more.
Click here for additional new Prepub Alert columns
Armentrout, Jennifer L. Fall of Ruin and Wrath. Tor. Sept. 2023. 432p. ISBN 9781250750198. $27.99. CD/downloadable. FANTASY
Armstrong, Kelley. Hemlock Island. St. Martin's. Sept. 2023. 304p. ISBN 9781250284198. $29. CD/downloadable.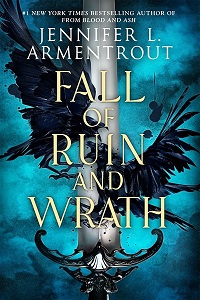 HORROR
Elliott, Alicia. And Then She Fell. Dutton. Sept. 2023. 368p. ISBN 9780593473085. $28. HORROR
Grecian, Alex. Red Rabbit. Tor Nightfire. Sept. 2023. 464p. ISBN 9781250874689. $28.99. CD/downloadable. FANTASY/HISTORICAL
Key, Justin C. The World Wasn't Ready for You: Stories. Harper. Sept. 2023. 304p. ISBN 9780063290426. $30. CD. SHORT STORIES/SPECULATIVE
Percy, Benjamin. The Sky Vault. (Comet Cycle, Bk 3). Morrow. Sept. 2023. 336p. ISBN 9780358331551. $30; pap. ISBN 9781328544414. $18.99. CD. SF
Vo, Nghi. Mammoths at the Gates. Tor.com. Sept. 2023. 128p. ISBN 9781250851437. $19.99. FANTASY
Woods, Kell. After the Forest. Tor. Sept. 2023. 384p. ISBN 9781250852489. $28.99. Downloadable. FANTASY
In the New York Times best-selling Armentrout's Fall of Ruin and Wrath, where the gods have destroyed all but nine widely separated cities, the preternaturally intuitive Calista hides away as courtesan of the Baron of Archwood and rescues a traveling prince, whose companion she becomes even as she senses he may spell her doom (225,000-copy first printing). New York Times best-selling genre blender Armstrong does stand-alone horror in Hemlock Island, with Laney Kilpatrick investigating evil doings—smashed belongings, mysterious fires, hex circles, and bloody nail marks—at the vacation home she's been renting out (75,000-copy first printing). In And Then She Fell, from Canadian best-selling Mohawk author Elliott, a new mother writing a modern version of her people's Haudenosaunee creation story starts hearing voices, losing fragments of time, and finding folks in the wealthy neighborhood where she lives with white academic husband increasingly hostile. Hunting for the witch Sadie Grace across the parched U.S. West of yore in a stolen red stagecoach, Old Tom and his mute ward, Rabbit, are joined by two not-so-wily cowboys and a newly widowed schoolteacher in the nationally best-selling Grecian's Red Rabbit. A practicing psychiatrist whose short fiction has appeared in the Magazine of Fantasy & Science Fiction, Strange Horizons, and elsewhere, Key offers a first collection of speculative fiction featuring Black and Brown characters inThe World Wasn't Ready for You. In Percy's The Sky Vault, a plane flying above Alaska momentarily disappears after entering an interstellar dust cloud left by the fiery comet Cain, leaving the passengers irretrievably changed, as is the community where they land (30,000-copy paperback and 30,000-copy hardcover first printing). Returning to the Singing Hills Abbey after nearly three years of wandering, Cleric Chih discovers that their mentor has died and that Mammoths at the Gates come bearing the mentor's granddaughters, clamoring to retrieve their grandfather's body for burial; from Hugo Award winner Vo (100,000-copy first printing). Two decades After the Forest and their encounter with a sweets-obsessed witch, Hans is in debt and Gretel helps her family survive despite imminent famine by baking magical gingerbread with a recipe from the witch's grimoire; from Australian historical fantasy author Woods, who works as a librarian (100,000-copy first printing).