Reimagined fairy tales and genre-crossing speculative fiction.
Click here for additional new Prepub Alert columns
Barnhill, Kelly. The Crane Husband. Tor.com. Feb. 2023. 128p. ISBN 9781250850973. $19.99. FAIRY TALES
Author of the LJ-starred adult novel When Women Were Dragons as well as middle-grade novels that include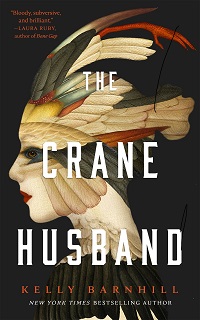 the Newbery Medal–winning The Girl Who Drank the Moon, Barnhill reimagines the fairy tale "The Crane Wife" in a contemporary Midwestern setting. Here, a 15-year-old is tasked with running the family while her mother dreamily creates beautiful tapestries but loses control of the situation when her mother brings home a huge, scary crane that demands she weave a masterpiece. With a 100,000-copy first printing.
Chokshi, Roshani. The Last Tale of the Flower Bride. Morrow. Feb. 2023. 304p. ISBN 9780063206502. $27.99. CD. FAIRY TALES
When a mythology scholar marries the intriguingly enigmatic Indigo Maxwell-Casteñada, she makes him promise never to ask about her past. Then a family emergency sends them to her childhood home, the House of Dreams, pervaded by the memory of the vanished Azure, and the husband must choose between reality and fantasy. The adult debut of a New York Times best-selling author whose Aru Shah and the End of Time was one of Time's Top 100 Fantasy Books of All Time.
Dimaline, Cherie. VenCo. Morrow. Feb. 2023. 400p. ISBN 9780063054899. $28.99. CD. FANTASY/INDIGENOUS
In the Toronto apartment she shares with her grandmother, a young Métis woman named Lucky St. James discovers a humming silver spoon that connects her to a network of witches via a mysterious front company called VenCo. The witches are excited; when they can bring together the legendary seven spoons, women will reclaim their rightful power. From the Canadian Métis author of the acclaimed Empire of Wild; with a 75,000-copy first printing.
McAdam, Colin. Black Dove. Soho. Feb. 2023. 336p. ISBN 9781641294225. $26. FANTASY/PSYCHOLOGICAL
Relentlessly bullied at school and desperate to forget a mother lost to alcohol, Oliver finds refuge in a junk shop whose basement houses mysterious creatures like the part panther, part hound Night. There, he becomes interested in genetic editing (he's trying to escape his own heritage) in a narrative that unfolds the sometimes dangerous consequences of fantasy. From Canadian author McAdam (A Beautiful Truth), the winner of multiple awards and short-listed for many more.
McDonald, Ian. Hopeland. Tor. Feb. 2023. 512p. ISBN 9780765375551. $28.99. SF/TIME TRAVEL
Raisa Hopeland wants to become the next electromancer of London, but encountering Grace-guided Amon Brightbourne in the midst of a riot sets her on a different path, which ranges across continents and decades as her difficult family ends up struggling to survive and maybe change the universe. From the multiple award-winning McDonald, named a Grand Master of Science Fiction by the European Science Fiction Society; with a 40,000-copy first printing.
Pardo, Paz. The Shamshine Blind. Atria. Feb. 2023. 320p. ISBN 9781982185329. $28. FANTASY/LITERARY
Having developed visually vivid weapons called psychopigments that can spark almost human emotion on contact, Argentina won the Falklands War, and by 2009 the United States has become a backwater. Psychopigment Enforcement Agent Kay Curtida works small-town incidents outside of wrecked San Francisco until a big case leads her to a conspiracy—and the need to examine her own emotions. A debut from Argentine American playwright Pardo.
Rollins, James. The Cradle of Ice. Tor. Feb. 2023. 688p. ISBN 9781250766748. $28.99. CD. FANTASY/EPIC
In the series-opening The Starless Crown, a star student, a disillusioned soldier, a dissolute prince, and a wily thief are on a mission to prevent apocalypse. Now they must separate and travel through vast ice fields to reach a city they know only through legend. With a 300,000-copy first printing.
Roth, Veronica. Arch-Conspirator. Tor. Feb. 2023. 128p. ISBN 9781250855466. $19.99. SF/POSTAPOCALYPTIC
The No. 1 New York Times best-selling author of the sf "Divergent" series for YAs, Roth puts a new spin on the classic tale of Antigone with a narrative set outside the last city on a devastated Earth. With her parents dead, Antigone's uncle Kreon now occupies the throne, and she and her siblings live in (that is, are trapped in) Kreon's mansion. But Antigone won't stay put. With a 150,000-copy first printing.
Ruff, Matt. The Destroyer of Worlds: A Return to Lovecraft Country. Harper. Feb. 2023. 384p. ISBN 9780063256897. $27.99. CD. FANTASY/HISTORICAL
Ruff returns to the environs of World Fantasy Award nominee Lovecraft Country with multiple plotlines. It's summer 1957, and Atticus Turner and his father, Montrose, are retracing the route taken by an ancestor to escape enslavement when they are caught in a real life-or-death chase. Meanwhile, 15-year-old Horace Berry goes on a research trip, and the ghost of Hiram Winthrop promises to cure George Berry of cancer if George resurrects him. With a 75,000-copy first printing.
Yu, E. Lily. Jewel Box: Stories. Erewhon: Workman. Feb. 2023. 400p. ISBN 9781645660484. $26.95. FANTASY/SHORT STORIES
In 2012, Yu won Hugo, World Fantasy, and Nebula nominations for "The Cartographer Wasps and the Anarchist Bees" as well as the John W. Campbell Award for Best New Writer. In 2021, her debut novel, On Fragile Waves, won multiple best-book accolades and a constellation of stars. No wonder this selection of her stories, never before collected, is much anticipated.
Click here for additional new Prepub Alert columns