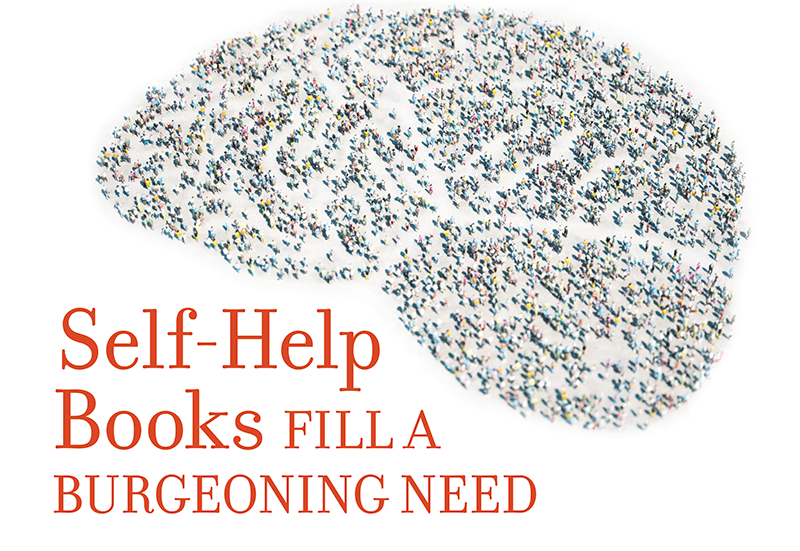 The self-help industry has exploded in recent years: According to NPD Group, U.S. sales of self-help books grew annually by 11 percent from 2013 to 2019, reaching 18.6 million volumes. Meanwhile, the number of self-help titles in existence nearly tripled during that period, from 30,897 to 85,253.
"People are yearning for meaning, peace, and calm in today's somewhat chaotic culture," NPD's Kristen McLean told Publishing Perspectives.
That was true before the pandemic emerged, and it's even more so now.
"One thing I'm hearing from psychologists and therapists is about the impact of COVID-19 on mental health," says Suzanne Staszak-Silva, senior executive editor for publisher Rowman & Littlefield. "Even the strongest and most mentally healthy people are dealing with something unprecedented."
Readers are turning to self-help books to cope with the anxiety they're feeling from job loss, the depression they're feeling from losing friends or family, or the isolation they're feeling from quarantining. Being cooped up with a spouse or other family members is taking a toll on relationships, and readers are also looking to self-help books for advice on coexisting with others.
The self-help trend was going strong well before the pandemic, however, as readers' interest in improving their physical, mental, and emotional health has steadily grown. "There is a lot less stigma today about mental health issues, as celebrities have been candid about their struggles," says Margo Beren, sales manager for New Harbinger Publications. "That has led more people to seek help for their own challenges."
Here are some of the top self-help books coming out this year.

DK
DK has specialized in publishing illustrated reference books for adults and children since 1974 and has a strong knowledge of medical and health issues. The company publishes 10 to 12 self-help titles per year, assisting readers in improving their health and well-being.
"Self-help is part of the mainstream now," says publishing director Katie Cowan. "While many of these titles used to sit at the margins of our list, now they're central to our catalog. These are books that really resonate with people."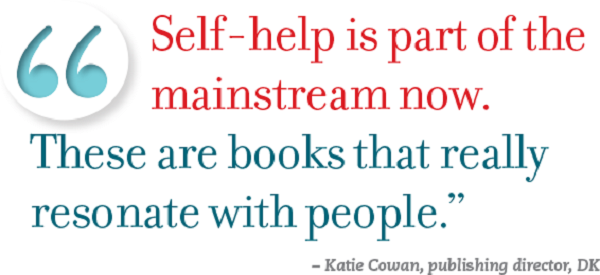 Live Your Best Life by Dr. Stuart Farrimond, December 2020, ISBN 9781465493293, explores the science behind our daily living habits, drawing upon the latest research in psychology, nutrition, biology, and physics to help readers make healthier, happier, and more productive choices—from when it makes the most sense to drink our first cup of coffee in the morning to how we can beat the midafternoon blues.
As scientists continue to unlock the mysteries of the brain, we're learning more about the power of human intuition. In Intuition, January 2021, ISBN 9780744026788, author Amisha Ghadiali—an intuitive therapist and host of the globally influential podcast The Future Is Beautiful—helps readers discover how to apply intuitive thinking and connect with their subconscious mind to tap into their full potential.
Environmental consciousness is on the rise, and Is It Really Green? by Georgina Wilson-Powell, January 2021, ISBN 9780744024319, helps people make simple, more sustainable choices in their lives. The author writes a sustainable lifestyle blog with more than a million readers. "People often feel paralyzed and unable to make change, because they don't know where to begin or because climate change seems too overwhelming," Cowan says. "After reading this book, I immediately changed five small things in my daily routine that will make a big difference, such as timing my showers so I don't use too much water and using dishcloths instead of paper towels."
As an executive coach for leaders in global technology companies, Michal Oshman created a personal growth methodology based on the life-changing wisdom she found in Jewish principles. Oshman, who serves as head of company culture, diversity, and inclusion for TikTok Europe, shares this wisdom in What Would You Do If You Weren't Afraid , May 2021, ISBN 9780744029109. Each of the book's 10 chapters explores a key principle for living a happy and rewarding life, such as tikkun olam, the Jewish concept that we should all "repair the world." "These are principles that can apply to anyone of any faith, whether you're healing a broken heart, overcoming setbacks, or even just raising a child or trying to advance your career," says senior acquisitions editor Stephanie Milner.
Husband-and-wife team Raphael and Opeyemi Sofoluke have built an extensive network of business connections within Great Britain's Black community. Opeyemi works at one of the world's largest investment banks, and Raphael is an entrepreneur and founder of the UK Black Business Show, an annual exhibition that highlights Black-owned companies. Together, they've drawn on the collective wisdom of more than 40 Black executives to write Twice as Hard, June 2021, ISBN 9780744039931, a career development book that explores Black identity in the workplace and offers a blueprint for success.

Rowman & Littlefield
Originally an academic press, Rowman & Littlefield now focuses largely on general-interest and trade books for the public library market. The company publishes 10 to 15 self-help titles per year. "Because we don't sell into bookstores, we don't need to work with authors who have large profiles or followings, so we can focus on academics who have deep subject matter expertise," Staszak-Silva says.
Calming the Bipolar Storm: A Guide for Patients and Their Families by Robert Fawcett, April 2021, ISBN 9781538145647, is written for people suffering from bipolar disorder and anyone who loves or cares for them. The author discusses the causes of this disorder and common approaches to dealing with it, including advice on how to find the right treatment. "Like many of our books, it focuses not just on the people with symptoms but also those in their orbit," Staszak-Silva says. "Mental health isn't just a problem for the person who's suffering, but for family and friends as well."
There are certain collective messages we hear growing up that we might consciously or subconsciously believe. Raising LGBTQ Allies: A Parent's Guide to Changing the Messages from the Playground by Chris Tompkins, May 2021, ISBN 9781538136263, helps parents counter the homophobic messages that children might hear from their peer group, while raising children who are open-minded and empathetic. By showing the importance of having authentic conversations with children at a young age, the author demonstrates how parents can prevent new generations from adopting homophobic and transphobic beliefs.
Many people lead their lives on autopilot, whether through habit or because they can't envision a different path forward. Change Your Life's Direction: Break Free from Your Past Inertia and Chart a Better Future by Jim Taylor, May 2021, ISBN 9781538146699, helps readers recognize this inertia and learn to take control of their lives. "Making a change can be difficult, but it doesn't have to be a big shift," Staszak-Silva says. "Even making a small change can allow you to feel more in control."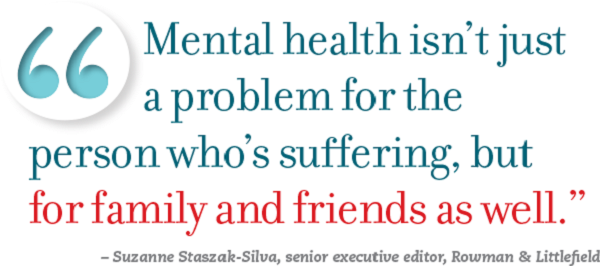 After Campus Sexual Assault: A Guide for Parents by Susan Sorenson, June 2021, ISBN 9781538117729, helps parents navigate the aftermath of this trauma while providing a stable, safe, and supportive environment for their child. Although colleges and universities have developed resources for students who have been sexually assaulted, parents are largely left to fend for themselves. By understanding the impacts of campus sexual assault and learning from others who've been through the experience, parents can work with their child more effectively to develop strategies for healing.
Many of those who suffer the consequences of substance abuse find relief when the user agrees to enter rehab or treatment. However, "the real work begins when the user gets home and is no longer under the direct care of a mental health professional," Staszak-Silva says. Recovery after Rehab : A Guide for the Newly Sober and Their Loved Ones by Joseph Nowinski, PhD, July 2021, ISBN 9781538142523, offers a practical guide to what families can do collaboratively to avoid a relapse and ensure long-term recovery.

New Harbinger Publications
Founded by a clinical psychologist, New Harbinger has published evidence-based self-help books and workbooks for nearly 50 years. "Our mission is to reduce suffering," says Beren. "We're taking clinically proven modalities and breaking them down to make them easily digestible for the layperson."
Many of New Harbinger's books help readers overcome issues such as anger, anxiety, and depression. Even before the pandemic, "the amount of anxiety among adults and teens in the United States was staggering," Beren observes. The pandemic and the violent insurgence at the U.S. Capitol in January have only exacerbated the problem, making several of the company's new titles particularly timely.
For instance, Quick Calm: Easy Meditations to Short-Circuit Stress Using Mindfulness and Neuroscience by Jennifer R. Wolkin, PhD, April 2021, ISBN 9781684036080, is a collection of five-minute meditations for becoming more mindful, making this a habit, and finding lasting relief from the stress and difficult emotions we all feel—especially in these turbulent times. "It's a practical guide designed to fit perfectly into a fast-paced lifestyle," Beren says.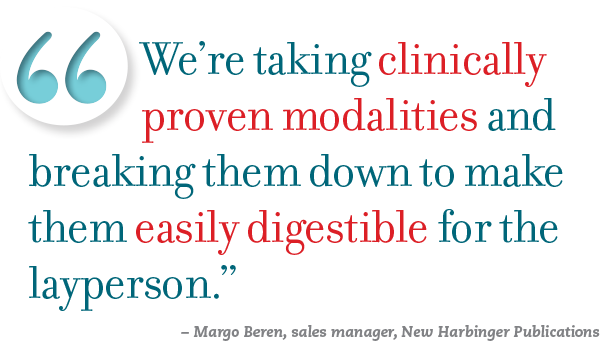 "Superhero therapy" is a technique developed by licensed clinical psychologist Dr. Janina Scarlet that incorporates characters from comic books, mythology, fantasy, science fiction, and video games to help patients overcome emotional obstacles. Scarlet's latest book, Super-Women: Superhero Therapy for Women Battling Anxiety, Depression, and Trauma , April 2021, ISBN 9781684037520, offers evidence-based interventions grounded in acceptance and commitment therapy (ACT) and superhero therapy to help women find the inner strength they need to rise above life's challenges. "Women are twice as likely as men to suffer from anxiety or trauma," Beren notes.
New Harbinger's self-help workbooks include prompts and exercises that reinforce the books' lessons. The latest example is Overcoming Avoidance Workbook: Break the Cycle of Isolation and Avoidant Behaviors to Reclaim Your Life from Anxiety, Depression, or PTSD by Daniel F. Gros, PhD, March 2021, ISBN 9781684035663. Avoidance is a common form of coping with emotional pain, and it can manifest itself in many ways, such as by overeating or watching too much TV. This workbook challenges readers to examine these behaviors in their lives, to identify what they're really trying to avoid, and then to confront those issues head-on.
Building on the success of their guide Intuitive Eating, as well as The Intuitive Eating Workbook, authors and registered dietitian nutritionists Elyse Resch and Evelyn Tribole have come out with new resources to help readers pay attention to hunger cues, break free from "diet mentality," and stop feeling so stressed out about food. Intuitive Eating Card Deck: 50 Bite-Sized Ways to Make Peace with Food , ISBN 9781684038282, is a portable resource with quick tips and strategies. Intuitive Eating Journal: Your Guided Journey for Nourishing a Healthy Relationship with Food , from Resch alone, ISBN 9781684037094, includes writing prompts and further guidance. Both will be available in June 2021.
Being different can make someone a target for rejection, bullying, and even violence. In Healing Otherness Handbook: Overcome the Trauma of Identity-Based Bullying and Find Power in Your Difference , April 2021, ISBN 9781684036479, Dr. Stacee Reicherzer—a nationally known transgender psychotherapist—teaches readers to recognize and overcome the fears they developed from being bullied as a child because of their identity.

Unnamed Press
What does it mean to have lived a "good life"? How can we prepare for the inevitable onset of old age with grace and acceptance?
Author, speaker, psychologist, and gerontologist Dr. Ken Dychtwald has a unique perspective on these questions, having made aging his life's study. Now, at age 70, Dychtwald is experiencing firsthand what he has spent his entire adult life writing and talking about—and he has teamed up with Unnamed Press to publish a book that is part memoir and part self-help guide for assisting others on this journey, from youth to age.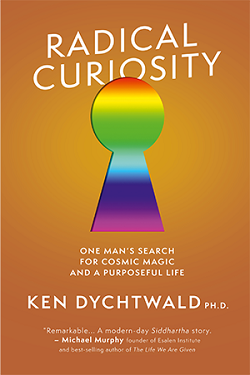 Radical Curiosity: One Man's Search for Cosmic Magic and a Purposeful Life , April 2021, ISBN 9781951213312, is a much more personal book than anything Dychtwald—founder of the company Age Wave and best-selling author of Bodymind and Age Wave—has published before.
Weaving together stories about his encounters with celebrities and presidents, as well as reflections on his successes, failures, and profound losses, Dychtwald shows readers that the key to leading a meaningful life is a perpetual openness to self-discovery and a relentless desire to learn and to share this knowledge with others—a continuous cycle that he refers to as "breathe, learn, teach, repeat."
Radical Curiosity is also a departure of sorts for Unnamed Press, a small firm based in Los Angeles that launched in 2014 as a publisher of fiction but began releasing nonfiction titles a few years ago. This is the company's first foray into the self-help genre.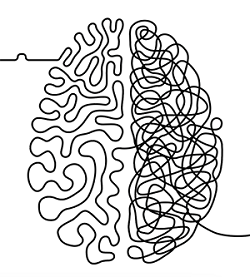 "What Ken is saying in this book seems particularly relevant in the age of COVID," says cofounder and executive editor Olivia Taylor Smith. "Especially now, when it feels like we're living the same day over and over again, it's important to be curious, to learn something new every day, and to seek out different points of view."
Dychtwald acknowledges that the pandemic helped shape the book's messages.
"Throughout 2020, because of COVID-19 but also the Black Lives Matter movement and the insanity in Washington, my editorial focus turned far more in the direction of resiliency, gratitude, and empathy than it might have otherwise," he says. "I also wanted to emphasize hope, self-acceptance, and empathy more, which have been so missing in the public narrative.

Authoritative Sources

DK's Katie Cowan notes that people are hungry for information they can trust on important topics such as health and wellness. With the proliferation of pseudoscience and other questionable content online, self-help guidance from authoritative sources will continue to meet an urgent need moving forward.
"The world is changing fast, and people are anxious," she says. "They don't know where they can turn to find reliable information. That's where publishers can play a critical role."
SPONSORED CONTENT