Future shock, present turmoil.
Click here for additional new Prepub Alert columns
Ackerman, Elliot & Adm. James Stavridis, USN. 2054. Penguin Pr. Mar. 2024. 304p. ISBN 9780593489864. $28. POLITICAL
As depicted in the New York Times best-selling 2034, war between the United States and China radically reordered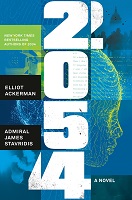 U.S. politics. It's now two decades hence, and when the beleaguered U.S. president falls dead during an address to the nation, computer science, intelligence, and business interests quickly recognize that it was a remote assassination effected by AI. A literary/speculative/thriller blend, BISACed political; from National Book Award finalist Ackerman and navy veteran Stavridis.
Peguero, Robin. One in the Chamber. Grand Central. Mar. 2024. 352p. ISBN 9781538742464. $29. Downloadable. POLITICAL
New to Capitol Hill, Iowa farm boy Cameron Leann works with a group of polished junior staffers who serve six powerful U.S. senators and look askance at his hayseed background. The infighting gets worse when the first Black chief justice to the Supreme Court is nominated. Born to immigrant parents, Harvard Law graduate Peguero currently serves as chief of staff to a member of Congress. Like his debut, With Prejudice, a laserlike look at how juries function, this book should be approached less as thriller than a deep dive into political understanding.