Day of Dialog's "Top Fiction Debuts" featured Andrea Bobotis, Kira Jane Buxton, E.R. Ramzipoor, and Cadwell Turnbull.
Debut novels are always cause for celebration, and this group of first-time novelists were excited to share details about their books with the Day of Dialog librarians and moderator Barbara Hoffert. Andrea Bobotis, whose
The Last List of Miss Judith Kratt
(Sourcebooks Landmark, Jul. 2019) unfolds the complicated relatiohships between the white Kratt family of Bound, SC, and African American members of the comuunity, framed her story as an inventory of a home and a family's heirlooms and based the narrator on her own great-aunt. Kira Jane Buxton began
Hollow Kingdom
(Grand Central, Jul.) from her position as a self-described "bird nerd" and developed her "crowtagonist," the smart-talking S.T., as a crow to save humankind.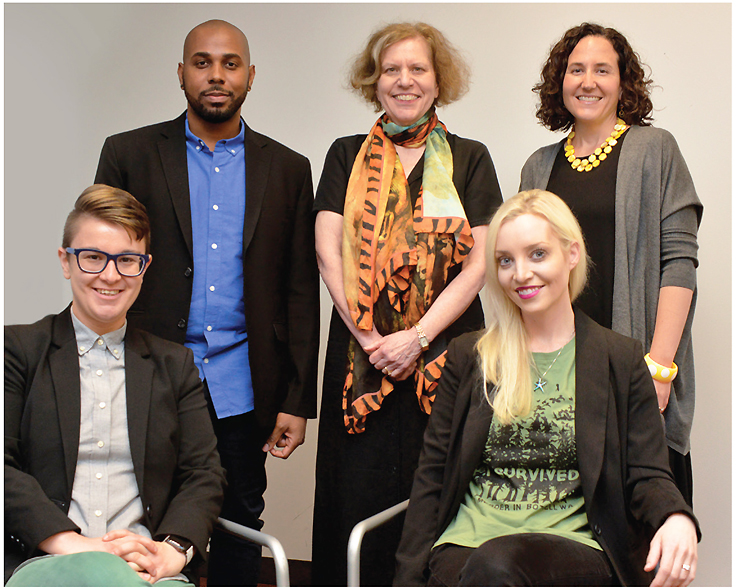 "Top Fiction Debut" panel: Standing, l.-r.: Cadwell Turnbull, Barbara Hoffert, Andrea Bobotis. Seated, l.-r.: E.R. Ramzipoor, Kira Jane Buxton
E.R. Ramzipoor found the spark of the idea for
The Ventriloquists
(Park Row: Harlequin, Aug.) when undergraduate research into resistance movements and underground literature turned up an aside about of a group of Belgian resistance fighters and dissident journalists producing a fake edition of
Le Soir
poking fun at their Nazi oppressors, even knowing that doing so could lead to their death. Cadwell Turnbull describes
The Lesson
(Blackstone, Jun.), in which a group of aliens known as the Ynaa invade the U.S. Virgin Islands, as a clash of cultures where "a small place is affected by a big thing." The Ynaa invasion deftly parallels the clash between dominant invaders and exploited peoples that define human history. The writers were asked what they hoped readers would take away from their books. For Bobotis, it's that an individual can change her beliefs even in the face of the prevailing culture, and for Buxton it was that conservation of a species is intertwined with others. Ramzipoor hopes readers come away from her book realizing that resistance can take many forms—and that they shouldn't underestimate the value of a good joke. And Turnbull explained that people teach things, some intentional, some not, and that since some lessons we don't intend have longer lifecycles, it is important to be careful.
Photos by William Neumann