Vampires, waterweavers, and terraformers.
Click here for additional new Prepub Alert columns
Bardugo, Leigh. Hell Bent. Minotaur: St. Martin's. Jan. 2023. (Alex Stern, Bk. 2). 448p. ISBN 9781250313102. $24.99. CD. FANTASY
In Ninth House, best-selling YA author Bardugo's much-cheered adult debut, Galaxy "Alex" Stern can see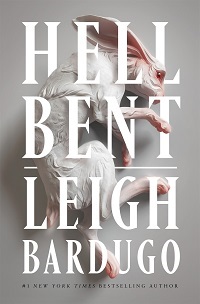 the dead, which wins her a free ride to Yale from benefactors concerned to track the occult activities of the university's secret societies. Here, she's determined to rescue her mentor from hell, even if (heaven forfend!) it loses her a place at Yale. With a 500,000-copy first printing.
Chen, Mike. Vampire Weekend. Mira: Harlequin. Jan. 2023. 400p. ISBN 9780778334316. $28.99; pap. ISBN 9780778386964. $17.99. CD. FANTASY
In the New York Times best-selling Chen's follow-up to Light Years from Home, vampires don't go around bloodsucking people to death (an idea they find abhorrent) but wrangle blood bags and work night jobs. For Louise Chao, it's a lonely life, relieved by her passion for punk rock. Then a teenage relative she barely knows arrives at her door, and for once she connects—but in the end there's big-time trouble. With a 30,000-copy paperback and a 10,000-copy hardcover first printing.
DiLouie, Craig. Episode Thirteen. Redhook: Hachette. Jan. 2023. 384p. ISBN 9780316443104. pap. $18.99. HORROR
Told in appropriately jagged bits of correspondence, journal entries, and tapes, Bram Stoker–nominated DiLouie's story features a ghost-hunting reality TV crew heading to the tumbledown mansion housing the Paranormal Research Foundation. They hope to prove that it's haunted, but a lot more happens. With a 15,000-copy fist printing
Elsbai, Hadeer. The Daughters of Izdihar. Harper Voyager. (Alamaxa Duology, Bk. 1). Jan. 2023. 384p. ISBN 9780063114746. $28.99. CD. FANTASY
In this debut (and first in a duology) from Egyptian American librarian Elsbai, entitled aristocrat Nehal and Giorgina, an impoverished bookshop worker who expects little of life, discover that they share a common interest in women's rights. And they both have the means to fight for those rights by using forbidden magic, Nehal as a waterweaver and Giorgina as an earthweaver. With a 50,000-copy first printing.
Golden, Christopher. All Hallows. St. Martin's. Jan. 2023. 336p. ISBN 9781250280299. $27.99. HORROR
Even as families bicker and crumble on Halloween night in 1984, Coventry, MA, four children who aren't from town go door to door in vintage costumes and creepily washed-out makeup, begging for protection from the Cunning Man. As the author is Bram Stoker Award–winning Golden, we know something horrifying will soon happen. With a 60,000-copy first printing.
Hendrix, Grady. How To Sell a Haunted House. Berkley. Jan. 2023. 400p. ISBN 9780593201268. $28. HORROR
The author of New York Times best-selling fiction (The Southern Book Club's Guide to Slaying Vampires) and Bram Stoker Award–winning nonfiction (Paperbacks from Hell), Hendrix launches a new scarefest that explains what's really terrifying about family.
Johns, Jessica. Bad Cree. Doubleday. Jan. 2023. 256p. ISBN 9780385548694. $28. Downloadable. HORROR
Young Cree woman Mackenzie increasingly dreams about a long-ago weekend at her family's lakefront campsite that transpired before her sister Sabrina's death. The dreams are full of fierce crows, and now crows are following her in real life, so she heads home to rural Alberta to get help from her family. A debut for Nehiyaw author Johns, a member of Sucker Creek First Nation in Treaty 8 territory in northern Alberta.
McGuire, Seanan. Lost in the Moment and Found. Tor.com. Jan. 2023. (Wayward Children, Bk. 8). 160p. ISBN 9781250213631. $21.99. FANTASY
In the Shop Where the Lost Things Go, Antoinette cannot find her father, but she does discover many different doors by which she can leave. Each goes to a different world, though leaving is not that easy. A stand-alone tale in the Hugo and Nebula Award–winning series.
Newitz, Annalee. The Terraformers. Tor. Jan. 2023. 352p. ISBN 9781250228017. $27.99. CD. SF
Like her family before her, Destry is devoted to terraforming Sask-E and nurturing its various eco-systems, but her assumptions about the world she loves are tossed into question when she discovers a city full of people who shouldn't even exist sequestered inside a volcano. From the Lambda Award–winning Newitz (Autonomous); with a 125,000-copy first printing.
Suarez, Daniel. Critical Mass. Dutton. Jan. 2023. 464p. ISBN 9780593183632. $28. Downloadable. SF
When things go wrong at a cutting-edge commercial asteroid-mining mission that had not yet won approval, two crew members are left stranded, and the crew that made it home must build an advanced rescue craft in time for the asteroid's next close sail by Earth. From the New York Times best-selling, TEDGlobal-speaking Suarez.