At press time, the situation was not looking promising for in-person instruction at U.S. colleges and universities this fall. On August 17, the University of North Carolina at Chapel Hill announced that it would be converting to all virtual classes for the fall after 130 students and five staff tested positive for COVID-19, only one week after in-person instruction had begun. The following day, the University of Notre Dame, IN, reported that 147 students and faculty had tested positive, and announced it would shift to online instruction for at least two weeks to stop the spread. Michigan State, as a precaution, soon followed suit.
The College Crisis Initiative at Davidson College, NC, has been tracking reopening plans of almost 3,000 U.S. colleges and universities, and even before those shifts the majority of academic institutions were planning for online instruction to play a significant role this fall, with 151 schools reporting that classes would be fully online, 729 planning to be primarily online, and 433 employing hybrid in-person and online models to reduce student density on campus. Only 75 institutions were planning for fully in-person instruction, although 614 were planning for classes to be primarily in person, and 771 had not finalized reopening plans.
Evolution and acceleration were themes echoed by every vendor contacted for this article. The shift from print to digital resources has been ongoing for years, but with print resources suddenly inaccessible to the majority of students and faculty, e-resources have become the only option.
Academic libraries are now facing budget cuts even as many are called upon to help faculty transition to online teaching. But the net result could be a better understanding of the resources libraries offer, and more appreciation among faculty for the role librarians can play as liaisons and facilitators on campus.
Fortunately, libraries and faculty have had a few months to prepare for online courses this fall, unlike the sudden campus shutdowns halfway through spring semester.
"Everybody had to push through this eight-week period in the spring where they found out on a Friday that they were going virtual on a Monday," notes Jeff Wilensky, VP of global marketing at ProQuest. "Since then, there have been some opportunities to plan and for libraries to forge new relationships with faculty."
Stephanie Kaelin, senior library sales manager for Cambridge University Press (CUP), says, "libraries are being asked to take on a different role—much as they have for the past 20 years, an ever-evolving role." This latest evolution is requiring libraries to "help support learning by providing textbook access or course material access on an institutional level. Anecdotally, the inquiries we're getting from libraries do suggest there's a much more heightened focus on teaching and learning."

University of North Carolina at Chapel Hill and University of Notre Dame
IMPROVING ACCESS
A number of factors, including ever-increasing prices, led CUP to conclude that the current direct-to-student print textbook model is not viable in the long term. The not-for-profit publisher had been developing its new "Higher Education from Cambridge" online e-textbook platform prior to the COVID-19 crisis, but this spring, "textbooks were a particular issue when students left campus and weren't allowed back," Kaelin says. As a result, CUP moved up the launch time line for the platform by several months, announcing a beta test that began this summer.
Gale has seen increased interest in its Gale Interactive chemistry, human anatomy, and science products, which allow exploration of detailed 3-D models and enable instructors to lead virtual science labs. Labs "are some of the acute needs" that universities are struggling to respond to now, says Phil Faust, VP of academic products for Gale, a Cengage company. Collegiate-level science courses depend on hands-on instruction, so many universities are looking for ways to fill this gap virtually.
In August, ProQuest made proquest.com the new home of its search platform, migrating its corporate site to about.proquest.com. Visitors can begin their search from the open web, and even when they are not logged in, a new feature enables users to search, discover, and preview paywalled content, as well as access full-text open access resources. "It's not a major change," Wilensky acknowledges, "but in terms of user experience" it's a simple move by the company that eliminates confusion among undergrads.
At SAGE Publishing, Karen Phillips, SVP of global learning resources, highlighted the company's acquisition of the Talis Aspire reading list management platform, which simplifies copyright scanning compliance for library resources, and makes it easier for faculty to integrate library content into learning management systems.
Oxford University Press (OUP) is "making plans to convert key print content into digital formats and working on simultaneous digital and print publishing for new publications," says Ella Percival, communications manager for OUP. "We are also making improvements to our metadata production, storage, and distribution, and have implemented Google Universal CASA [Campus Activated Subscriber Access] for our journals on the Oxford Academic platform to improve access for users working remotely." With Google Universal CASA, faculty, researchers, and students initially access OUP content via their campus network, whether on campus or through an institutional VPN, for example. After that, once the user is authenticated, for 30 days CASA will work wherever Google Scholar will work, simplifying off-campus access.
"EBSCO is rolling out a new user interface for EBSCO Discovery Service which will provide a more personalized user experience," says Kathleen McEvoy, VP of communications. "Our work with accessibility opens up research even more to students and researchers who need a search experience that accommodates their unique needs which the need to be online has exacerbated. Libraries supporting their students online have also turned to OpenAthens to improve authentication allowing for a more seamless search experience."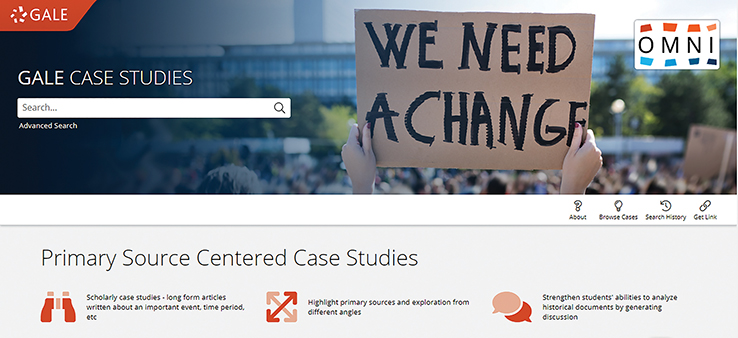 Primary source collections such as Gale Case Studies help instructors address contemporary topics like the Black Lives Matter movement
NEW FISCAL PRESSURES
All of the vendors agreed that most of their academic library customers were anticipating budget cuts (see "Budgeting for the New Normal," p. 14). Most were unsure how significant any cuts would be. While dozens of publishers and library vendors provided free access or special deals on a wide selection of resources during the spring, many of those offers have expired. But the uncertainty their customers face has led to adaptations in offerings and pricing models, and several vendors are continuing to offer select COVID-19 related resources for free.
For example, libraries have traditionally bought Adam Matthew Digital's resources for a fixed, one-time price per collection. The company recently began looking at subscription models, and has offered extended trial periods to some institutions. And parent company SAGE has been offering six-month subscriptions for other products for libraries that are uncertain about their 2021 budgets.
Taylor & Francis has continued to offer free full-text access to research articles, book chapters, and other information relevant to the global fight against COVID-19. Separately, the publisher offers free access to articles, ebooks, and ebook chapter samplers on its Faculty Resources hub, which currently includes content for faculty on designing effective online courses, student engagement, research support, professional development, and well-being and inclusivity on campus, as well as a student survival skills collection. "We're seeing subject librarians working directly with their faculty counterparts to make sure they have the right resources as they transition to an online format," says Michelle Rivera-Spann, director of marketing, library, for Taylor & Francis.
A variety of online learning and COVID-related resources are available on Wiley.com, including articles and videos on creating online courses, dealing with cheating in remote learning environments, and working with large-enrollment online courses. Articles and book chapters specifically focused on COVID-19 are still free to access as well.
Through September 30, EBSCO is continuing to offer a 50 percent discount for libraries to convert print books from participating publishers into ebooks, or upgrade any current EBSCO eBooks access model. Separately, the company has created a simplified version of EBSCO Faculty Select that enables instructors to discover 12,400 open educational resources and, through September 30, more than 225,000 DRM-free ebooks available at no charge. McEvoy also noted that the company is once again releasing its annual Serials Price Projections Report. The report "leverages EBSCO's role as the largest subscription service provider to equip libraries with essential information on anticipated 2021 pricing," she says. "When cuts are needed, EBSCO's Usage Consolidation and Usage Loading Service provide the data libraries need to make decisions based on usage metrics."
Cambridge University Press's Gold Open Access journals waived article processing charges for all COVID-19- and coronavirus-related research through the end of August, and the publisher is continuing to offer libraries and researchers access to COVID articles and other content through its Coronavirus Free Access Collection.
Oxford University Press has pledged to make all of its COVID-19 research available through the duration of the pandemic. "In addition, we are standardizing and simplifying our business models, including offering discounted pricing on online research books for existing library print holdings," Percival explains. "And, to support librarians, lecturers, and students as they continue to get used to using more digital tools in their day-to-day lives, we are also offering two new online courses—Teaching Online and Learning Online—produced by Epigeum, leading online course provider and part of OUP."
Gale didn't have any specific special offers planned for the fall, but the company has been "working with individual libraries on their specific needs" and being flexible with terms for renewals, according to Roger Strong, VP of sales, academic libraries.
SILVER LININGS
While not broadly optimistic, vendors contacted for this article tended to argue that the current pandemic would likely cause a rethinking of academic instruction, innovations in online learning, and a renewed appreciation for the resources provided by campus libraries.
"We have so many digital resources, primary sources, and ebooks. Usage is up significantly. The awareness about things libraries collect that aren't on shelves is increasing," Strong says.
Ben Lacey, head of outreach for Adam Matthew, says that "I think there's a distinction behind what happened in the spring and what's happening now. In the spring, [instructors] couldn't do much planning. They were asking, 'How can I have some semblance of a course?' online. The new academic year is much more interesting."
In the pre-pandemic world "we were almost having to make a case for the value of what we do," offering access to digitized primary sources, notes Ben Cartwright, executive director, North American sales for Adam Matthew. "We're not really having to explain the value anymore" as administrators have an expanded understanding of online research and instruction.
The demand for innovation will include vendors as well, Wilensky says. "We are seeing the need to dig into curriculum analysis. Dig into gaps. Resources purchased for [library] collections are going to need to meet the needs of many" in a time of budget challenges. "These are places that we're trying to help with. In addition to classic resources, things that drive [student] engagement—diverse voices, video."
Vendors are already working to respond to demand for online primary resources dealing with current events. This fall, for example, Gale will launch Gale Case Studies, featuring contemporary topics supported by curated primary sources. The first module will focus on LGBTQ activism in the 20th century. Another module is already planned for the Black Lives Matter movement.
Similarly, SAGE is currently offering free access to a selection of resources to support researching and teaching about structural racism and police violence. The publisher also recently developed a series of online courses on introductory critical thinking and data literacy.
"We're trying to work with both librarians and faculty to determine the things they really need," Phillips says.
"Folks are hopeful, feeling how resilient their institutions and teams have been," Kaelin says. "We are stronger than we thought. There's a lot of potential positive change that could come out of this."
---
The original version of this article was published in the September 2020 print edition of Library Journal. This online version includes additional comments from EBSCO.