The global pandemic has accelerated changes that were already under way in libraries from coast to coast, such as a movement toward patron self-service and making more online resources available for users.
These developments reflect what is happening with consumer services in general. Customers have grown used to digital conveniences in their shopping, dining, and entertainment experiences, like ordering items or reserving a table at a restaurant from the palm of their hand. They expect these same innovations when interacting with libraries as well.
The key question for librarians is: How can they provide an exceptional customer experience so that patrons will continue to return both in person and online?
New technology tools aim to enhance the library experience for users. Some of these tools make it easier for patrons to find what they're looking for, check out, and return items either physically or online. Others are meant to streamline library operations, freeing up staff to spend more time helping patrons one-on-one. Still others are intended to improve user engagement with the library.
OCLC
Established in 1967, OCLC is a nonprofit global library organization that provides shared technology services, original research, and community programs for its membership and the library community at large.
"With thousands of library members in more than 100 countries, OCLC works collaboratively to make information more accessible and more useful," says Scott Livingston, OCLC executive director.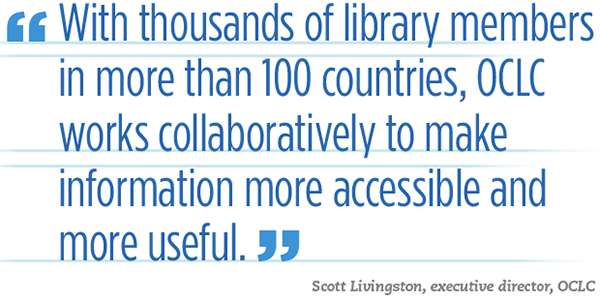 Standouts among OCLC's dozens of products and services are WorldCat®, a comprehensive global network of data about library collections and services; WorldShare®, a complete set of library-management applications and services built on an open, cloud-based platform, which helps libraries be more efficient; and OCLC Wise®, the first community-engagement system for U.S. public libraries that combines the power of customer-relationship management, marketing and communications, a smart collection analysis and recommendation engine, analytics, and ILS capabilities. Wise® differs from a traditional ILS because every aspect of it is designed around people—both library users and staff—not the collection.
For example, real-time and historic patron interactions with the library are used to create custom communications, enabling more personalized user engagement. Fueled by customer behavior data, Wise® also delivers meaningful insights about how to evolve library collections to reflect the needs and preferences of their community. The smart collection analysis and recommendation engine meets customer needs by providing evidence-based advice about what to keep, buy, move, and replace in real time.
Anythink Libraries in Adams County, Colorado leveraged functionality available only in Wise® to better support their community during the pandemic with their Anythink Box subscription program for kids ages 5 to 12. At the start of the pandemic, many children couldn't get to a library or school to access materials. Wise empowered staff to easily match available items to age and interest, helping them send out more than 2,200 customized boxes in 2021.
OCLC also offers a variety of services that increase the visibility of and access to library collections. For example, its CONTENTdm® digital collection management software helps libraries easily build, preserve, and showcase valuable digital collections on their website, making them more discoverable to people around the world.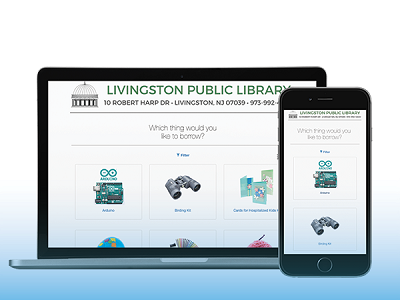 CapiraMobileSM is a customizable mobile app that provides a virtual extension of the on-site service libraries provide. Staff can send notifications about new programs and promotions, while patrons can search the library's catalog, request or check out items, schedule them for contactless pickup, or pay fees and fines. The app also provides self-checkout functionality, allowing users to check out on their own in the library and with digital library cards.
CapiraCurbsideSM is an intuitive pickup solution that integrates with a library's ILS and efficiently manages distribution of library materials. It's a convenient option to obtain the resources they need when and how they want, without involving library staff.
As more libraries begin offering a "library of things" collection, LendingKeySM, a reservation and management solution, gets non-book items into patrons' hands. And MuseumKeySM maximizes museum pass use and simplifies reservations through a library's website, allowing users to browse a responsive calendar by museum or date.
Commenting on the evolution of libraries' services during the pandemic, Livingston says, "Libraries have adopted a more complex and nuanced approach. They are both open and virtual, physical and electronic, traditional and innovating. OCLC continues to invest in helping libraries with this "yes and" approach to meet these fast-changing and often hybrid user experiences."
SOLUS
SOLUS is a software development company based in Glasgow, Scotland, with a North American office in upstate New York. The company is a leading mobile app developer for libraries globally.
SOLUS's Library App is used by patrons at more than 7,200 libraries on five continents, in 24 languages. It allows users to manage their library account, pay fines, request items, access digital content, and even check out physical items by using their smart phone to scan the items' barcode or RFID tag.
"This means huge cost savings for libraries," says John Richardson, director of SOLUS North America. "If patrons can use their own smart phone to check out materials, then libraries don't have to invest in as many self-service kiosks." Using the app for self-checkout also eliminates the need to clean self-service kiosks after every use and reduces maintenance.
A new "Click & Collect" module, added to the app during the pandemic, facilitates curbside pickups. Akin to retail models, the module enables patrons to alert the library they are en-route, once the app has notified them their materials are ready. Curbside checkout is done with a single click and communication with library staff is in real time.
SOLUS brands the app with a subscribing library's own branding (in adherence with industry guidelines), and patrons download it directly from the Apple or Android store. The app includes a content-management system for making real-time updates to the content, keeping the library's news fresh and dynamic.
SOLUS recently introduced new cloud-based software for managing library programs and events. Called eb#1 (Events & Bookings), this online platform enables library staff to schedule and promote events, both live and virtual—while patrons can reserve space, make online payments, and even request a refund if they can't attend.
eb#1 includes tools that make it easy for librarians to create flyers that promote their events, complete with stock images and QR codes that take patrons to a landing page, where they can learn more or register.
This new platform brings elegant and efficient workflows to event and room management and provides built-in marketing tools for community outreach and engagement. Work is underway to integrate eb#1 into the SOLUS app ecosystem, to enhance the patron's experience. The platform is affordable for small to large libraries and is also scalable for consortia.

Kingsley
Founded in 1963, Kingsley invented the first secure outdoor book depository for libraries. Since that time, the company has sold nearly 12,000 book and media return units to libraries in 34 countries.
Kingsley designs, manufactures, and sells both outdoor and indoor return units, as well as carts and bins for transporting materials and "ThruWall" units for accepting returns through an exterior wall. All Kingsley systems are ADA compliant. Made from aerospace-grade aluminum and stainless steel, these rustproof return units are backed by a lifetime warranty.
Kingsley's KwikDrop design enables patrons to make no-contact returns. Users simply push the materials through the depository's return slot without having to pull down any doors or otherwise touch the receptacle. In addition, the units feature virus-resistant antimicrobial surfaces.
For outdoor units, libraries can choose from three designs. The C-Series is designed for drive-up returns, with a return slot hood that extends 15 inches beyond the curb. The K-Series accepts larger items or bulk deposits, with a 10-inch-high opening. The V-Series is an entry-level line of return units for budget-conscious libraries. "They work the same and are made from the same rugged material, but we simplified the top to save money," says president and CEO Murray Morgan.
Each unit comes in a choice of seven different powder coat finishes. Optional carts are available for transporting materials into the library when the receptacles are full, including a SafeCart system with a hinged lid that libraries can keep closed while items are in quarantine. The receptacles are available in multiple sizes, with the largest holding up to 1,000 books. The units are also water and theft resistant and fire suppressant.
"When the average book costs $25, security is critical," Morgan says. "For a unit that holds 1,000 books, that's $25,000 worth of materials. Libraries trust us to keep those items safe."



A new optional feature called TimeSaver makes it more convenient for librarians to know when to empty these outdoor depositories. This sensor-based system can detect when a unit is close to full capacity. In that case, the system sends an automated text message indicating that it's time to retrieve the materials. "With this feature, librarians won't have to go out and check all the time to see if a unit is full," Morgan says.
Kingsley's indoor book and media return units are available in metal or wood veneer finishes. The DuraWood line is a premium line of furniture-grade quality, hand-stained oak veneer return units that feature a depository chute to help guide materials properly into a cart. ColorWood units are made of melamine laminate that is scratch and stain resistant to hold up well to abuse, even in high-traffic areas. With the ColorWood line, libraries can choose from eight different colors and three wood grains to match their existing library furniture or their school colors.
Quipu Group
Quipu Group, which takes its name from the intricate system of knotted strings the Inca used to store and convey information, has provided software to help libraries solve key challenges since 2005. The company's flagship product, eCARD, is an online system that enables new patrons to register online for a library card and verifies that they live within the library's service area.
Last year, Quipu developed a new complementary system called eRENEW. Sold as a separate product, eRENEW aims to increase customer retention by making library card renewals quick and easy for both staff and patrons.
eRENEW provides online library card renewal from any page of a library's website. Patrons can not only renew their card, but also update their personal information. This information is automatically updated within the ILS through a real-time integration.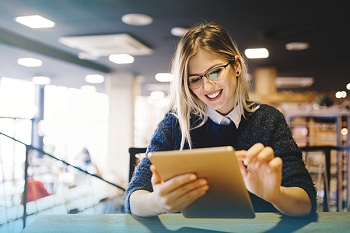 "Many ILS platforms don't handle library card renewals well," says Quipu co-founder, partner, and Chief Librarian Melissa Stockton.
Libraries can set the parameters for when a request for renewal might be denied, such as if a patron owes money, hasn't returned items, or has violated the library's terms of service. For an additional fee, libraries can also have a patron's address verified before renewing their card.
"With eRENEW, we can (give) our patrons the online convenience of ensuring their library account is always up to date and peace of mind that their account won't expire," says Diane Roche, director of communication for the Santa Clara County Library District in California.
Quipu has also seen a lot of success with PITSTM (Patron Incident Tracking System), which helps libraries foster a safe space for everyone. The system gives librarians an easy, centralized way to track "problem" patrons: They can create incident reports, upload and attach supporting documentation, and manage and automate the suspension of library privileges for specific users.
One key change that Quipu has made to PITSTM is allowing libraries to customize the language they use to describe incident perpetrators, victims, and witnesses. "We found that some librarians weren't comfortable with this terminology," Stockton explains. Now, the system uses these terms as defaults, but libraries can change them within the software's administrative module to reflect their own culture.
Quipu's fourth product, ePASS, helps libraries manage passes to zoos, theaters, museums, and other cultural partners. The system allows patrons to reserve these passes online according to the terms established by their library. All these products are web-based services hosted by Quipu and available to libraries on an annual subscription basis.
Springshare
Perhaps best known for its LibGuides content management system, which makes it easy for librarians to curate resources and share information, Springshare is a Software-as-a-Service (SaaS) company whose mission is to help libraries provide great service to their users.
Springshare, founded in 2007, currently serves 7,400 public, academic, special, and K –12 libraries in 102 countries. Aside from LibGuides, the company offers cloud-based software to help libraries answer patrons' questions 24-7 (LibAnswers); promote and take reservations for programs, services, events, and spaces (LibCal); build stronger relationships with the community (LibConnect); analyze data to support better decision-making (LibInsight); and use staff time more efficiently to better serve stakeholders (LibStaffer).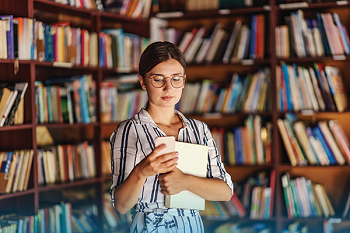 In summer 2020, when it became clear the pandemic would be around for a while, Springshare added a new feature to its LibCal online scheduling tool. Called Seats, it allows users to reserve individual seats within the library. Not only does this give users peace of mind that they'll have a safe, socially distanced place to work when they arrive, but librarians can also use the system for contact tracing if a user gets COVID.
The software "adds a layer of comfort and control that people really appreciate," says marketing director Talia Richards.
The user interface for Seats includes interactive maps of a library's facilities. Users can click on a room within the floor plan, such as a computer lab or study room, and drill down to reserve a specific workstation in that room. Libraries can create their own maps for use within the system, or they can work with Springshare consultants to build maps for them.
Besides helping with reservations, the maps enable libraries to showcase their facilities—and they assist with wayfinding as well. "They allow users to learn about the library and what it offers before even setting foot in the building," Richards notes.
In October 2021, Springshare's customer relations management tool, LibCRM, was relaunched and rebranded as LibConnect, "because it's all about connecting better with users," Richards says. The newly updated software now includes email marketing capabilities that allow librarians to send highly targeted messages to specific user groups. For instance, librarians can identify users who've attended specific programming in the past and alert them to similar upcoming events. If they already subscribe to LibCal, they can pull this information directly from the LibCal application. "It's an incredibly powerful tool for driving programming," Richards says.
Innovative Interfaces
Innovative Interfaces Inc. (III), part of Clarivate, is a software company specializing in integrated library systems. The company was founded in 1978, and its initial product interfaced OCLC data with a library's cataloging system. Today, Innovative is a leader in ILS software, with its Sierra and Polaris software used by customers in 66 countries. In 2019, Innovative was acquired by ProQuest/Ex Libris, which in turn was acquired by Clarivate in 2021.
While Innovative still sells and maintains its ILS platforms, the company has developed Vega, a new complementary platform focused on managing user experiences as opposed to content. "An ILS is designed to manage books and other materials, whereas Vega manages patrons," says vice president and executive library advocate & strategist Tom Jacobson. "They work together nicely."
"If I go to the library in search of a specific book, I always leave with four or five additional titles," Jacobson says. "Between the shelves and display cases, there's a lot of 'suggestive selling' in the physical library. We're looking to recreate that in the virtual library space."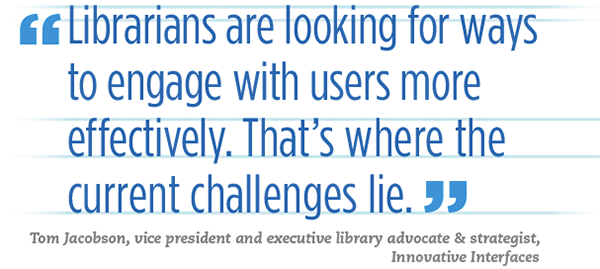 Jacobson likens an ILS to electricity, in that it's an indispensible technology—but one that few librarians are thinking much about today. "The ILS isn't going away," he says. "It's needed as much as ever. However, librarians are looking for ways to engage with users more effectively. That's where the current challenges lie."
This is where Vega is designed to help. The platform includes separate modules for helping patrons find content and helping librarians interact with users, understand their needs, and promote key services. Powering all these activities is Vega Connect, which integrates with the ILS and leverages collection and circulation information to enhance the user experience.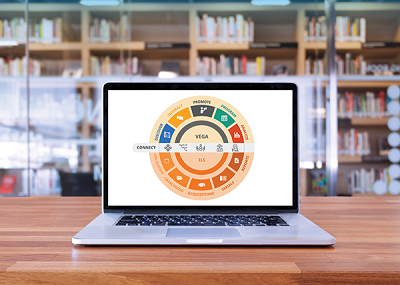 Vega Discover is a module that reimagines the discovery process by making it easier for users to navigate. Traditionally, when someone performs a library search, the results returned by the MARC system list each format of the same title as a separate record. A user might have to scroll through five to eight records for the same title, including the paperback version, the audiobook version, the large-print version, the DVD of the movie by the same name, and so on. "For a patron, this is very confusing," Jacobson says. "For a librarian, it's very annoying."
Instead of showing multiple records for the same title, Vega Discover combines these into a single record—with separate tabs for each type of format. "This is what patrons are used to seeing when they search Amazon," Jacobson notes. "It's a very clean-looking presentation."
Another feature of Vega Discover, "Showcases," makes a library's collections more browsable when patrons search for content online. The technology suggests similar items in a library's collection alongside the regular search results, like Netflix does with its recommendation engine.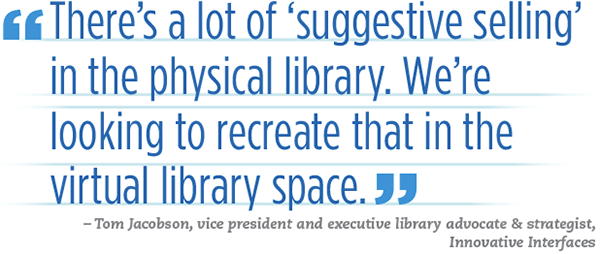 Vega Discover features a fully responsive design that adjusts automatically to provide an optimum experience for users, depending on the size of their device—a computer, tablet, or smart phone. "We built it with accessibility in mind from day one," Jacobson says.
A separate module, Vega Promote, offers marketing automation tools designed for libraries. It includes a platform for building library websites with no special knowledge of HTML coding required, as well as features for communicating with specific groups of stakeholders to raise funds or promote various programs.
"Many libraries use commercial marketing programs for this purpose, such as Mailchimp®," Jacobson says. "But these tools aren't designed around libraries in particular; they're designed around the sales process. Vega Promote is built with the needs of libraries in mind."
Future modules will include Vega Interact, designed to enhance one-to-one communications between libraries and their patrons, and Vega Analyze, a data analytics platform. Vega Interact will use an AI-powered chatbot to answer patrons' questions online and hand off the communication to a staff member as needed.
The Vega platform, Jacobson says, aims to enhance a user's digital experience. It applies common-sense innovations—things people have come to expect in the rest of the digital world—to their interactions with the library. "Libraries generally give patrons a very good experience when they walk into the building, but often a very stilted experience online," he says. "We want to change that."
Newcastle City Public Library in Australia is one of the many libraries that have adopted the Vega platform to enhance user experience since its introduction in 2020. "We are excited about the features: They allow us to communicate with our members better, glean business intelligence insights, and allow members to be more in control of a tailored library experience," says Suzie Gately, City of Newcastle manager of libraries & learning.
The company continues to enhance its ILS products as well. "As we're building out Vega, we're not in any way abandoning the ILS," Jacobson says. For instance, the company is working on innovations that help librarians take their circulation desk to the curb to address those "Oh, by the way…" questions that pop up when they're fulfilling curbside service.
Currently, Vega interfaces only with Innovative ILS platforms like Sierra and Polaris—but the company is working on integration with other leading ILS platforms as well.
In a world where commercial services are becoming so easy to use and convenient, "the library can't be hard to use," Jacobson concludes. "Most people would say the library is a building that happens to have a website. We need to shift this thinking to: The library is an experience that happens to have a building."
Tutor.com
A service of The Princeton Review®, Tutor.com has delivered more than 21 million online tutoring sessions to students and library patrons since its founding in 2000. More than 2,700 library locations across the United States use Tutor.com to provide one-on-one support with academics, job searching, test prep, and more—including the Alabama, Alaska, Louisiana, Rhode Island, and South Carolina state library systems.
For an annual subscription fee, libraries can provide their patrons with live online tutoring in more than 100 academic, test prep, and career-related subjects. Tutoring is available to any library patron during certain hours as defined by a library's agreement with the company, such as 3–10 PM local time.
"We have more than 3,500 expert tutors who have undergone a rigorous vetting process," says David Wills, senior director of library partnerships. In 2021, the median wait time to connect with a live online tutor was less than 30 seconds.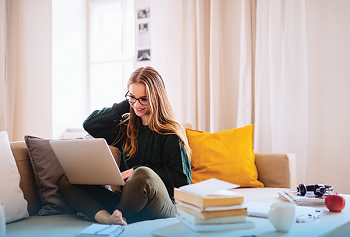 Tutor.com's proprietary platform allows students and patrons to interact with a live tutor through chat or voice communication. The interactive platform—which users can access with a smart phone or any other Internet-connected device—includes whiteboard and graphing calculator functionality, two-way file sharing, a text editor, and a coding editor for computer science tutoring. Each session is recorded so that users can review the interaction later if they choose to.
Besides academic tutoring and preparation for undergraduate and graduate entrance exams, Tutor.com offers career help and help in support preparing for the U.S. citizenship test, GED, and military entrance exam. Job seekers can get help in filling out applications or writing a résumé, and they can practice their interviewing skills.
Patrons also have access to a full library of test prep resources from The Princeton Review, and they can submit essays, cover letters, résumés, or other writing projects for written feedback emailed to them within 24 hours.
To meet the needs of families during the pandemic, Tutor.com has added new study skills and parent coaching services, in English as well as Spanish. Students can get assistance in developing proper study habits and managing their time when learning remotely, and parents can get advice in supporting their children with schoolwork and keeping them motivated.
"We added these features in response to the requests we heard from users nationwide," Wills says.
LaptopsAnytime
LaptopsAnytime has extended the idea of customer self-service to the borrowing of mobile devices and chargers, with automated kiosks for checking out laptops, Chromebooks, iPads, and other tablet computers to patrons. The company's kiosks are in public and academic libraries on every continent except Antarctica, with more than 4 million checkouts from devices worldwide each year.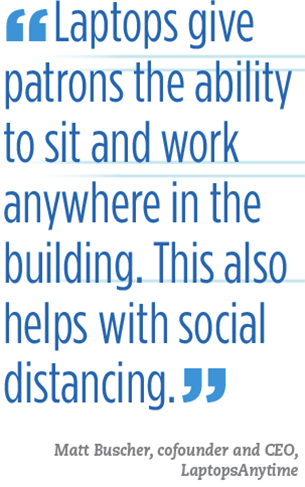 LaptopsAnytime kiosks free up time for busy library staff. Instead of checking devices in and out, inspecting them for damage, restoring their original settings between uses, and recharging them, librarians can focus on helping patrons by letting a machine handle these tasks. With the emergence of COVID-19, LaptopsAnytime kiosks also give libraries another way to provide contactless service—while putting critical technology tools into the hands of patrons.
In fact, the company has seen interest grow during the pandemic. Unlike a desktop computer workstation, "laptops give patrons the ability to sit and work anywhere in the building," says co-founder and CEO Matt Buscher. "This also helps with social distancing."
The automated dispensing kiosks are available in six-, 12-, 18-, 24-, and 30-bay units. They can be customized to support laptops, Chromebooks, and/or tablets from a wide variety of manufacturers. (A library is responsible for buying its own devices.) Libraries can also purchase custom graphics to help brand the kiosks for their institution.
To access a device from the kiosk, patrons simply scan their library card. The machine can be programmed to support a library's local lending policies, and automated notifications help librarians manage the loaner program. For instance, a designated administrator can receive an email alert if a device hasn't been returned on time or if a user reports that a device needs servicing. For additional security, a built-in camera takes a picture of the user any time a device is removed from the kiosk.
When a device is returned to an empty bay in the locked position, it's docked to a power source for automatic recharging. Libraries can also license Deep Freeze or a similar program for restoring the device to its initial state.
The emergence of USB-C technology, which transmits both data and power over a single cable, has been a game changer for LaptopsAnytime systems. With USB-C technology, libraries can now network devices while they're docked in the kiosk using the same cable that charges them, instead of having to set up a private Wi-Fi network for this purpose. This allows libraries to manage the devices the same way they manage their desktop computers: Institutions can reimage the devices or push software updates to them en masse much more simply than before.
The dev
ices communicate their presence in the kiosk through an RFID card reader built into every bay, and they also communicate their battery life to the software operating the kiosk. A device can be checked out only if it exceeds the minimum battery life set by an administrator. In response to the pandemic, LaptopsAnytime has added a feature alerting the circulation desk when a device has been returned, so that it can be sanitized or quarantined before being loaned again. Another unique feature is that the kiosks distribute laptops to patrons on a rotating basis, so all devices receive similar usage. This helps prevent some devices from receiving more wear and tear than others.
Libraries pay a base fee to purchase the kiosks, as well as a service and maintenance contract that allows them to reconfigure the bays every three, four, or five years to coincide with their device refresh cycle.
Over the last few years, LaptopsAnytime has brought 90 percent of its manufacturing process in-house, so the company has more control over this process. As a result, LaptopsAnytime has become an extremely green company.
"Our kiosks are made up of a lot of aluminum parts that are carefully machined for a high tolerance," Buscher says. "Because we refresh our kiosks every three to five years, we don't want these parts going to landfills." LaptopsAnytime reuses about 90 percent of these parts in its reconfigured kiosks. "We're not just recycling, but reusing the metal," he explains. "We're aiming for ISO 14001 certification, and we're already meeting this standard today."
Desktop computers take up a lot of space that can be used only for a single purpose, Buscher notes. In contrast, librarians are finding that laptops and other mobile devices provide a much more versatile option for giving patrons access to technology, while allowing libraries to reclaim some of their space for other uses—and LaptopsAnytime kiosks help libraries distribute and manage these devices in a simple, hands-off way.
LaptopsAnytime also sells a portable charger that enables library patrons to recharge the laptops, cell phones, and other mobile devices they bring from home. About the size of an old VHS cassette, the charger comes with a built-in, 110-volt outlet and contains enough power to bring any mobile device to a fully recharged state. LaptopsAnytime kiosks can be configured to distribute the mobile chargers as well.
With this mobile power source, users don't have to sit near an electrical outlet. Instead, they can sit wherever they choose—which also helps with social distancing. What's more, libraries can ensure that patrons have enough power to do their work, without having to spend hundreds of thousands of dollars retrofitting their buildings.
LaptopsAnytime kiosks are designed in a modular fashion, so that if a kiosk detects a failure with an electronic component, it will intelligently isolate the smart bay that has failed. This allows the rest of the machine to continue operating while notifying an administrator of the issue via email. The software controlling the kiosks runs continuous hardware checks to ensure a 99.9-percent uptime. To make sure users can navigate the interface, the kiosks support English and two other languages as chosen by each library. Unique features like these—as well as the company's commitment to customer service—have contributed to a 30-percent annual growth in sales.
"We continue to work with libraries to come up with solutions that best meet their needs," says John Kormanik, a sales engineer for LaptopsAnytime. "It's not a one-size-fits-all solution."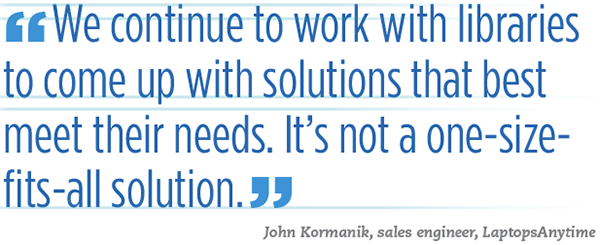 Ingram Library Services
www.ingramcontent.com/libraries
As libraries strive for more inclusive representation in their collections, many are conducting "diversity audits" to evaluate their existing materials. However, a manual diversity audit can be a lengthy and time-consuming process. To greatly simplify this process, Ingram Library Services now offers an automated solution.
Called iCurate® inClusive, the service compares a library's holdings with the information contained in Ingram's proprietary databases to determine how diverse its collection is.
"We accomplish in two weeks what it takes a typical library about three years to do on its own," says Ann Lehue, senior manager of collection development. The service is "a really fast way for librarians to see where the gaps in their collections are and then fill those gaps."
Ingram's Collection Development librarians have been adding diversity metadata to the titles in the company's databases for years. This metadata includes information on whether a book's author or main characters belong to various ethnicities, races, or cultures; are members of the LGBTQIA+ community; have a neurological or physical disability; or have a substance abuse issue.
iCurate® inClusive evaluates a library's collection using this metadata, and libraries receive a detailed report within two weeks that shows the diversity of their materials and how it compares with the national average for public libraries. The report includes a PowerPoint slideshow with approximately 60 charts and graphs ready to present to stakeholders (for fundraising purposes or to justify purchasing decisions), as well as an Excel spreadsheet that highlights the number of inclusive titles in each of 24 categories.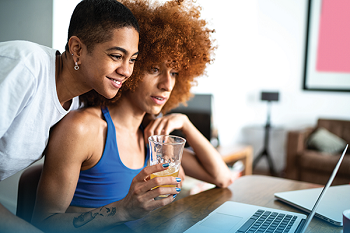 In addition to the report, libraries also receive a set of 24 "shopping lists" with suggested titles they can buy to enhance the diversity of their collection. The lists are compiled using the most popular, inclusive titles within each subject category, as measured by sales to U.S. public libraries within the last 12 months.
"With this information, you could see at a glance that you're lacking in LGBTQIA+ content, for example, and also get suggestions for titles to order," Lehue explains. "You could fill your diversity gaps almost instantly."
The audits are available for adult, teen, or children's titles. Each of these services is available for a flat rate of $1,500 apiece, or libraries can bundle all three for a discounted rate of $4,200.
iCurate® inClusive "was very helpful to our Equity, Diversity, and Inclusion initiative," one library customer said. "It also saved us a tremendous amount of time." Another librarian said, "Our experience with the service was top-notch. The process was very easy, and the results were provided quickly. We were given a lot of information we can use to help with collection decisions."
A division of Ingram Content Group, a family-owned company in Tennessee that has been serving libraries for more than 50 years, Ingram Library Services provides curated lists of content and other value-added data for libraries.
Lyngsoe Systems
Lyngsoe Systems began in Denmark as a provider of software and sorting solutions for multiple industries including post offices and airports. The company opened a U.S. office in Frederick, Maryland, in 1998 and has provided automated solutions to libraries for decades.
"As an engineering company, we design, manufacture, install, support, and service all of our products ourselves, with no outsourcing," says president Cory McCoy. "We're a company that is driven by service. Our staff know our products from top to bottom and we take pride in that."
Lyngsoe's main product for libraries, the Library MateTM, is an automated check-in, conveyance, and sorting system featuring ATM-sized kiosks. Intended to replace manual book drops, this barcode or RFID system checks in items, interfaces with a library's ILS to remove those items from the patron's record, then sorts the items into different bins for return to the shelves or to be placed on hold for another patron. The Library MateTM uses Lyngsoe's Sort MateTM system to sort materials; this system can also be purchased as a separate, stand-alone product and is designed to fit just about any size library.
"One challenge that libraries face is getting materials back out to patrons in a timely manner," McCoy says. He adds that the Library MateTM can reduce that turnaround time from days to mere hours.
Lyngsoe Smart Lockers allow patrons to collect materials they've reserved outside of normal business hours and provide contactless service. The lockers are modular and with three different size lockers available, they can be configured to the library's needs. When patrons scan their library card, the appropriate locker door opens automatically, and they can retrieve their items.
Kajeet
Kajeet was founded in 2003 to provide cellular service for families, with robust parental controls built into the network. Today, the company's mission is to help schools and libraries bridge the digital divide by providing WiFi hotspots, LTE-enabled mobile devices, and solutions for equipping buses, bookmobiles, and satellite locations with wireless connectivity.
Kajeet SmartSpots® are mobile WiFi hotspots that libraries can lend to patrons for anywhere, anytime connectivity. Patrons don't need a fixed broadband connection to get online, as the devices use a cellular network to provide Internet service.
SmartSpots® are intended for short-term use by a single person. When Kajeet discovered that many families were keeping them plugged in and using them to provide home broadband access for the entire family, the company introduced a more robust solution for this purpose called Kajeet HomeWirelessTM. These desk-mounted routers provide five to 10 times more throughput than a WiFi hotspot, says Michael Flood, senior vice president for education. Like the SmartSpot®, they tap into the cellular network to provide connectivity for patrons.
Kajeet also provides LTE-embedded Chromebooks that libraries can lend to students and patrons as needed. For each of these connectivity solutions, libraries can choose a cellular provider and data plan that works best for their needs. What's more, all the solutions include Sentinel®, Kajeet's cloud-based management platform that includes Web filtering, security, management, reporting, and analytics. An "auto-suspend" feature within Sentinel® allows librarians to disable a device if it's overdue, and "dormant device" alerts let them know if a device has been checked out but isn't being used, so they can request that it be returned to lend to another patron.
In addition to mobile hotspots, routers, and LTE-embedded Chromebooks, Kajeet provides LTE-based connectivity solutions for remote or satellite library locations. For instance, SmartBusTM is a solution for bringing connectivity to vehicles such as school buses and bookmobiles. Kajeet Connect PrimeTM uses an LTE connection to provide Internet access where a fixed broadband connection isn't available or economically feasible, such as in a remote library branch, a temporary branch, or a pop-up location.
"Libraries are central locations for providing shared community access to critical resources, and broadband is one of those resources that libraries know their patrons need," Flood says.
FE Technologies
FE Technologies has provided customer self-service options for libraries since 2006. Based in Australia, the company expanded to the United States in 2019 and has been growing steadily here ever since. FE Technologies specializes in RFID-enabled circulation stations, sorters, security gates, self-checkout systems, and check-in tools. One of its newest innovations, the AnyTime Library, is a dispensing kiosk that allows libraries to expand their presence to any location, such as a community center or department store. "The pandemic has taught us that libraries have to reach patrons in a different manner," says Scotty Gage, vice president of U.S. sales.
Launched in 2021, the AnyTime Library can hold up to 350 items and costs about $75,000, which is much less than other comparable systems, says Gage. The kiosk uses a simple carousel system to facilitate browsing. An easy-to-use touchscreen interface guides users through the borrowing process. Patrons can search for items by title, author, or genre. An automated check-in system allows items to go right back into circulation when they're returned. An optional plexiglass covering is available so the AnyTime Library can be deployed in outdoor locations.
FE Technologies also sells automated kiosks for patrons to check out items for themselves within the library. The company's flagship self-checkout product is the V5, which includes a 46-inch countertop that provides enough space for even busy parents to set down all their items before checking them out. The system runs on FE Technologies's Envoy software, which has been redesigned for a more intuitive, patron-driven experience.
Later in 2022, FE Technologies will release a new all-in-one version of the V5 that allows patrons to print documents and reserve a computer or meeting room in addition to checking out or reserving materials.
LibraryIQ
The LibraryIQ platform is a comprehensive, cloud-based analytics tool developed "by librarians, for librarians," says CEO Todd Frager. It pulls information from a library's ILS and other commonly used data systems into a single, easy-to-use dashboard, giving librarians real-time insights to support collections management, budgeting, strategic planning, and patron engagement.
"Typically, librarians have to pull data into spreadsheets manually in order to make data-driven decisions," says Joe McAvoy vice president of sales. "This is a very labor-intensive process." LibraryIQ streamlines this process while giving librarians powerful insights to improve operations.
The LibraryIQ platform offers a window into how a library's collections are being used, so librarians can allocate their budgets wisely and either weed out items that aren't circulating or more prominently showcase those that are.
For instance, librarians can view circulation data by collection code, type of material, Dewey Decimal number, age group, genre, branch, and other characteristics. They can see at a glance which items haven't circulated within a certain period, such as the last three years, as well as which items are "dead on arrival" (new material that has not circulated). They can see whether these numbers are trending up or down and where there might be areas for improvement. The LibraryIQ weeding and inventory tool provides detailed information that turns what is often a daunting task for librarians into a more manageable process, saving valuable time.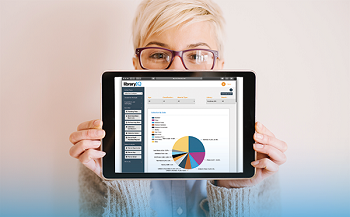 The LibraryIQ platform also provides insight into who uses the library and, perhaps more important, who doesn't. An interactive patron map helps librarians visualize patron engagement with the library across the geographic area they serve. "With LibraryIQ, we have a deeper understanding of library users and non-users, enabling us to design services that broaden our reach into the community," says Pam Collins, director of the Musser Public Library in Iowa.
Additionally, the platform enables librarians to identify key goals and metrics and create a customized action plan for improvement, complete with performance tracking to ensure progress. If librarians would like help with this process, LibraryIQ experts are available to assist.
"Some people just want to swim on their own, and others would like more support," McAvoy explains. "We can accommodate either approach."
LibraryIQ is available for an annual subscription based on a library's size, plus a one-time setup fee. The platform is fully configurable for each subscriber. It integrates with all the leading ILS platforms on the market, including Polaris, Sierra, SirsiDynix, and Koha, as well as data services such as Claritas, Counting Opinions, and the U.S. Census Bureau.
If an integration doesn't currently exist with a library's software, LibraryIQ will develop it. "We've built the platform on open standards to allow for easy integration with any system," McAvoy says.
LibraryIQ is relied on by over 200 libraries across the U.S., including the Delaware Division of Libraries and U.S. Army. LibraryIQ also provides collection management, strategic assessment and planning, facility planning, community needs assessment and IT management services.
Tech Logic
Founded in 1997, Tech Logic created the first automated materials handling solution designed specifically for libraries. The company's bread and butter is still sorting systems, but it also sells RFID tags, self-checkout kiosks, security gates, and an RFID-powered inventory- management wand for scanning shelves to see what items are missing.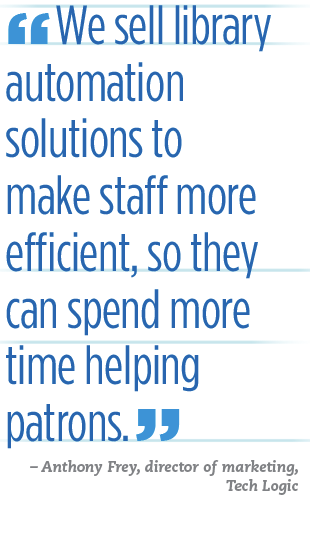 "We sell library automation solutions to make staff more efficient, so they can spend more time helping patrons," says director of marketing Anthony Frey. "Nobody got their MLIS to sort or check out materials all day."
Tech Logic's totalAMH automated materials handling solution doesn't require a touchscreen interface; users simply insert their books and other materials, which are then sorted and conveyed automatically. The company offers a touchless, RFID-driven express checkout system for patrons as well, but libraries can also purchase more robust, touchscreen-powered self-checkout systems with customizable workflows if desired.
Tech Logic's latest product is an intelligent locker system (like Amazon Lockers) that allows patrons to pick up items they've reserved. When patrons scan their library card, the door to the locker containing their items opens automatically—and the items are simultaneously checked out within the ILS in what Frey calls a "grab and go" process. However, libraries can request a self-checkout screen if they want patrons to see information about library programming or services before they pick up their items.
"We don't design our technology to force libraries to adopt a certain workflow; all of our products are flexible," Frey says.
The lockers are available in indoor and outdoor models. The control module can control up to 144 individual locker compartments. Libraries can configure the system as they wish, and they can request a locker bay, openable only by staff members, with a slot for returning items as well.
Many similar locker systems are on the market, but what sets Tech Logic's product apart is the company's central management console, baseCAMP, which ties all its products together. This cloud-based module, accessible from any Internet-connected computer or device, captures data from Tech Logic's lockers, self-checkout kiosks, security gates, wands, and sorting systems and presents the information to librarians in customizable dashboards.
"Librarians can get real-time and historic information about how many patrons are coming through their doors, what items are circulating, and how patrons are interacting with the library," Frey says. "They can configure systems and run reports from a single source, instead of having to use separate management consoles for each product."
Another recent innovation, batchTRANSIT, allows librarians to process materials sorted by the company's totalAMH systems in bulk quantities to save time. Each bin has a unique code, and when that code is scanned, the system automatically checks in every item within that receptacle. The system works with either barcode or RFID technology, and librarians have full visibility into which items are contained within each bin at any time. They can also track the movement of each item through the system to find missing items.
"It empowers staff to account for the status of items more confidently, thanks to the power of data," Frey says.
hoopla Digital
hoopla Digital is an online content streaming service created specifically for libraries. Its parent company, Midwest Tape, has provided movies to the public library market for more than 30 years and has grown to become one of the leading distributors of media to libraries across not only the U.S., but also in Canada, Australia, and New Zealand.



When libraries sign up for the service, their patrons have full access to the hoopla Instant collection of more than 1 million titles across movies, music, audiobooks, ebooks, comics, and TV shows. hoopla employs a transactional licensing model in which libraries pay only for what their patrons access. Libraries are also able to transfer and manage their existing collections through hoopla's Flex feature.
Each patron recieves a unique login for the service, and the home screen recommends content based on a patron's personal borrowing history and preferences. Patrons can also search for specific titles. Additionally, "hoopla offers timely and topical collections that patrons can browse," says Kelly Hancock, senior marketing manager.
The content is accessible on any type of device (IOS, Android, hoopladigital.com, Roku, Apple TV, etc.), or users can download content to watch or read on mobile devices. All content can be used by an unlimited number of patrons simultaneously. Patrons have 21-day access to ebooks, audiobooks, and comics, seven-day access to music, and three-day access to movies and TV shows.
A new feature called BingePass gives patrons another way to access hoopla content. Through BingePass, patrons get unlimited content streaming for seven days.
"They can binge as much content as they want during the borrowing period," Holton says. "This creates value for both the patron and the library. The library pays for one borrow, and the patron gets unlimited streaming during that time."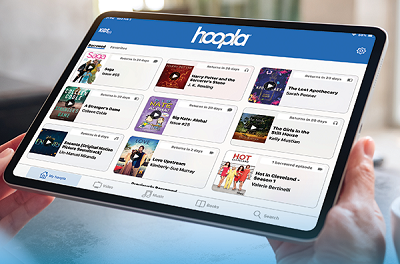 BingePass launched in December 2021 along with "hoopla Magazines," a collection that includes current issues of 50 popular magazines, as well as "The Great Courses Video Library Collection," which offers unlimited access to 300 college-level courses produced by the Teaching Company. Also added was the "Curiosity Stream" BingePass, providing access to thousands of documentaries.
"Libraries will see more BingePass collections in the future," Holton says. "We're continually adding new content."
Libraries can limit the hoopla content to which their patrons have access; this is useful if they already license certain digital content from another publisher. They can add their existing digital content to what their patrons see within Hoopla. They can also integrate hoopla content into their discovery services, so patrons can see what's available through the service when they perform a library search.

"We give libraries the opportunity to control their own settings and what they offer to patrons," says Hancock.
International Library Services
For three decades, International Library Services has been designing and selling automated, self-service solutions to increase circulation and extend the reach of libraries, originally as public information kiosks (PIKinc.). The company's lending machines can be placed in airports, train stations, shopping malls, grocery stores, and other public places, serving as convenient extensions of a library's main branch location.
In
ternational Library Services' newest product, which launched this year, is the AutoLendTM Library. It allows patrons with a library card to browse, hold, pick up, and return a wide range of materials, including books, audiobooks, DVDs, video games, and even WiFi hotspots—all from a kiosk the size of a standard vending machine.
Designed to fit into a space 41 inches wide by 34 inches deep, the AutoLendTM Library holds up to 450 items. A built-in touchscreen allows users to browse for materials by category (books, DVDs, etc.), as well as title, author, or genre—and the touchscreen shows pictures of each item so that patrons know exactly what they're borrowing.
The AutoLendTM Library supports both barcode and RFID technology and integrates with any ILS. Custom graphic vinyl wraps are available to brand the machine with a library's own branding. Besides browsing and checking out items, patrons can place a hold, pick up held items, return items they've borrowed, and even download digital content to a tablet or other mobile device.
"The AutoLendTM Library allows librarians to provide what is essentially an unattended library."
Another product, the Library Media Box, dispenses DVDs, CDs, audiobooks, and video games.
The Library Media Box can be deployed in a remote location or within a library building, as a way for patrons to check out media materials themselves without staff help. The product should be familiar to anyone who's used a Redbox system, Goodman says. As with Redbox, patrons can see which items are available in the machine before they leave home and can reserve them online. Security is another advantage of the product: "These items often disappear from a library," Goodman says, "but nothing can leave the machine without being checked out first."

Yet another benefit of the Library Media Box is the potential to reclaim library space. The product holds 750 DVDs, or the equivalent of 25 feet of 60-inch linear shelving, in a machine that's only 48 inches wide and 20 inches deep. Up to four machines can be daisy-chained together to dispense as many as 3,000 DVDs.

International Library Services also offers an Intelligent Locker System that enables patrons to pick up items on hold using their library card 24/7, as well as the ILS Book Sanitizer, a cabinet that uses UVC lamps to disinfect books and other materials nearly instantly so they can be returned to circulation quickly. A tabletop model can sanitize six books in 30 seconds, and a tower version sanitizes up to 20 books in about five minutes.
SPONSORED CONTENT