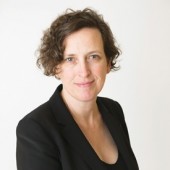 Almost no one casually pulls their library's strategic planning documents out of their pocket. No one, that is, except Peter Bromberg, executive director of the Salt Lake City Public Library (SLCPL), who did just that when I saw him at the LJ Directors' Summit in San Diego, December 6–7. His library's new Strategic Roadmap Field Guide represents a unique approach to strategic planning. It comes in a neat, small booklet and purposely eschews a single, linear narrative, instead prioritizing core values for individuals and the organization as a whole.
I followed up once I got home to learn more about how the field guide fit into the planning process. The format was employed "to engage staff experientially and foster connection, reflection, ideation, and experimentation within the context of the strategic areas of focus," said Bromberg and Marilee Moon, SLCPL assistant director of customer experience, noting it was the result of a comprehensive service design–driven visioning process that involved staff and community stakeholders and was completed last summer (see detail here). "It is very intentionally not a 'plan' but a flexible framework."
The visioning process spun around service design, which applies design-thinking principles to the creation of services, and so does the field guide itself. This, according to Bromberg and Moon, reflected the desire to "continually experiment and adapt our spaces, collections, services, programs, and staff roles to meet needs in a rapidly changing world. In other words, instead of doing strategic planning every three years, we are learning to be in planning/learning mode all the time."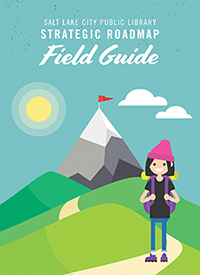 A Roadmap Rollout Team, tasked with creating an implementation plan that "would empower staff members to feel confident and capable in their ability to actualize the Roadmap," created a one-year time line of activities to engage staff and managers via the field guide. Working in teams, Bromberg and Moon noted, staffers have "learned about service design, service safaris, customer intercepts, experience principles, and partner mapping." The library is using the results of some of those exercises to shape "systemwide experience principles…the essential qualities that will guide all our ideas, decisions, and actions."
I love the way the field guide enables individuals to grapple with the library's core principles and areas of focus through their own lenses, individual and team engagement, and an extended process that is about learning to learn as one serves. It's fundamentally about building capacity that is responsive, flexible, and, ultimately, resilient in the face of ongoing, rapid change.
I also love that the field guide is playful, which is among the words used to describe the library's culture, along with inclusive, open, curious, and kind. One example is asking people to define their superpower (right under name, role, department, and passion). "We added it to the inside of the field guide because [we] knew it would be a good way to get the conversation going," Bromberg told me. "There is research on the positive effects (cognitively, creatively, physically) of appreciation. When we pause to appreciate, our parasympathetic nervous system is activated, our pulse slows down, our blood pressure goes down, we are more open to change and new possibilities. I've used different versions of the 'superpower' icebreaker to help get people in a positive, creative, open space for the learning that will follow. When the group knows each other, it can be particularly powerful to ask each person to say what others' superpowers are."
This question as icebreaker was something I saw in action and with great pleasure at the Directors' Summit—fun and productive, breaking through to create connections. Maybe that's Bromberg's superpower, helping people find their own. We can see it happen in Salt Lake City, as the library and the community evolve and thrive, empowered and more connected than ever.