Who says poetry and science don't mix? Not Poets House, the national poetry library and literary center in downtown Manhattan, which recently launched its newest initiative, Field Work: Aligning Poetry and Science. Funded by the Institute of Museum and Library Services (IMLS), the hybrid art and science project will set up shop in various cities over the next three years, connecting poets and natural history museums with public libraries to foster STEM (science, technology, engineering, and mathematics) learning. Poets in residence will work together with libraries and museum educators to develop programming; the project's goal is to engage audiences of all ages and types in interactive programs that "humanize" the language of science. Field Work programming in each city will culminate in the creation of a science-themed nature walk, which will feature signage showcasing poetry and science information accompanied by a digital app for self-guided tours.
"Poetry and science—what they have in common is this deep sense of observation, really looking at the world, needing language to articulate what you see to help you see it better," said Poets House executive director Lee Briccetti.
Field Work was inspired by the Language of Conservation, one of Poets House's most successful projects, explained Briccetti. That program, launched a dozen years ago, brought poetry to the Central Park Zoo in partnership with the New York Public Library. With the help of an IMLS grant, it was expanded to libraries and zoos in other cities over the years, each of which hosted a poet in residence who helped develop exhibits, book displays, programming, and poetry paths in the zoos.
"We did a very robust evaluation of what kind of impact the poetry had on people walking through and seeing the animals and thinking about environmental stewardship," said Briccetti. "The study showed that the poetry, just in the background, helped people to connect the emotional and the intellectual information."
For Field Work, Poets House is using a similar model—creating partnerships between institutions through poetry, with libraries as key partners—to support STEM education. "The thing that's different about [Field Work]...is that…the libraries are taking leadership with the museum staff," Briccetti noted. The libraries have been documenting their work, and she hopes to develop those best practices into a white paper that can be shared at conferences so that other libraries—"our natural partners"—can develop similar projects.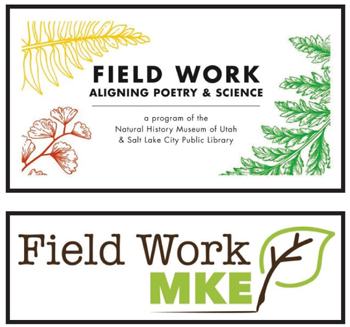 Social science research organization NewKnowledge will partner with Field Work to observe the collaborative process shared by libraries and museums, allowing the program to be replicated across the country.
"In this political climate, poetry has become a very popular way to speak about community issues," said Briccetti. "We do work with other kinds of institutions, but when we do our national programming we feel an affiliation with our partners in public libraries."


STEM IN THE CITIES
The program kicked off this fall in Salt Lake City, where former Utah poet laureate Katharine Coles serves as the program's Poet in Residence, joining the Salt Lake City Public Library (SLCPL) and the Natural History Museum of Utah (NHMU). The launch event, held September 19 at NHMU, paired scientists and poets in conversation—paleontologist Randy Irmis and archaeologist Shannon Boomgarden with poets Michael Sowder and Paisley Rekdal—for the first in a three-part Poetry-Science Café. The second installation had entomologist Christy Bills and mammalogist Eric Rickart in conversation with poets Lance Larsen and Kimberly Johnson, and a third, in December, will feature a reading at SLCPL by Coles, Rekdal, and Alison Hawthorne Deming.
In Milwaukee—which hosted the Language of Conservation in 2010—visiting Field Work poet in residence Deming is partnering with the Milwaukee Public Library (MPL) and the Milwaukee Public Museum to develop creative programming for children and adults. All 14 branches of MPL and the museum will host workshops through the spring on topics such as "Urban Wildlife: Poetry in Your Backyard" and "Fieldwork with the Figureheads," a hip-hop group that plays music inspired by nature and invites kids to write their own poetry. Adult programming launches with a lecture on the Botany of Beverages at the Stone Creek Factory Café, a local coffee shop.
Come April 2019, the two institutions will join forces for a Youth and Teen Poetry Competition, asking participants to riff on the Milwaukee Field Work project's guiding question: "How do you see the natural world you live in?" The monthlong competition will accept submissions online and in person, culminating in a poetry slam for all participants. The poetry path is also scheduled to open in April and will host walks led by poets and scientists.
It will be up to the cities to decide whether they want to refresh their poetry paths in the future, noted Briccetti, but they will definitely remain beyond the life of the funded project. (Poets House is seeking funding to create a science-themed poetry path of its own to commemorate the tenth anniversary of its New York space.)
As the project coalesces, Briccetti said, she is enjoying watching the poets, libraries, and museums working together to develop an accessible model for literary incentives to STEM learning. "In our experience, people are often afraid of both poetry and science," she noted. "But if you make it possible for them to bump into it, they will have pleasure and understanding."