The subject of death and dying can be difficult—even taboo—for people to discuss, even as health-care professionals press for more honest dialog with patients and families. Springfield–Greene County Library District, MO, took the lead on closing that gap by enlisting ten community partners and securing a grant to host a multilayered series called "Death & Dying: Conversations on End-of-Life Matters." The 2016 program opened so many doors and conversations that the library decided to run a second session this November.


HELP FROM HOSPICE
"In 2015, the Hospice Foundation of the Ozarks invited the library district to apply for a grant to offer end-of-life materials or programs. We were aware of the national conversation about [those] subjects; the grant opportunity gave us the perfect chance to invite our community to join the nationwide discussion," said Sarah Rosendahl, copywriter for the district's Community Relations Department.
Planning and development librarian Gay Wilson gathered a group of like-minded staff to brainstorm. "We wanted to offer a wide variety of programming that included information people can use and appealed to multiple groups—medical professionals, end-of-life professionals, older-middle-young adults, and students," Rosendahl said.
After winning the $39,684.08 grant from the Hospice Foundation, Rosendahl and Wilson used shared documents, spreadsheets, and regular committee meetings to secure speakers (per Rosendahl, "area organizations and presenters jumped at the opportunity to be part of the local conversation"), monitor the grant budget, and develop a marketing plan.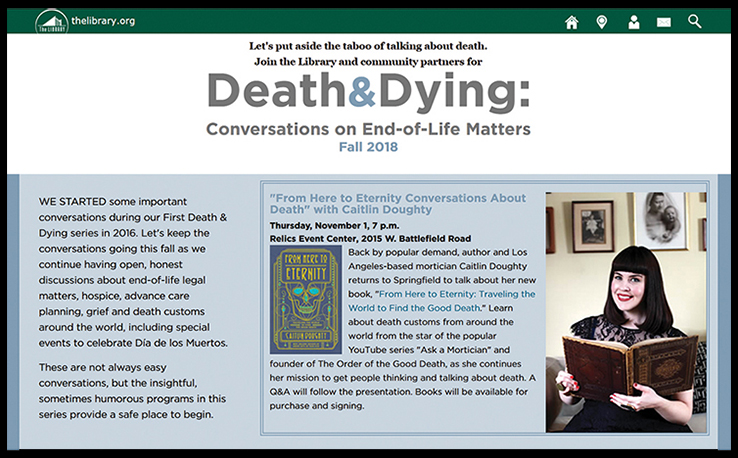 LAYERS CREATE WIDE APPEAL
The 2016 series offered patrons an eight-page program guide that began, "Let's put aside the taboo of talking about death…." It featured 13 options, including book discussions, documentaries, and other exhibits.
"Some people are more comfortable addressing death through the arts, so we planned exhibits that would provide a visual representation of the topics and also appeal to audiences on another level," Rosendahl said.
The local history and genealogy department and the library's artists often collaborate on library exhibits. For this occasion, local history associate Konrad Stump researched Victorian burial practices and photographs and worked with library graphic designer Jay Young to produce "Mourning in the Midwest: Living with Death During the Victorian Era."
The Library Center, the main branch, featured both that exhibit and "A Veterans Tribute" exhibit of oil paintings. After enlisting more artists through the Springfield Regional Arts Council, the Park Central Branch displayed "Traces of Gold," paintings by Carla Stine, and "Rest in Peace," cemetery photography by ten-year-old Gypsy Rose Pitts.
The series also featured authors including Caitlin Doughty, star of the YouTube series Ask a Mortician and author of Smoke Gets in Your Eyes: And Other Lessons from the Crematory; Angelo Volandes, physician at Massachusetts General Hospital, Boston, author of The Conversation: A Revolutionary Plan for End-of-Life Care; funeral director Thomas Lynch, author of The Undertaking: Life Studies from the Dismal Trade; and award-winning cartoonist Roz Chast, author of Can't We Talk About Something More Pleasant?
Area experts also presented on topics including talking with children about death and grief and end-of-life legal issues (sponsored by the Springfield Metropolitan Bar Association). An Advance Directives Workshop got into the details, while an anything-goes Ask the Funeral Director and a showing of the documentary Being Mortal (PBS) rounded out the offerings.
Reaching out to a nontraditional audience, the Library also hosted an event at the popular downtown Lindberg's Tavern. A local singer-songwriter group called Wild Bob's Musical Book Club created and performed original songs inspired by Doughty's book.
The library also used some of the grant money to expand its collection of titles on death and dying and promoted them on bookmarks distributed at each event.
"Of the 1,000 people who attended the series, we had many repeat attendees, but there were also lots of new faces, with audiences spanning from college students to older adults. A significant number of children and teens came with adults to Doughty's event," said Rosendahl.
"Audiences also varied in their backgrounds and socioeconomic status, including professionals, retirees, parents, death industry professionals, hospice volunteers, and children of aging adults."
NEXT STEPS
"We need to keep the conversations going for them to benefit the community; it's not a one and we're done subject," Rosendahl said. "Our patrons and community partners, including Respecting Choices of the Ozarks, encouraged us to continue the conversation, so we are offering a series in November 2018, [featuring] the return of Caitlin Doughty." The Hospice Foundation of the Ozarks has provided a new grant to help with costs.
This time around, the lineup includes a family movie night to watch Coco; a program on end-of-life legal matters by a firm specializing in elder law; a hospice resource fair; a Día de los Muertos community celebration with Day of the Dead dancers; an advance-care planning workshop; a program on coping with the holidays and grief; and book discussions.
"Given the chance, people will talk about end-of-life topics," Rosendahl said. "These conversations are changing lives by helping people to live and die better, and we are thrilled to be part of the discussions."
---
Kathleen O'Dell is Community Relations Director, Springfield–Greene County Library District, MO.