Daring reads for the holidays.
Click here for additional new Prepub Alert columns
Brooks-Dalton, Lily. The Light Pirate. Grand Central. Dec. 2022. 320p. ISBN 9781538708279. $28. Downloadable. LITERARY
As another hurricane begins drenching Florida, electrical line worker Kirby Lowe heads into the storm to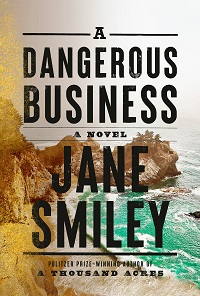 find his two missing sons while his wife gives birth at home, with their daughter named after the storm. Brooks-Dalton then unfolds a story in four sections—power, water, light, and time—that covers escalating ecological crisis over a generation. Following the author's multi-best-booked Good Morning, Midnight, basis of the Netflix Original; with a 50,000-copy first printing.
Everett, Percival. Dr. No. Graywolf. Nov. 2022. 232p. ISBN 9781644452080. pap. $16. LITERARY
Brainy mathematics professor Wala Kitu is an expert on nothing, the meaning of his first and last names in Tagalog and Swahili, respectively. Hence his being drafted by criminal mastermind John Sill to break into Fort Knox and steal a shoebox holding nothing that Sill plans to use to reduce parts of the United States to…nothing. Speaking for Black Americans, Sill explains, "This country has never given anything to us and it never will….I think it's time we gave nothing back." Just the sort of pointedly original work one would expect from Pulitzer finalist Everett, winner of the 2021 National Book Critics Circle Ivan Sandrof Lifetime Achievement Award; with a 35,000-copy first printing.
Lipsyte, Sam. No One Left To Come Looking for You. S. & S. Dec. 2022. 224p. ISBN 9781501146121. $26.99. CD. LITERARY
In 1993 Manhattan, New Jersey musician Jack makes his way through the drug-heavy, dive bar–littered East Village in search of a band member who has absconded with Jack's precious bass just day before their breakout gig, presumably planning to sell the instrument for a quick fix. Billed as literary, described as suspense, and aiming at readers of both; from the author of Home Land, a New York Times Notable Book.
Manenzhe, Resoketswe Martha. Scatterlings. HarperVia. Dec. 2022. 288p. ISBN 9780063264113. $26.99. CD. LITERARY
In 1927, when South Africa passed the Immorality Act prohibiting sexual intercourse between "Europeans" (white people) and "natives" (Black people), a white man named Abram and Black, Jamaican-born Alisa, whose ancestors had been enslaved, suddenly find their marriage criminalized. Since its publication in South Africa in late 2020, this wrenching work has become the most awarded debut in the country's history. With a 40,000-copy first printing.
Morimi, Tomihiko. The Tatami Galaxy. HarperVia. Dec. 2022. 352p. tr. from Japanese by Emily Balistrieri. ISBN 9780063158443. $26.99. CD. LITERARY
Having challenged the bossy, glossy president of the film club, an unnamed junior at Kyoto University and his icky, misanthropic sort-of friend find themselves shunned by pretty much everyone on campus and vengefully plan a wrong-headed disruption of a forthcoming club event. Then a self-proclaimed god pops up with a way to turn his life around, and time rewinds. From multi-award-winning Japanese Morimi; with a 75,000-copy first printing.
Rehman, Bushra. Roses, in the Mouth of a Lion. Flatiron: Macmillan. Dec. 2022. 288p. ISBN 9781250834782. $27.99. LITERARY
After her best friend walks away, 1980s Queens, NY–based Razia Mirza launches a classic preteen rebellion—cutting school, listening to off-limits music—with a new girl in her Pakistani American community. Then she gets into elite Stuyvesant High School, is attracted to Angela, and recognizes the difference between what her parents want for her and what she wants for herself. A story of friendship and queer love in the Muslim American community from debuter Rehman; with a 50,000-copy first printing.
Smiley, Jane. A Dangerous Business. Knopf. Dec. 2022. 224p. ISBN 9780525520337. $28. lrg. prnt. LITERARY
The Pulitzer Prize–winning Smiley goes for history and mystery in an 1850s Monterey, CA–set tale featuring Eliza Ripple, who's been working as a prostitute since her husband's death in a bar fight. When young women are found murdered in and around town, Eliza decides to emulate Edgar Allan Poe's detective Dupin and pulls friend Jean into a hunt for the killer. As their madam says, "Being a woman is a dangerous business."
Strong, Lynn Steger. Flight. Mariner: HarperCollins. Dec. 2022. 240p. ISBN 9780063135147. $27.99. lrg. prnt. CD. LITERARY
It's not a jolly Christmas for siblings Henry, Kate, and Martin, gathered at Henry's house after their mother's death. Bitterly held resentments swarm to the surface as they consider what to do with their mother's house, their sole inheritance, but a local mother's financial need refocuses their attention. Following the multi-best-booked Want; with a 100,000-copy first printing.
Click here for additional new Prepub Alert columns