Launching the big winter/spring debut rush.
Click here for additional new Prepub Alert columns
Abbas, Fatin. Ghost Season. Norton. Jan. 2023. 304p. ISBN 9781324001744. $28.95. LITERARY
Even as civil war threatens, a badly burned corpse is discovered in a border town between northern and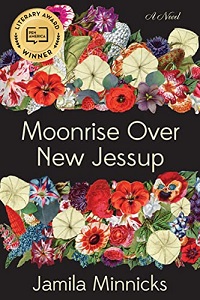 southern Sudan, the location of an NGO compound. This could spell trouble for white Midwestern aid worker Alex, Sudanese American filmmaker Dena, and eager-to-rise 12-year-old Mustafa. Meanwhile, South Sudanese translator William worries about missing cook Layla, whom he loves. A debut novel plumbing the fraught issues of humanitarian aid, divided identity, and internecine conflict.
Crewe, Tom. The New Life. Scribner. Jan. 2023. 400p. ISBN 9781668000830. $28. LITERARY
In late 19th-century London, John Addington has a wife, a passel of children, and a male lover, while Henry and Edith Ellis consider theirs a revolutionary marriage of the minds, with Edith spending much of her time with Angelica. The two men are writing a book in defense of homosexuality, but they pause to reconsider when Oscar Wilde is arrested. From debut novelist Crewe.
Minnicks, Jamila. Moonrise Over New Jessup. Algonquin. Jan. 2023. 336p. ISBN 9781643752464. $28. LITERARY
It's 1957, and the all-Black town of New Jessup, AL, has opted for self-determination over integration as a means of Black advancement. New arrival Alice Young soon falls for Raymond Campbell, who's questioning the town's precepts, a move that could get them both in trouble. Pushcart Prize nominee Minnicks won the PEN/Bellwether Prize for Socially Engaged Fiction for this debut novel, a celebration of Black culture that takes in opposing viewpoints on the issue of desegregation in that era.
Moeng, Gothataone. Call and Response: Stories. Viking. Jan. 2023. 304p. ISBN 9780593490983. $27. Downloadable. LITERARY
Former Wallace Stegner fellow Moeng grounds this first collection in the landscape of her native Botswana, particularly Serowe, her birthplace and the country's largest village. Tradition rubs up against modern times as a young widow contemplates the meaning of the mourning clothes she wears and a young woman's brother brags about his sexual exploits even as she feels compelled to hide her own.
Mohamed, Deena. Shubeik Lubeik. Pantheon. Jan. 2023. 528p. ISBN 9781524748418. $35. LITERARY
The title of Egyptian writer/illustrator Mohamed's debut graphic novel means "your wish is my command" in Arabic, and the story concerns three people who buy wishes at what looks to be an ordinary kiosk in Cairo. Recently widowed Aziza must battle bureaucracy to claim her wish, privileged Nour must decide whether to use their wish to counter depression, and Shokry tries to help a friend refusing to indulge in wishing. Winner of Best Graphic Novel and the Grand Prize at the 2017 Cairo Comix Festival.
Nkrumah, Nyaneba. Wade in the Water. Amistad. Jan. 2023. 320p. ISBN 9780063226616. $27.99. CD. LITERARY
In rural, segregated 1982 Ricksville, MS, a Black 11-year-old named Ella—smart but unwanted by family and town—befriends Ms. St. James, a white woman from Princeton there to do research. Ella needs Ms. St. James so desperately that she unintentionally pushes up against secrets from Ms. St. James's past, with terrible consequences. From U.S.-born, Ghana and Zimbabwe–raised Nkrumah.
Peyton, Tracey Rose. Night Wherever We Go. Ecco. Jan. 2023. 304p. ISBN 9780063249875. $27.99. CD. LITERARY
To counter financial setbacks, the owners of a Texas plantation decide to hire a stockman to impregnate the plantation's six enslaved women. The women rebel, secretly agreeing to chew cotton root clippings to prevent pregnancy. But their plan will backfire—and jeopardize them all—if any one of them bears a child. From CUNY Writers' Institute graduate Peyton.
Schwartz, Selby Wynn. After Sappho. Liveright: Norton. Jan. 2023. 288p. ISBN 9781324092315. $28.50. LITERARY
A Lambda finalist for The Bodies of Others, Schwartz launches her fiction career with a novel sifting together the stories of women intent on living their own lives and forging a queer identity at the turn of the 20th century. Among them: Italian novelist, poet, and essayist Rina Faccio, U.S. painter Romaine Brooks, and the indomitable Virginia Woolf.